DOES ANYBODY do laptop innovation like Asus? We sure can't think of another brand that will sell you a laptop with two screens, one of which is a 120Hz OLED panel, all crammed into a relatively compact 14-inch footprint. Read our Asus Zenbook Pro 14 Duo OLED Review.
–JEREMY LAIRD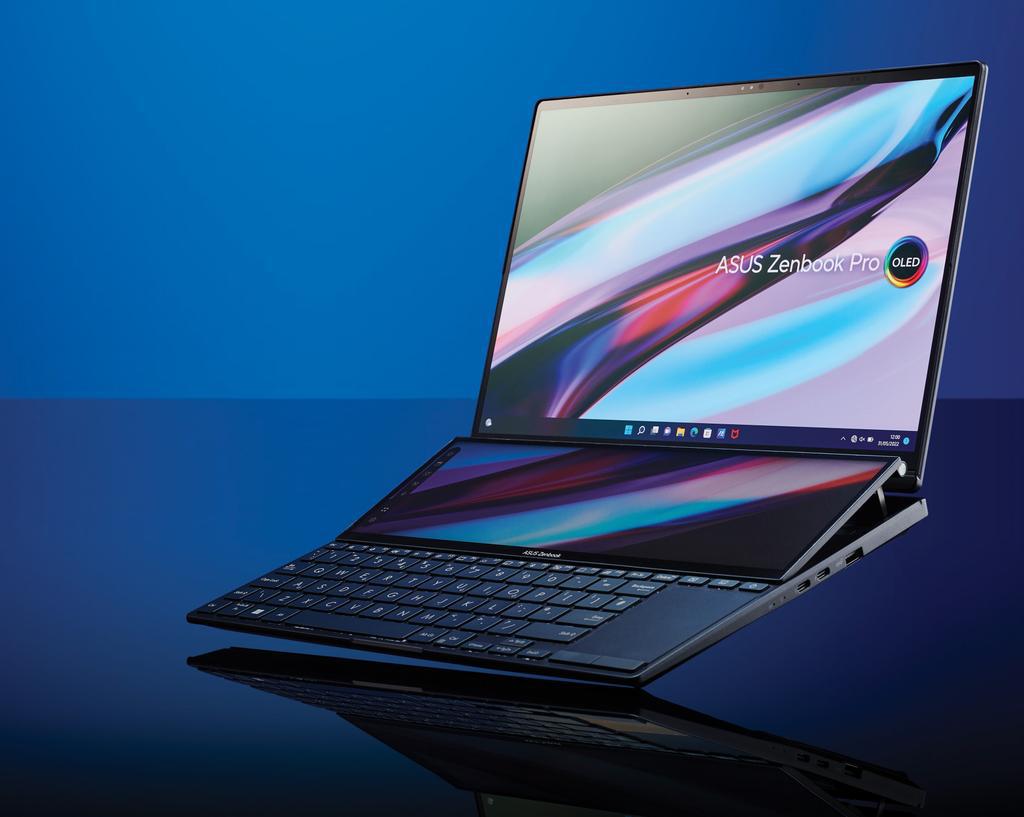 Welcome, then, to Asus's latest masterwork, the Zenbook Pro 14 Duo OLED. And what a machine it is. That OLED panel? It only covers fully 100 percent of the demanding DCI-P3 digital cinema color space. That's better than most pro-grade content creation monitors can muster. Both panels are also stylus and inking compatible, the connectivity is outstanding, there's some proper audio and a half-decent GPU, not to mention one of Intel's finest mobile CPUs. Oh yeah. This thing is loaded.
The main 14.5-inch OLED panel rocks 2,880 by 1,800 pixels in a 16:10 aspect arrangement and cranks out 550 nits of brightness and 0.2ms response to go along with the 120Hz refresh. The secondary screen is IPS rather than OLED and 12.7-inch diagonal, but the same panel width and horizontal resolution of 2,880 pixels. Both screens are compatible with Microsoft Pen Protocol styluses.
Doing the heavy lifting is Intel's mighty Core i9-12900H with six Alder Lake era performance cores and eight efficiency cores, while graphics are via Nvidia's GeForce RTX 3050 Ti. Rounding out the main features are 32GB of DDR5 memory and a 1TB Samsung PCIe Gen 4 SSD. It's really only the latter that seems a little stingy in an otherwise epic list of specs.
Finer details include dual USB-C ports with Thunderbolt 4 support for uber-fast access to external storage, an SD Express 7.0 card reader, a legacy USB-A port in high-speed 3.2 spec, and an HDMI 2.1 port for 4K output at 120Hz. Connectivity is amply covered by WiFi 6E and Bluetooth 5.2. Along with an unexciting 720p webcam, you get a four-array microphone and a speaker system by Harman Kardon. The battery is a 76Wh affair, so pretty beefy for a 14-inch laptop. But then it needs to be with all the display hardware to power.
If that's the specs in full, arguably the really interesting aspect of this laptop involves ergonomics and usability. Do the dual screens actually make sense? The engineering is certainly slick. As you open the lid, the lower screen hinges up to not only provide better viewing but also increased airflow.
On the other hand, the shallowness of the secondary screen could be an issue. The shape means it's not much use for web browsing or even for an email client. You could use it to host collaborative tools such as Slack or maybe a streaming media client like Spotify. For sure, it's a breeze to arrange windows and swap applications between the two screens using Asus's software tools.
But the second screen does by far its best work when you load it up with toolbars, timelines, palettes, and content creation control elements. Then it really starts to make sense. The catch is that the whole design inevitably crushes the keyboard to the bottom of the chassis and pushes the trackpad to the bottom right. It's still a nice keyboard, but the ergonomics are hardly ideal.
Nor, strictly speaking, is the performance. The Intel Core i9-12900H is a beast, no question. But it's also somewhat constrained in this chassis, never mind the supposedly heightened airflow. At default settings, the 12900H drops down to 2.9GHz under sustained loads. Switch to the high-performance mode and that increases to 3.2GHz and is accompanied by some serious fan noise. Either way, we've seen that chip run quite a bit quicker in larger laptops.
The battery life of under seven hours of video playback, even with the secondary screen disabled, is a bit disappointing too. All of which makes the Zenbook Pro 14 Duo OLED a bit niche. It's beautifully built and, if you really make use of those dual screens, it could be killer. But the compromises those two screens impose are also real.
VERDICT
+ TERRIFIC TWOFER Stellar screen tech; excellent connectivity; fab build quality
– DOUBLE TROUBLE Compromised ergonomics; disappointing battery life.
$ (estimated), www.asus.com
Best Asus Zenbook Pro 14 Duo OLED prices ?
MORE DEALS

See also THE COMPLETE GUIDE TO…OLED laptops
BENCHMARKS
Asus Zenbook Pro 14 Duo OLED
3DMark Fire Strike 12,718pts
Cinebench R20 (multi-core) 5,558pts
GeekBench 5 (single-core) 1,713pts
GeekBench 5 (multi-core) 11,930pts
PCMark 10 6,505pts
Battery Life 6hrs 54mins
Crystal Disk Mark Read 6,390MB/s
Crystal Disk Mark Write 5,150MB/s
Total War: Three Kingdoms (1080p, Ultra) 44fps
Metro Exodus (1080p, Ultra) 42fps
SPECIFICATIONS
CPU Intel Core i9-12900H (14-core)
Graphics Intel Iris Xe, Nvidia RTX 3050 Ti 4GB
RAM 32GB DDR5
Screen 14.5-inch 2880 x 1800 120Hz OLED, 12.7-inch 2880 x 864 IPS
Touch input Capacitive multi-touch with stylus
Storage 1TB NVMe SSD
Ports 2x USB Type-C with Thunderbolt 4, 1 x USB-A 3.2, SD card, HDMI 2.1, 3.5mm audio jack, SD card reader
Connectivity WiFi 6E, Bluetooth 5.2
Battery 76Wh
Camera 720P webcam
Dimensions 2.74 x 8.85 x 0.77 inches
Weight 3.75lbs