LENOVO MIIX 720 – A GREAT ALTERNATIVE TO THE SURFACE PRO, WITH ITS ONLY NOTABLE BLACK MARK BEING RELATIVELY POOR BATTERY LIFE
Lenovo won't win any awards for innovation when it comes to the Miix 720's design – it takes all its cues from the Surface Pro playbook – yet it still manages to find room for small improvements. The result is a premium hybrid that doesn't quite steal the Surface Pro's crown, but gives it some serious competition.
If you've used a Surface Pro, the basic design won't give you any real surprises. The lightweight tablet module is 9mm thick and weighs 780g – almost identical figures to the Surface Pro 2017 – and it latches onto the magnetic connector on the keyboard, which then clips magnetically onto the front of the screen to raise the keyboard up at a comfortable working angle. The kickstand then pulls out, using what Lenovo calls a watchband hinge to hold the screen tilted back at angles all the way down to 30 degrees from horizontal. It's stable, with no signs of slippage, and the tablet itself feels solid and robust. Much like the Surface Pro.
Lenovo's keyboard cover has a lot to recommend it, too. The faux-leather cover looks great, and while some might miss the Surface Type Cover's brushed fabric feel, there's something to be said for Lenovo's more conventional plastic construction, particularly when it's so smooth and comfortable. The keyboard itself is backlit with a standard ThinkPad layout and keys of roughly the same size and shape, and if you're in the camp that likes the ThinkPad feel, then this slimmed down keyboard will be right up your alley. The action is crisp with a 1.5mm travel, and there's a little less bounce when you type than on the Surface Pro. The touchpad is also a beauty, with a silky smooth surface that doesn't miss the slightest tap.
Unlike Microsoft, Lenovo bundles in the keyboard, and the same goes for its pressure-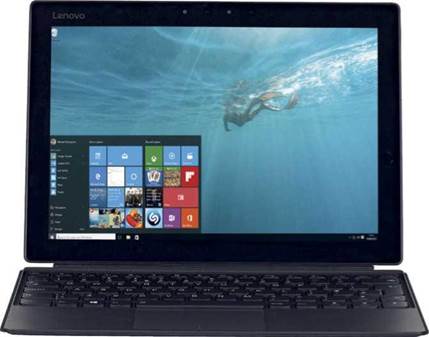 – The Miix squeezes in USB 3, USB-C and USB 2 ports, significantly more than Microsoft
The Miix 720's "watchband" hinge allows the screen to tilt at acute angles
sensitive stylus. It's a nice, solid pen, and while it only handles 2,048 levels of pressure and doesn't have the clever angle sensitivity of Microsoft's latest Surface Pen, it's still an effective tool for sketching, notes and annotations, so it's great to see it in the box.
One area where Lenovo trumps
Lenovo could have dropped the ball when it comes to the screen but, no, it's excellent, with a sharp 2,880 x 1,920 resolution
Microsoft is connectivity. Not only do you get one USB 3 port and one USB 2, but an audio jack, a microSD card slot and a USB-C port. The latter supports Thunderbolt for file transfers at speeds of up to 40Gbits/sec, plus DisplayPort or HDMI with an adapter, but is also used for charging, which certainly seems more forward-looking than Microsoft's proprietary port. Lenovo's infrared camera supports Windows Hello facial sign-in.
Lenovo could have dropped the ball when it comes to the screen but, no, it's excellent, with a sharp 2,880 x 1,920 resolution, deep blacks and incredibly vibrant colors. Color accuracy isn't quite at Surface Book or Surface Pro levels, with an average Delta E of 2.59 and 83.8% of the sRGB gamut covered, but brightness hits 412cd/m2 at full tilt. You might want to plug in some headphones to listen to music or watch movies – the sound is clear but a little thin and light on bass – but it's fine for voice and video calls, where the 1MP front-facing camera should render your face without excess noise in most conditions.
The Miix's rear-facing 5MP camera doesn't take brilliant photos, but for work-related tasks it's fine.
Performance is impressive. Our test model's Core i7-7500U with 16GB of RAM producing the third- best result on tests, behind the Asus Flip UX560 and the high-end Surface Pro. However, battery life lags behind the leaders, with just over seven hours of video playback.
It will get you through the average working day, but the Miix 720 is no stamina champion. Still, that's the worst thing you can say about it. Given the competitive spec, effective design and the fact that you get the keyboard and stylus bundled in, it's not just a Surface Pro clone but a credible alternative.
Best Lenovo MIIX 720 prices ?

$

240.20
1 new from $240.20
in stock


$

250.88
1 new from $250.88
in stock


$

273.12
1 new from $273.12
in stock

MORE DEALS

See also THE COMPLETE GUIDE TO…OLED laptops