HP OMEN 15 GAMING LAPTOP – AN OMEN OF THINGS TO COME FOR HP'S GAMING DIVISION?
Republic of Gamers, Aorus, Alienware, and now we have another major manufacturer launching its own dedicated gaming brand, with HP making a serious push with its Omen range. It actually launched last year, but it's only this year that we've seen how serious the company is about developing a dedicated gaming series. Part of this range is the new Omen 15 gaming laptop, which we spent several days playing with.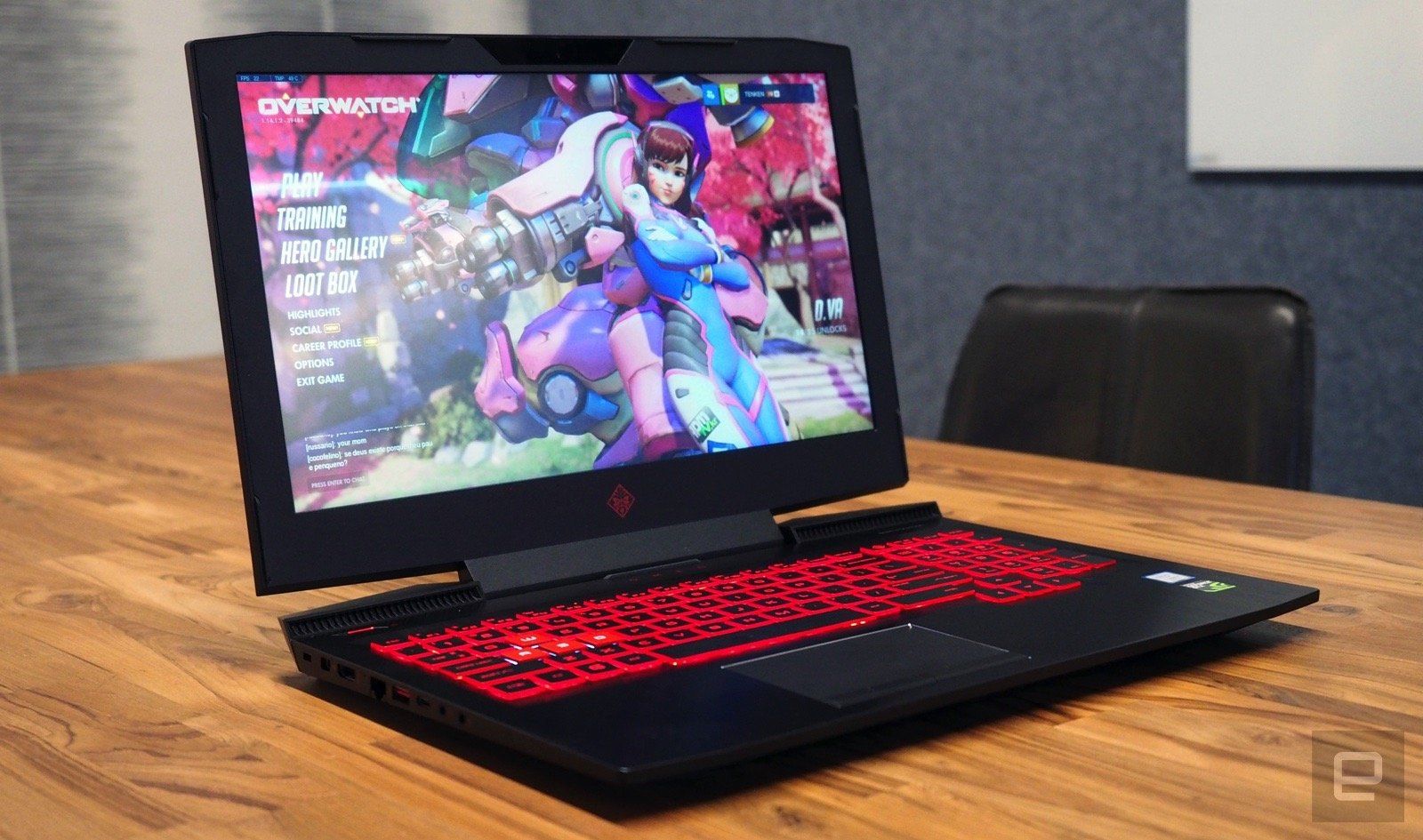 It's the first laptop we've seen to use Nvidia's new Maxq technology, which is an overall approach to laptop design to keep fan noise down, while conserving energy. In the words of Nvidia, it looks for peak efficiency while maintaining high performance, and allows for quiet 18mm gaming laptops decked out with top-end hardware. The Omen we reviewed came with a GeForce GTX 1060 mobile GPU, which may not be the fastest card on the planet, but the audio load topped out at a mere 46dB. There is a pay-off to Max-Q though, as it has a performance impact. This is due to the rather large frequency drop, and in the case of a standard GTX 1060 mobile versus the Max-Q version, the base frequency has dropped from 1544 MHz to 1265 MHz. Meanwhile the Boost frequency drops from 1759 MHz to 1480 MHz, which is a 15% drop.
There's no doubting that this is a gaming laptop based on the carbon fibre look and red highlights. The 99 minute result in PCMark 8 Home Accelerated's battery test also shows it is designed for games – expect to get about three hours of heavy use out of this if it's not plugged in. We're a little surprised at this, as Max-Q is meant to double down on power efficiency, so expected longer than this. It's also not exactly a featherweight, hitting 2.67kg. As
"For this price you're getting a whole lot of laptop – 120Hz display, G-Sync and more."
for I/O we have a single USB 3.1 Type-C, triple USB 3.1 Gen 1, a single HDMI output and a gigabit Ethernet connection (there's also a couple of 3.5mm ports for audio)
Another stand-out feature at this price is the 120Hz G-Sync display; compared to Gigabyte's Aero 15, a similarly priced competitor, this is a huge benefit. Sure, the GTX 1060 will only hit those speeds with older games, but it's a nice inclusion for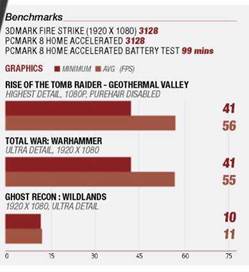 under three grand. Colours are rich and accurate thanks to the IPS panel, and there's a healthy range of I/O ports.
As for the rest of the hardware, we have the usual blend of specs for this price point. Intel's i7-7700HQ quad cores boost up to 3.8GHz and is the darling of the laptop world, while 16GB of memory is just right.
A Samsung 256GB SSD keeps things speedy for your OS and fave games, while a secondary 2TB is more than enough for even the hungriest file hoarders. Performance is bang on where expected for the combination CPU and GPU. As you can see, it runs most games well, but super-strainers like Ghost Recon need a lot more than a mere 1060, hitting a mere frame rate average of 11 frames per second. We're sure it would perform around the 40 frames per second mark at middling settings, but we test all of our laptops at Ultra to really see what they can do.
For this price you're getting a whole lot of laptop – 120Hz display, G-Sync, excellent storage and more.
It might be HP's first big gaming laptop launch in a while, but they've nailed it, especially with the inclusion of Max-Q to help keep it cool and quiet.
BENNETT RING
Best HP Omen 15 Gaming Laptop prices ?
MORE DEALS

See also THE COMPLETE GUIDE TO…OLED laptops
KEY SPECS
I7-7700HQ (quad core, 2.8GHz base, 3.8GHz boost) • 16GB DDR4 memory • GeForce GTX 1060 mobile • 15.6-inch 120Hz G-Sync display