HP'S GLAMOUROUS 2-IN-1 TAKES THE FIGHT TO THE SURFACE PRO BUT MISSES THE PUNCH IN A HANDFUL OF KEY AREAS
The first HP Spectre x2 was a worthy Surface Pro rival: sleek and attractive, it also offered more for your money thanks to its bundled keyboard and stylus. But it was held back by a collection of problems, including a poor quality screen and below-average speakers. Just like Microsoft, HP has updated its consumer 2-in-1 for 2017. So, has HP finally found the magic formula?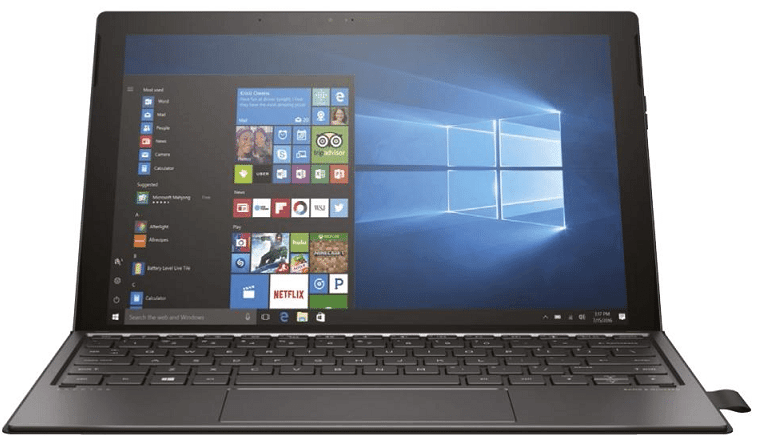 In terms of comparison to the Microsoft Surface Pro, for your cash it's fairly evenly balanced, with the nearest equivalent Surface Pro – that's for the i7 model with a 512GB SSD, which matches the Spectre, although the Surface Pro has twice the RAM at 16GB. However, the Surface Pro doesn't include a keyboard or stylus.
HP has also enhanced the design of the Spectre x2. Its dark grey aluminium body and copper-colored trim not only look great but are a pleasure to use. Its kickstand provides up to 165-degrees of adjustment, making it easy to set up at just the right angle, while it's both light and thin. That tablet portion weighs a mere 780g, rising to 1.15kg with the keyboard, and is only 8mm thick; that's the same thickness as the Galaxy S8.
HP finds space for two USB-C ports on either side of the tablet, and both can be used for charging, display output and data transfers.
The left-hand side also includes a microSD slot and a 3.5mm headphone jack, but you might be tempted to stick with the Bang & Olufsen-branded speakers that flank the screen and face forwards: they sound great, with remarkably full-bodied audio for such a slim device. Elsewhere, HP includes Intel 802.11ac wireless and Bluetooth 4.2, plus two cameras: a front-facing, 5-megapixel camera with a dual microphone and a rear-facing 13-megapixel shooter.
SENSE OF ATTACHMENT
The keyboard attaches magnetically to the tablet via a ten-pin connector and can either be arranged so it lies flat on the desk or tilted up at a slight angle. There's minimal keyboard flex with the keyboard in the latter configuration, and the keys are well-spaced, backlit and have a nice, positive action. Typing is a breeze on this keyboard.
The trackpad is wider than last year's model and its frosted glass top feels lovely under the finger. However, I found using it hit and miss. Sometimes it wouldn't properly track my swipes and clicks, requiring multiple attempts.
More troublesome was the recognition of the bundled keyboard and trackpad with the Spectre x2's main frame. Occasionally, when flipping between laptop and tablet mode, the x2 would simply refuse to connect to the keyboard, even with it still attached.
On the plus side, the HP Active Pen works flawlessly, especially with Windows Ink integration. With 2,048 levels of pressure sensitivity, it's wonderfully responsive and the nib has a "grippy" feel on the surface of the tablet. Palm rejection is effective as well. But the Microsoft Pen outscores it on two points: first, the HP's isn't tilt-capable; second, Microsoft offers 4,0% pressure points and a nicer "pen on paper" feel.
One area where the x2 has improved dramatically is the display. Where last year's offering was a wan, washed-out 1080p screen, this year's 12.3in display has a sharper resolution of 3,000 x 2,000 and looks great. It's even crisper than the Surface Pro 4's 12.3in 2,736 x 1,824 "PixelSense" screen, which is saying something.
Testing with our colorimeter produced impressive results. The x2 reproduced 91.7% of the sRGB color gamut, resulting in vivid colors. It's also color accurate and has a stunning 1,315:1 contrast ratio. Movies, photos and TV shows look fantastic. And it gets rather bright, too: at 488cd/m2, this is one of the few laptops you can use outdoors on a sunny day.
POWER WITH A CATCH
Inside, there's a 2.4GHz Intel Core i7-7560U with 8GB of LPDDR3-1866 SDRAM. Coupled with Windows 10 Home 64-bit, the HP Spectre x2 feels responsive in everyday use. I was disappointed, then, when it could only muster 40 in our benchmarks. Compare that with the similarly specified Surface Pro 2017 – albeit with 16GB of RAM and a fractionally faster processor – which scored 60. The HP Spectre x2's score is closer to the old Microsoft Surface Pro 4 (with an Intel Core i5-6300U), which achieved 44 in the same tests.
Performance in the crossplatform Geekbench 4 benchmark is an entirely
Taking its cue from the Surface Pro's adjustable kickstand, the Spectre x2 can tilt back to 165 degrees. Not only do you get a stylus as part of the package, there's somewhere to put it!
different story. The HP Spectre x2 is the top dog here, with a score of 4,441 and 8,222 in the single-core multi-core benchmarks respectively compared with the Surface Pro 4's 3,634 and 7,046.
So why the stark contrast in results? It's because our in-house benchmarks take much longer to complete, and at some point thermal throttling comes into play, limiting the HP's performance. Geekbench 4 takes only a few minutes to complete, while our benchmarks can take several hours.
"I saw the CPU hit 96°C at one point, meaning the x2 was a stone's throw away from blue screening or an automatic shutdown"
Indeed, I saw the Spectre x2's CPU hit 96°C at one point; given the maximum temperature is 100°C, it was a stone's throw away from blue screening or an automatic shutdown, which would be triggered by the motherboard.
For graphics, HP relies on Intel's integrated Iris Plus Graphics 640. You won't be playing modern titles at the display's 3,000 x 2,000 native resolution: in the GFXBench benchmark, the Spectre x2 managed only 8.6fps in Car Chase and 15.6fps in the Manhattan 3 benchmark at this resolution. However, if you do want to use the laptop for gaming, you'll get decent results by dialling down the resolution to a more manageable 1080p. Here, the laptop achieved 23.8fps and 42.6fps respectively.
The most impressive aspect of the HP's performance, though, was left to last when I put the 512GB PCIe NVMe M.2 SSD to the test: it delivered seriously quick sequential read and write speeds of 2,115MB/ sec and 636MB/sec respectively.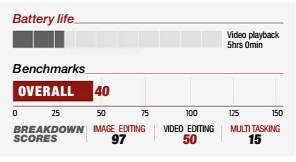 As for battery life, however, it's back to disappointment I'm afraid, with a lowly 5hrs in our video rundown test. Again, the Spectre x2 lags considerably behind the Microsoft Surface Pro 2017, which achieved more than double this result at 11hrs 33mins. The only good news is that it supports fast charging, hitting around 50% in 30 minutes.
VERDICT
The HP Spectre x2 initially looked a tasty proposition, so it's disappointing that it misfires in key areas. At first sight, it's a stunning 2-in-l with blistering short-burst performance, a fantastic screen and a set of forward-firing speakers that will make films sound great.
However, its thermal limitations are worrying and the battery life is poor for a modern machine. If you're looking for a do-it-all 2-in-l device I'd go for the Microsoft Surface Pro 2017 instead; or, for even less consider the older Surface Pro 4.
See also THE COMPLETE GUIDE TO…OLED laptops
CHRISTOPHER MINASIANS
KEY SPECS
Dual-core 2.4GHz Intel Core i7-7560U processor • Intel Iris Plus Graphics 640 • 8GB RAM • 12.3in touchscreen IPS display, 3,000 x 2,000 resolution • 512GB M.2 NVMe SSD • 5MP infrared webcam • 13MP rear camera • 802.11ac Wi-Fi • Bluetooth 4.2 • 2 x USB-C • microSD card slot • Windows 10 Home • 41,6Wh battery • tablet only, 293 x 207 x 7.7mm (WDH) • with keyboard, 293 x 207 x 13.2mm (WDH) • tablet, 0.78kg • with keyboard, 1.15kg