Reviewed by Ren Alcantara
Video games are big business. Gaming companies know this, and that's how they're able to keep publishing games. Manufacturers know this too, and it's such big business, there are whole brands devoted to making gaming-centered hardware, for gaming-centered users.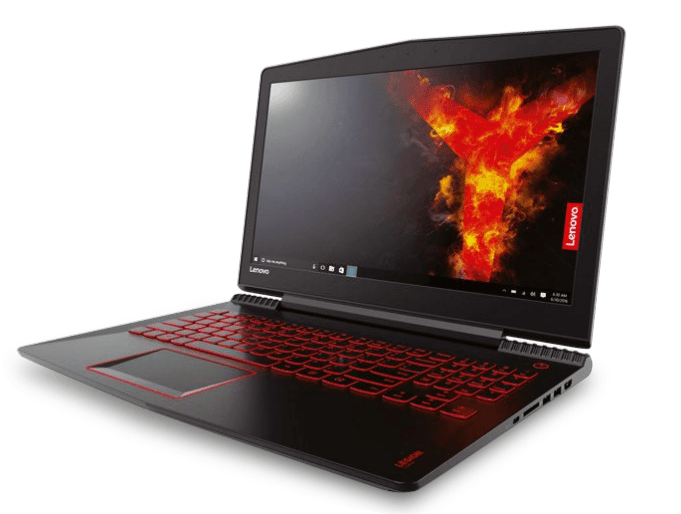 Lenovo has finally done the inevitable, and given its "Y" series of performance laptops its own name, and today, we're looking at one of the laptops in this new-old line. Behold.The Lenovo Legion Y520.
DESIGN
☆☆☆☆☆
The Legion Y520 is similar in design with the previous generation of Y-series gaming machines from the brand, with a few subtle accents here and there. Firstly, the laptop's lid and chassis aren't plainly rectangular, and secondly, the lid is no longer metal, but a pleasingly rigid plastic. Both the top and bottom of the laptop's clamshell come to a nice, gentle point at the middle. Add this to the wonderfully textured top, and some contoured lines for a slight visual accent, and you have a machine that's exciting, but not over the top.
Once opened, you see the red accents Lenovo chose to use to make the controls and keys pop. The WASD keys also have an extra splash of red, just so you don't forget what those keys are really for. The speakers can be found on either side of the hinge, and face the user. They're kept safe behind a beefy metal screen. Because it's got quite a bit of hardware in it, the Legion is on the hefty side, at 2.5Kg. Not a big change from the past, for better or worse.
HARDWARE
The Legion Y520 runs the Intel Core i7-7700 HQ processor, which hums along at a maximum of 3.8 GHz, paired with 8 GB of DDR 4 RAM. It comes with a 512GB SSD and a 1TB HDD, for both plenty of storage, and fast performance. Being a gaming laptop, you also get the highly capable NVIDIA GeForce GTX 1050, and 4 GB of GDDR5 VRAM. This isn't your granny's gaming laptop. This pushes video to a properly large 15.6-inch, Full HD, IPS display, with a nice matte finish to cut glare down.
Connectivity options abound on this device. You've got a whole slew of connectors, from 2 USB 3.0 ports, 1 USB 3.0, and USB C port, a LAN port, an SD card reader, and an HDMI port. Should you need it, a version with a backlit keyboard is also available. If you need a little more punch for your audio, you can connect headphones and a mic to the 3.5mm combo audio jack.
USER EXPERIENCE
I've always liked Lenovo's gaming laptops. They offer a fair balance of performance, price and with the Legion series, it seems like they aren't one to change a winning formula. It's also a decent size for a gaming laptop, and at about the upper limit of what I would be willing to carry around. Cracking the thing open, you're going to be treated to a large, wonderful screen, and a roomy keyboard, with a dedicated numpad.
It looks a little odd, given the little peak they have the laptop's shape and the off-center location of the trackpad, but everything is in exactly the right place when in use. The keys are soft, but have excellent travel, and a pleasant, positive "click" at the bottom of the stroke. It's not mechanical, of course, but as far as laptop keyboards go, it's up there.
On to the meat of her, then!
On Witcher 3, we were hovering at about the 36 FPS mark, on Very High graphics settings. Overwatch, on Epic, gave us just under 50FPS, and Rise of the Tomb Raider got us about 20FPS, again on maxed out graphics settings—impressive figures all things considered. The screen is more than able to keep up with the kind of frantic action one can see playing Tracer in a few rounds of Overwatch, more than we can say about our own home systems, unfortunately (as a side note, I never realized Tracer had such interesting freckles. I'd always kept my graphics settings low.) With plenty of room on the keyboard, great tactile response, and a large, sharp, crisp screen, all you need is a nice mouse, a six-pack of Mountain Dew, and a big bag of Doritos, and you're off to the races with this one.
Since it's a gaming laptop, don't expect too much from it when on the battery. 45 Wh of juice is a lot, but it's pushing quite a load. You'll get about three and a half hours of non-gaming use on the laptop before you have to plug in, which again, is totally reasonable, given the hardware.
VALUE
☆☆☆☆☆
The Legion Y520 is going to arrive on Philippine shores starting. While this isn't quite we were hoping for, it's a decent amount of laptop for the price. Even with the competition playing around this amount, the Legion still makes a compelling enough case with Lenovo's brand, great build quality, and (still) reasonable price.
PROS:
More than capable hardware
Great keys
CONS:
Slightly plain design
Not many additional features