A big, powerful metal monster of a laptop.
If the Dell Inspiron 17 7737 looks familiar, it's because it's the bigger 17in version of the Inspiron 15 7000 reviewed back. Although this huge Windows 8.1 laptop isn't quite as fast as the admittedly more expensive Toshiba Satellite P50t B 10k, it's still easily capable of replacing a desktop PC.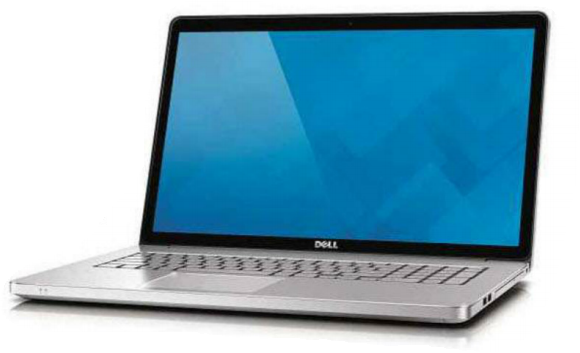 The 17-7737 is a thick, heavy laptop at 3.3kg which rises to a back-breaking 3.9kg when its charger is included. This is due to its robust metal construction, built in DVD winter and large 17in screen. Although it's not the brightest screen we've seen, color accuracy, contrast and viewing angles are all reasonably good. Plus, its large 1920xl080-pixel resolution means you can easily work on two documents side by side or on large spreadsheets without lots of scrolling.
The screen is touch-sensitive, but using an upright touchscreen for long periods will cause arm ache. There's no need to do so, though, because you can use the same gestures on the large and accurate touchpad, such as swiping in from the left to switch between recently used apps. The laptop's large dimensions means there's also enough space for a full-size number pad for fast data entity in spreadsheets. The large silver keys could do with darker lettering that stands out more, but the keys do have plenty of feedback and travel for comfortable, fast and accurate typing.
As expected, the 17-7737 is a very fast laptop thanks to its 2GHz dual-core Intel Core i7 4510U processor which is paired with a generous 16GB of memory. However, although the Satellite P50t only has half as much memory, it was a third faster in our image editing test and almost 50 per cent quicker in our video editing test because it has a faster quad-core processor. The 17-7737 is still powerful enough for most computing tasks though. Plus, it has the edge over the P50t when it comes to 3D graphics because its Nvidia GeForce GT 750M dedicated graphics chip is almost twice as fast as the Satellite's equivalent. Its biggest flaw is how long it takes to start and wake from sleep, lagging behind SSD-equipped laptops.
Battery life isn't great at just four hours and 17 minutes, but this isn't a serious flaw as this laptop's lumbering weight means it's too heavy for regular travel anyway. Disappointingly, Wi-Fi is 802.11n and not the faster 802.11ae standard, but you can always plug an 802.11ac USB adapter into one of the four USB3 ports.
The Dell Inspiron 17 7737 is a powerful and well made laptop. There are even faster alternatives, but overall it's good value if you want a speedy laptop with a big screen.