Out on 20 October, 2022, Kubuntu 22.10 kicked off a new development cycle for this distribution with the KDE Plasma desktop. Read our Kubuntu 22-10 Review.
Written by Adam Hunt
Kubuntu 22.10 is the first interim release of this cycle, to be followed by two more interim releases and then the long term support (LTS) version – which will be Kubuntu 24.04 LTS, due out in April 2024.
Most of the Ubuntu-based "flavors" are now well-established projects and that means that each release usually brings just small refinements, not big changes. Kubuntu 22.10 is the distribution's 36th release and the 15th with the Qt-based Plasma 5 desktop. Being an interim release, it is supported for only nine months, until July 2023.
Most Kubuntu desktop users skip the interim releases and stick with the LTS versions which come out every two years and are supported for three years.
Installation
I downloaded the ISO file from the official source by BitTorrent. Once completed, I ran an SHA256 sum check on it to make sure I had a good download.
This Kubuntu download is a record size at 4.3 GB. That is 27% larger than the last Kubuntu release, and 39% bigger than the one before that. Kubuntu 22.10 is even bigger than Ubuntu 22.10 which weighs in at 3.8 GB. This same bloat effect seems to be happening to all the Ubuntu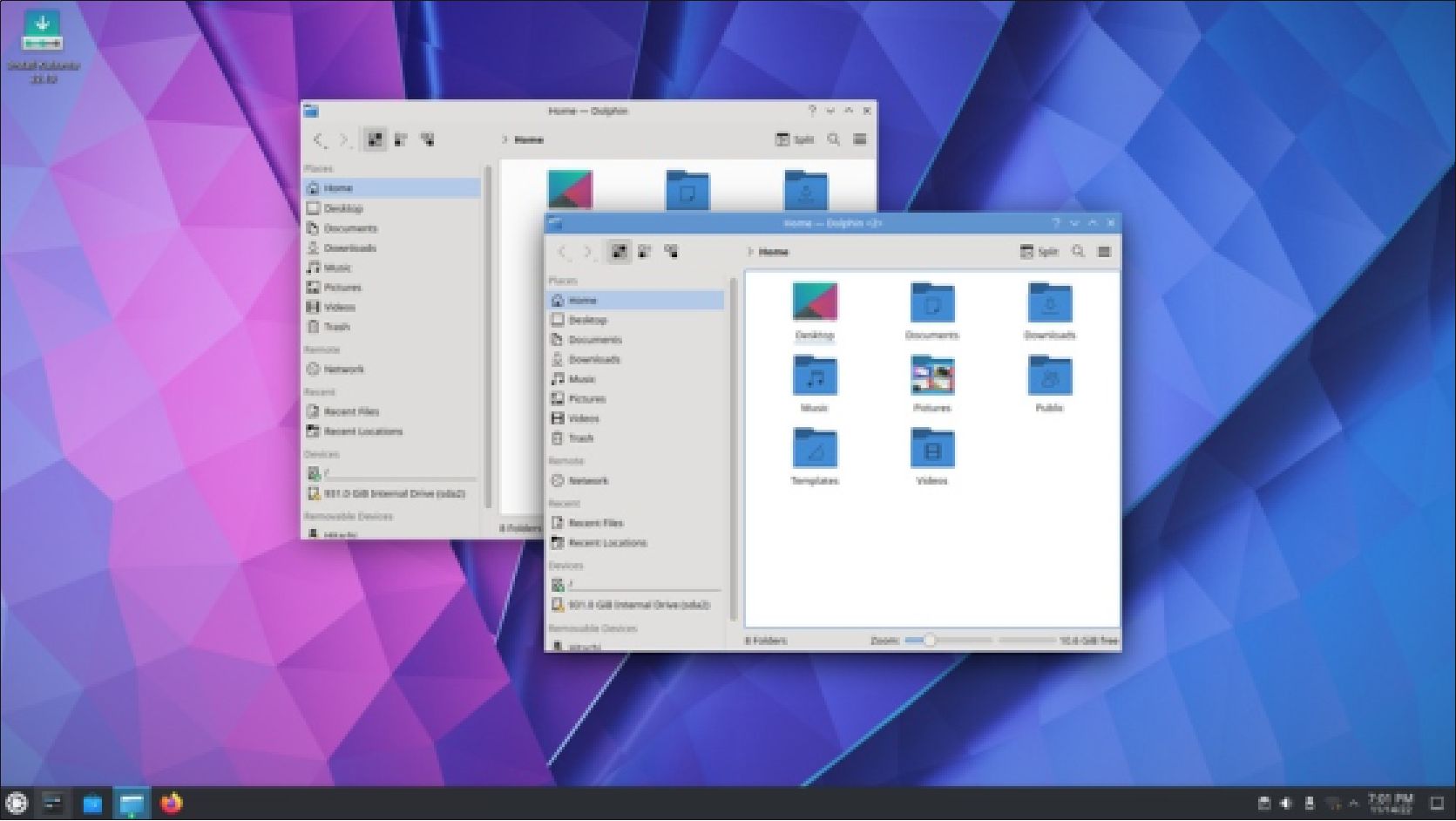 derivatives over the last year or so, but there has been no official explanation for it.
I tested Kubuntu 22.10 by dropping it onto a USB stick equipped with Ventoy 1.0.81. Ventoy takes care of all the unpacking at boot up, and the stick can hold several different distributions, with Ventoy offering a choice of which one to try out at boot up. It is an efficient tool for reviewers, but also for anyone trying out multiple distributions for their own use.
System requirements
The recommended minimum system requirements for Kubuntu 22.10 are the same as for Ubuntu and have not changed for this release:
•    2 GHz dual-core processor
•    4 GB RAM•    25 GB of hard-drive, USB stick, memory card, or external drive space
•    Screen capable of 1024×768 pixel screen resolution
•    Either a CD/DVD drive or a USB port for the installation media
•    Internet access is useful, but not essential
The recommendation of 4 GB of RAM is probably a bit light these days, given how much RAM modern web browsers consume with only a few tabs open. 8 GB of RAM is probably a more realistic minimum for decent performance.
New
The only really substantive change incorporated in Kubuntu 22.10 is the switch of the audio controller from PulseAudio to PipeWire, following the lead of Ubuntu on this move, although most users probably will not notice the difference. PipeWire is supposed to be less buggy, support more hardware, use less CPU power, and give better audio performance, especially over Bluetooth and for video conferencing.
Kubuntu 22.10 uses the Qt 5.15.6 toolkit, KDE Frameworks 5.98, and applications from KDE Gear 22.08. It has the Plasma 5.25.5 desktop which brings a collection of minor improvements.
The newer Plasma 5.26 desktop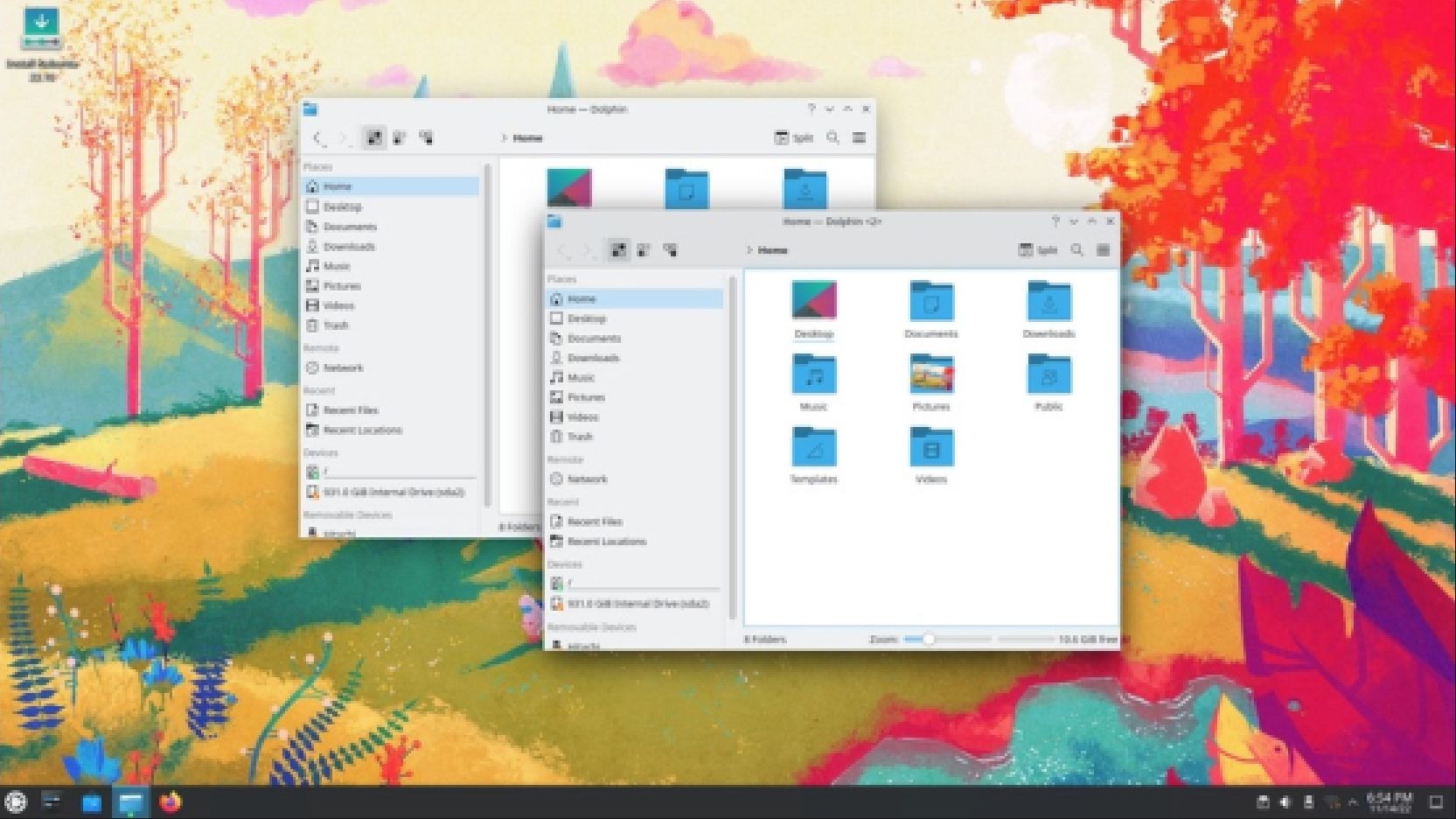 had just been made available when Kubuntu 22.10 came out, but it was too close to the deadline to be included. Plasma 5.26 will probably turn up in the next interim Kubuntu version which will be Kubuntu 23.04, due out in April 2023.
There have been no changes to the mix of applications included in this release, just version updates to the KDE Gear 22.08 versions.
Like all Kubuntu releases, 22.10 comes with fresh wallpaper for a new look. This wallpaper is entitled Safe Landing and is by Luis Durrant. Most recent wallpapers have been rather toned-down abstract designs, but this one is whimsical, bright, and rather busy. As in the previous release, there are 31 other wallpapers to choose from, many favorites from recent Kubuntu releases. Of course, you can always use your own wallpaper, too.
Settings
Kubuntu continues to be the most customizable of the Ubuntu flavors, with a myriad of user settings provided, to really make it look and work the way you want. In talking to Kubuntu users, many mention the high degree of customization available as a big reason why they are fans.
Kubuntu 22.10 offers users four global themes, four application
styles, six Plasma styles, five window colors, two window decoration styles, eight icon sets, and eight cursor styles. And, that is just the list of installed options. Most of the settings pages offer a one-button download and installation of a plethora of more options, right from each of the settings windows.
Kubuntu 22.10 also has a choice of 68 pre-installed desktop widgets. These are small applications that can be added to your desktop like clocks and weather reports. Hundreds more widgets can be downloaded, as well. You will probably need a bigger screen if you plan to install more than a handful of them.
The KDE Plasma desktop panel (task bar) can be easily relocated to anywhere on the screen, including left, right, top and bottom, or even in the middle. You can even have more than one panel. By default, the panel is found on the bottom of the screen but, when moved, it changes its icons to its new orientation. The panel can also be made wider or narrower, and the icons resize automatically to fit.
The KDE main menu continues to work well. Since Plasma 5.21, the menu has been smoother and more functional than in earlier versions.
Applications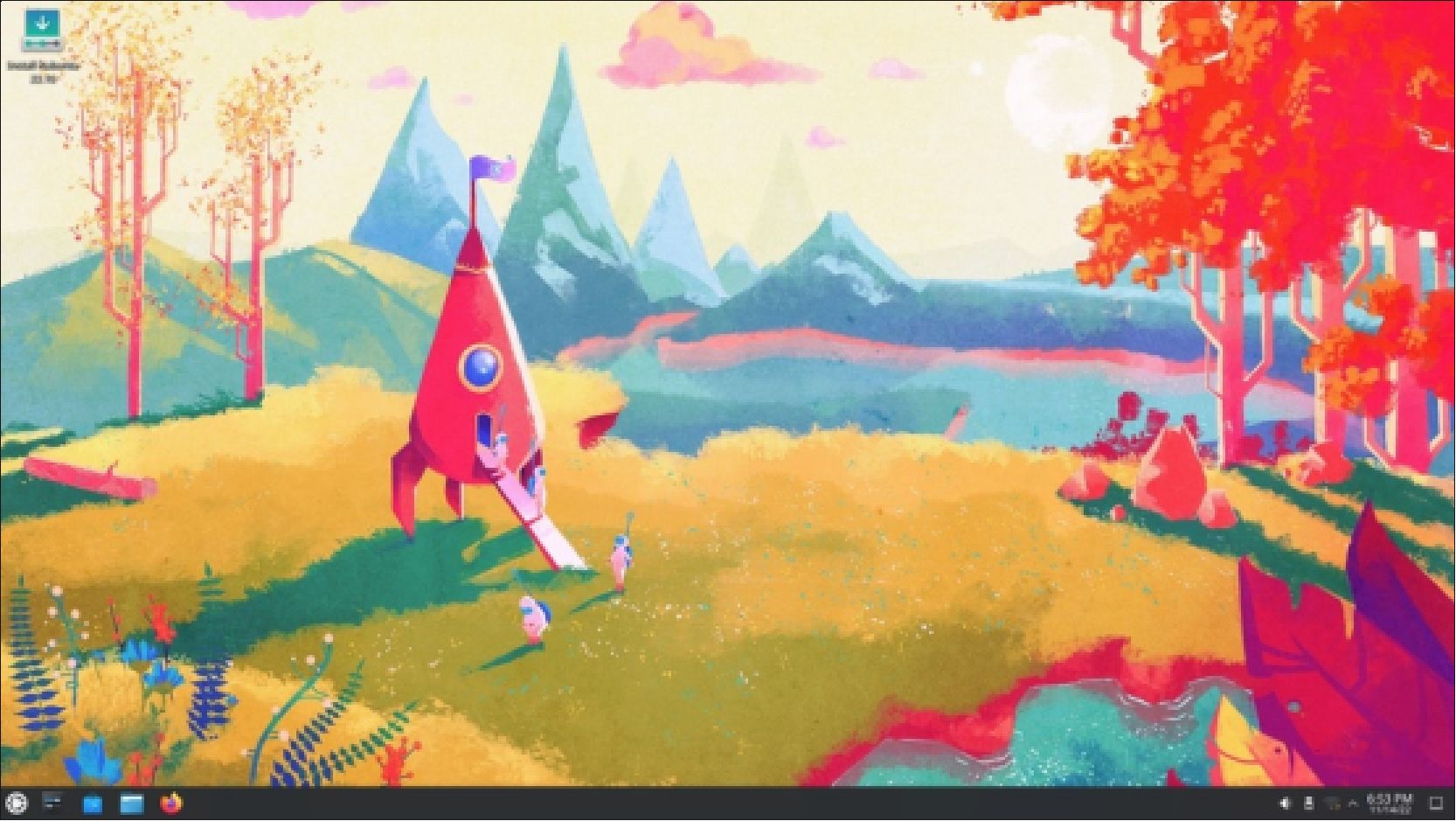 Some of the applications included with Kubuntu 22.10 are: Ark 22.08.4 archive manager Discover 2.1.2 software store
* Dolphin 22.08.2 file manager
Elisa 22.08.2 music player
Firefox 106.0 web browser**
Gwenview 22.08.3 image viewer
Kate 22.08.2 text editor
Kcalc 22.08.1 calculator
KDE Partition Manager 22.08.1 partition editor
Konsole 22.08.2 terminal emulator
Kmahjongg 22.08.1 game
Kmines 22.08.1 game
Konversation 22.08.1 IRC client
Kpatience 22.08.1 game
Ksudoku 22.08.1 game
Ktorrent 22.08.1 BitTorrent client
LibreOffice 7.4.1 office suite, less only LibreOffice Base database Muon 5.8.0 package manager* Okular 22.08.1 PDF viewer
PipeWire 0.3.58 audio controller Plasma System Monitor 5.25.5 system monitor
Skanlite 22.04.3 scanning utility Spectacle 22.08.1 screenshot tool Startup Disk Creator 0.3.15 (usb-creator-kde) USB ISO writer
Thunderbird 102.3.3 email client VLC 3.0.17 media player
* indicates same application version as used in Kubuntu 22.04 LTS
** supplied as a snap so the version depends on the upstream package manager
As can be seen from the lack of asterisks, most of the applications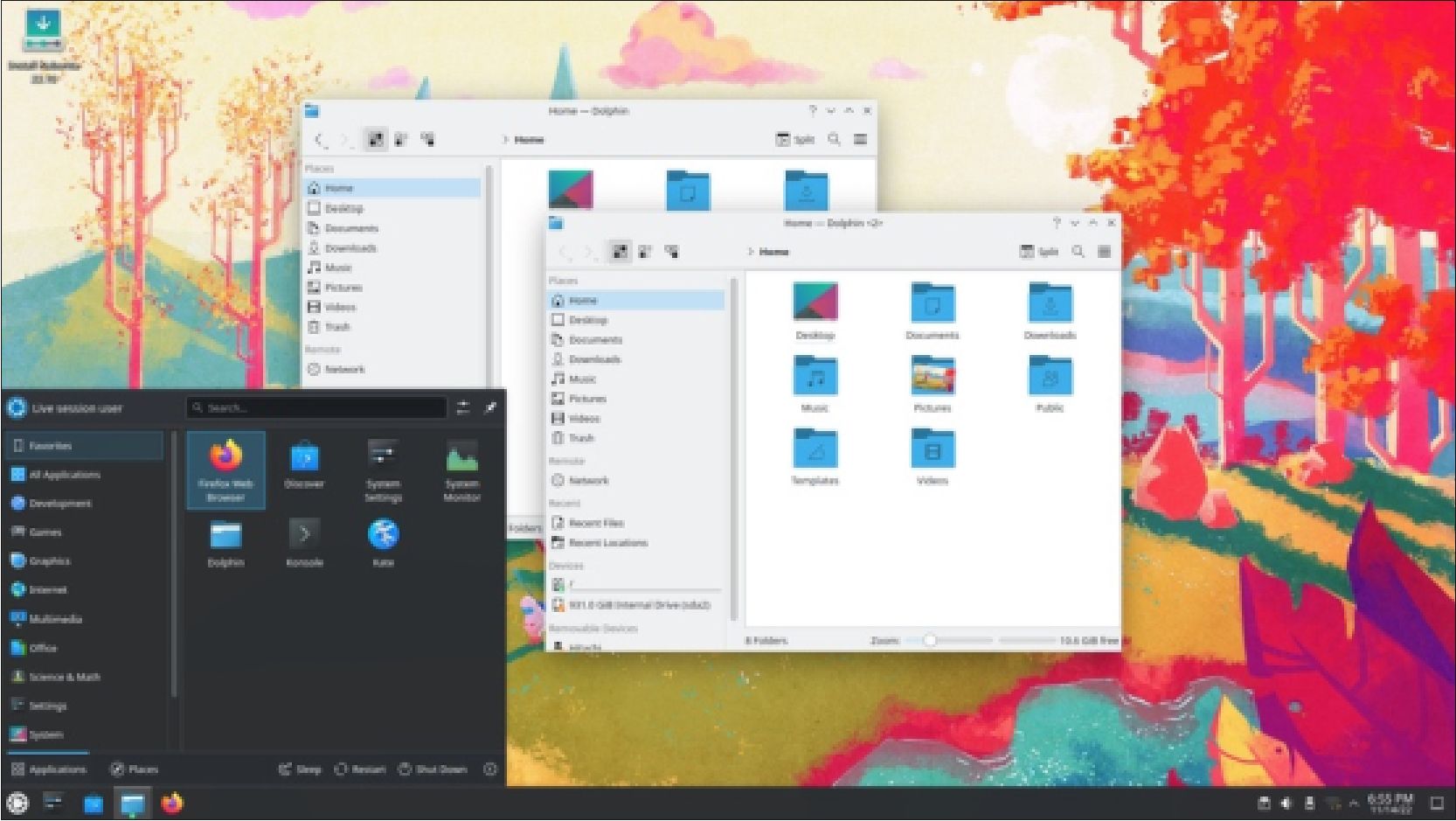 included are updated application versions from KDE Gear 22.08 collection with only the optical scanner, Skanlite, leftover from KDE Gear 22.04. The Gear 22.08 versions of the KDE applications include many small improvements but no major changes.
Kubuntu 22.10 continues to provide Firefox as a snap package for the default browser.
LibreOffice 7.4.1 is once again provided complete except for LibreOffice Base, the office suite's database application. Base is not widely used, but it can be added from the repositories, if desired.
As in past releases, Kubuntu 22.10 does not include a webcam application, image editor or video editor by default, although there are many options for each in the repositories for easy installation using Muon, Discover, or with APT from the command-line. KDE's Qt-based Kdenlive remains probably the best choice in a video editor, plus it fits on the KDE desktop nicely.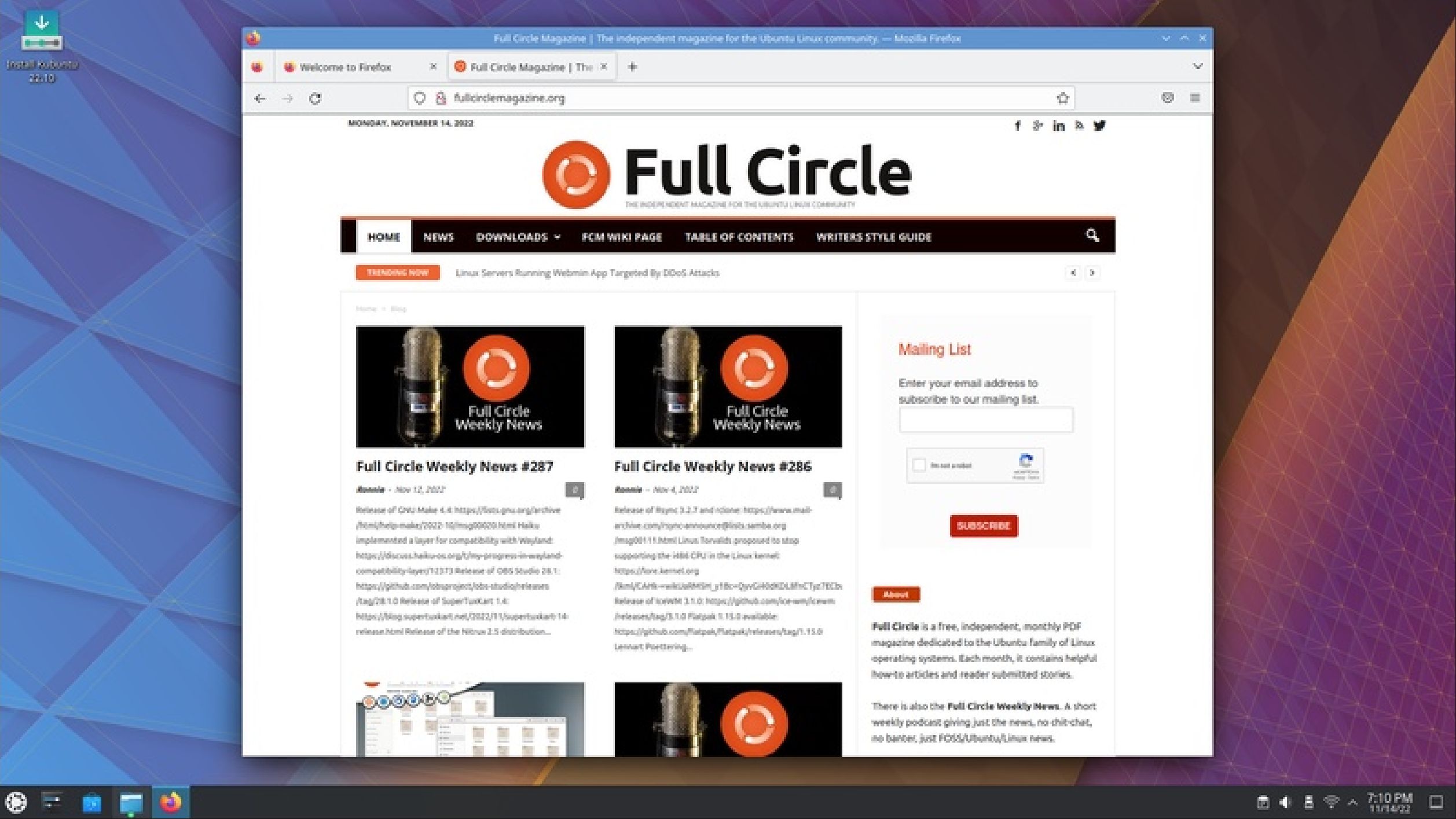 Conclusions
If this first interim release is a good indication of the direction for this development cycle, then it looks like we can expect just some minor refinements on the path to the next LTS release due out in April 2024. I think that, after 36 releases, most Kubuntu users like the way it works and don't see any great need for changes.
External links
Official website:
Adam Hunt started using Ubuntu in 2007 and has used Lubuntu since 2010. He lives in Ottawa, Ontario, Canada, in a house with no Windows.