The new Kubuntu long term support release, 22.04 LTS, arrived on 21 April, 2022, and brought almost no surprises for Kubuntu fans.
Kubuntu 22.04 LTS completes this development cycle of three "standard" releases which started with Kubuntu 21.04 in April, 2021.
This release is the 35th version of Kubuntu and the 14th one with the Plasma 5 desktop. This is what I would call a very mature project, and has attracted a solid base of dedicated users.
As an LTS, Kubuntu 22.04 LTS has three years of support, until April, 2025.
Installation
I downloaded the Kubuntu ISO file and carried out an SHA256 sum check on it from the command-line to ensure that the file was good.
It is worth noting that this release is 3.4 GB, which is 300 MB bigger than the last release, Kubuntu 21.10, and matches Ubuntu 22.04 LTS for download size.
I used a USB stick equipped with Ventoy 1.0.73 to boot up Kubuntu 22.04 LTS and test it. Ventoy makes testing Linux and BSD distributions easy as – once it is installed on a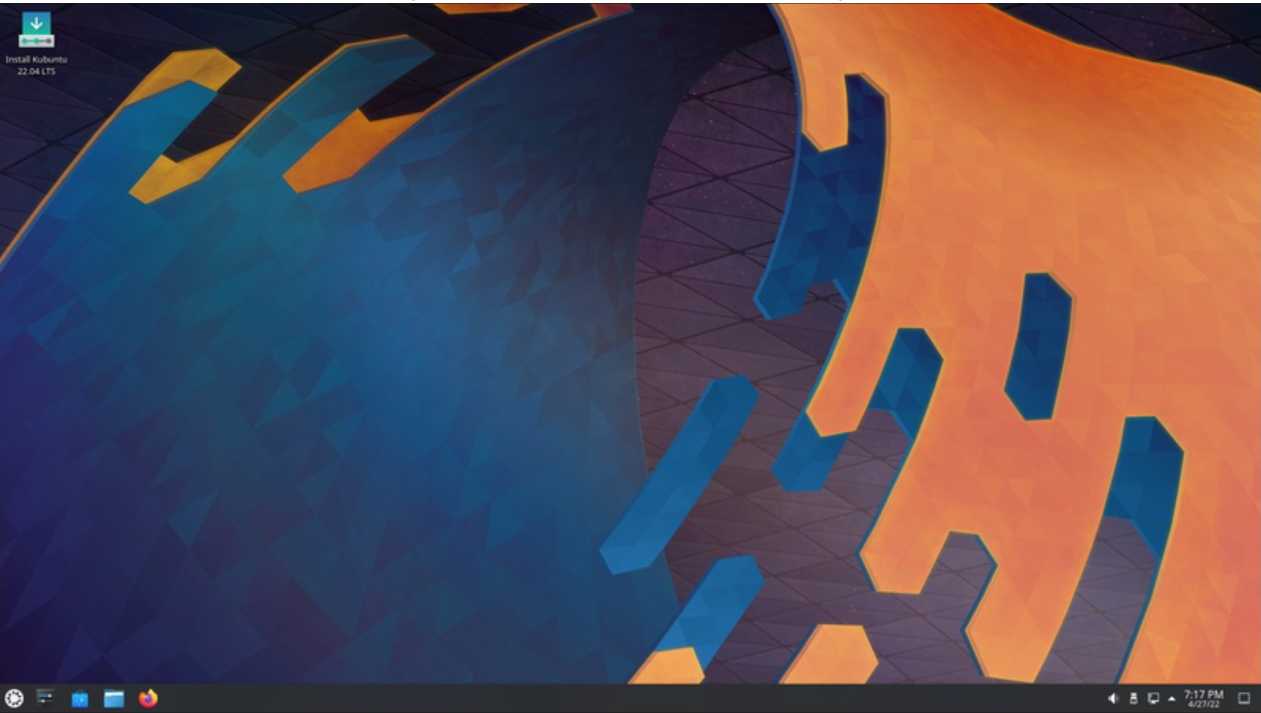 USB stick, you can just cut and paste the ISO files onto the stick and Ventoy takes care of the rest at boot-up. It also allows multiple ISO files on one stick, chosen at the boot window, which is great for trying out a bunch of different distributions in sequence.
System requirements
The minimum system requirements for Kubuntu are the same as for Ubuntu and are currently:
2 GHz dual-core processor
4 GB RAM
25 GB of hard-drive, USB stick,
memory card or external drive space
Screen capable of 1024×768 pixel screen resolution
Either a CD/DVD drive or a USB port for the installation media
Internet access is useful, but not essential
New
This whole release cycle for Kubuntu has introduced only a few small changes, and the LTS release has almost nothing new over the last standard release, which is the way the development process is supposed to work. Any changes should happen early in the cycle, within the first release or two, and then the last standard release should fix any outstanding issues so that the LTS is rock solid, with almost nothing new included.
This release uses Qt 5.15.3 and the KDE Plasma 5.24.4 desktop which introduces some small refinements. The standard KDE menu now works very smoothly and is easy to use.
Even though Ubuntu has been using the Wayland protocol display server by default since Ubuntu 21.04, Kubuntu is continuing with the X server for this release. A Wayland session is available on boot-up for testing, but the Kubuntu developers warn that it is officially not supported, so you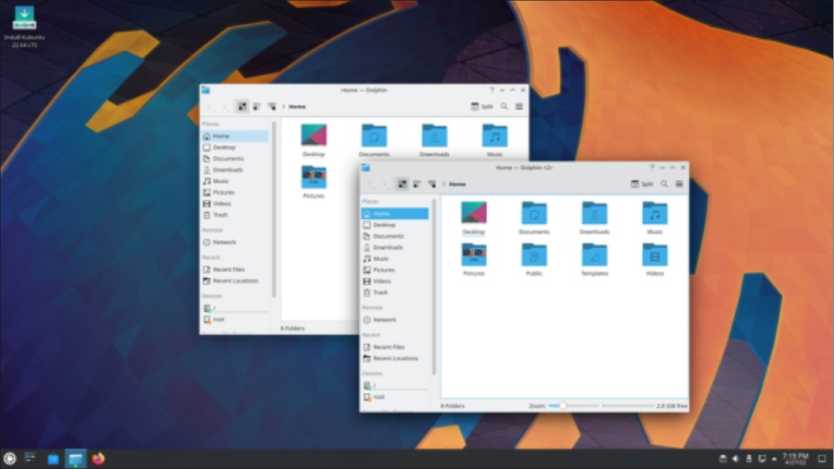 have been warned!
The list of default applications remains the same as Kubuntu 21.10, although most versions have been updated to the KDE Gear 21.12.3 releases.
Settings
As in the past, Kubuntu 22.04 LTS has a myriad of settings allowing users to make Kubuntu look and work almost any way they want.
Kubuntu 22.04 LTS offers four global themes, four application styles, six Plasma styles, five colors, two window decoration styles,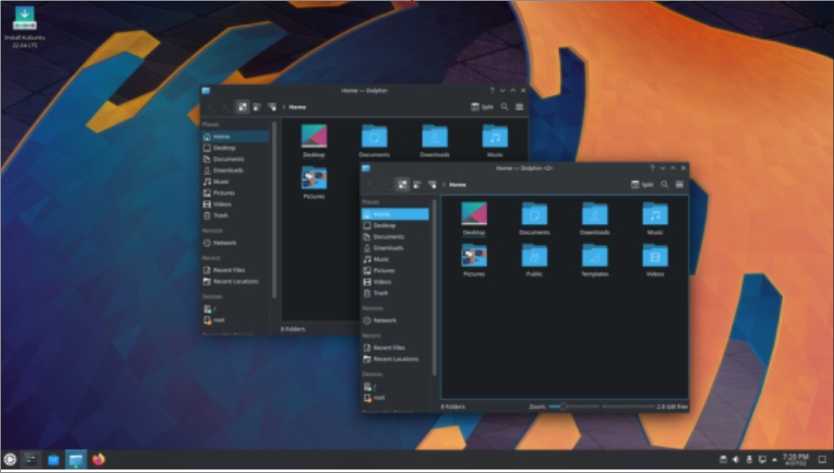 eight icon sets, and eight cursor styles, and that is just the list of the installed options. Most of the settings pages also offer one-button download and installation of many, many more options, right from the settings windows.
Kubuntu 22.04 LTS also offers 68 pre-installed desktop widgets, one more than in 21.10, as these only seem to proliferate over time. Widgets are small applications that can be added to the desktop to improve functionality and these range from analog clocks and weather applications to CPU and RAM load monitors. Hundreds more widgets can also be downloaded, but you will need a large screen for them all.
Applications
Kubuntu releases come with a Fairly complete suite of user applications. In Kubuntu 22.04 LTS these include:
Ark 21.12.3 archive manager Discover 2.1.2 software store* Dolphin 21.12.3 file manager Elisa 21.12.3 music player Firefox 99.0.1 web browser** Gwenview 21.12.3 image viewer Kate 21.12.3 text editor Kcalc 21.12.3 calculator KDE Partition Manager 21.12.3 partition editor
Konsole 21.12.3 terminal emulator Kmahjongg 21.12.3 game
Kmines 21.12.3 game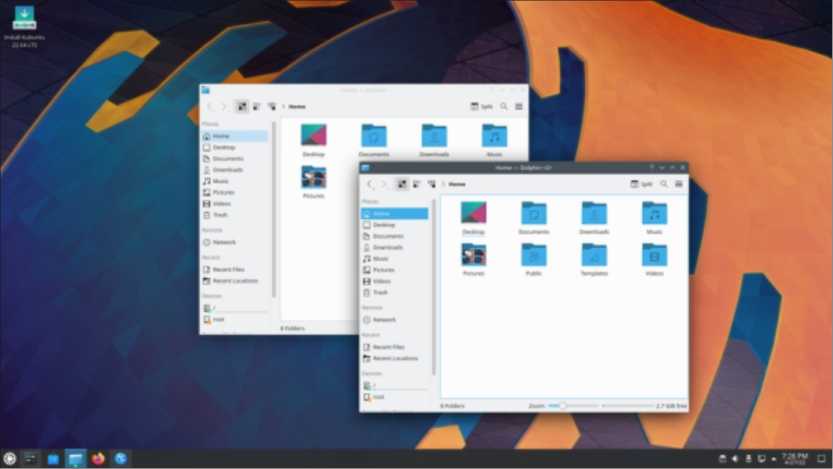 Konversation 21.12.3 IRC client
Kpatience 21.12.3 game
Ksudoku 21.12.3 game
Ktorrent 21.12.3 BitTorrent client LibreOffice 7.3.1 office suite, less only LibreOffice Base database Muon 5.8.0 package manager* Okular 21.12.3 PDF viewer
Plasma System Monitor 5.24.4 system monitor
PulseAudio 15.99.1 audio controller Skanlite 21.12.3 scanning utility Spectacle 21.12.3 screenshot tool Startup Disk Creator 0.3.13 (usb-creator-kde) USB ISO writer Thunderbird 91.8.0 email client
VLC 3.0.16 media player*
* indicates same application version as used in Kubuntu 21.10
** supplied as a snap so version
depends on the upstream package manager
As can be seen from the lack of asterisks, most of the applications included are updated versions from the KDE Gear 21.12.3 collection. In general, these updated applications include small tweaks and improvements.
The only obvious desktop applications lacking in the default collection are a webcam and an image or video editor, although the repositories have a number of options should they be needed. A CD/DVD burner application was dropped from Kubuntu long ago, as new computers no longer ship with that hardware. The formerly-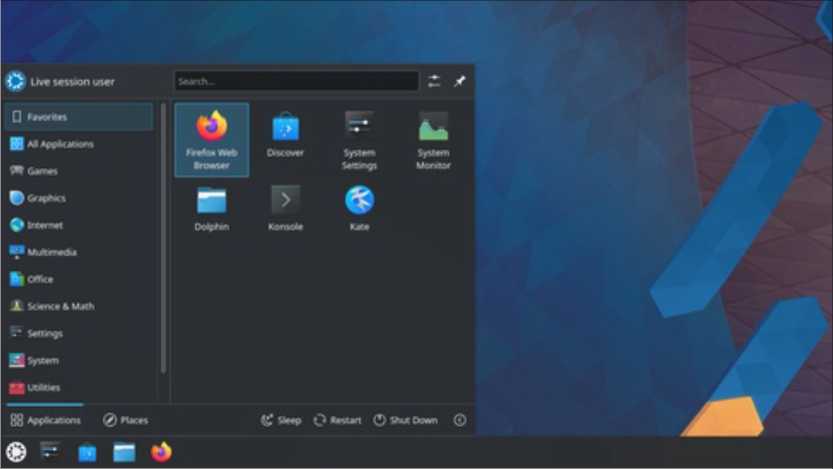 included K3B CD/DVD burner is available to install though, should you have an older computer with an optical drive.
Kubuntu has the LibreOffice office suite, complete except for the infrequently-used LibreOffice Base database application. Again, it can be installed if needed.
Of course one of the key questions to be answered with the release of Kubuntu 22.04 LTS is whether Firefox would be included as a snap package or not. Ubuntu switched to using the snap version of the Firefox web browser in Ubuntu 21.10. That release also offered the traditional .deb package, but that option is now gone from the 22.04 LTS repositories, leaving only the snap version. The Kubuntu developer team had the option of moving to the snap, switching browsers or doing something else. In the end they decided to go with the snap package.
Some Ubuntu flavors that have moved to the snap version of Firefox provided detailed rationales for it, like the Xubuntu developers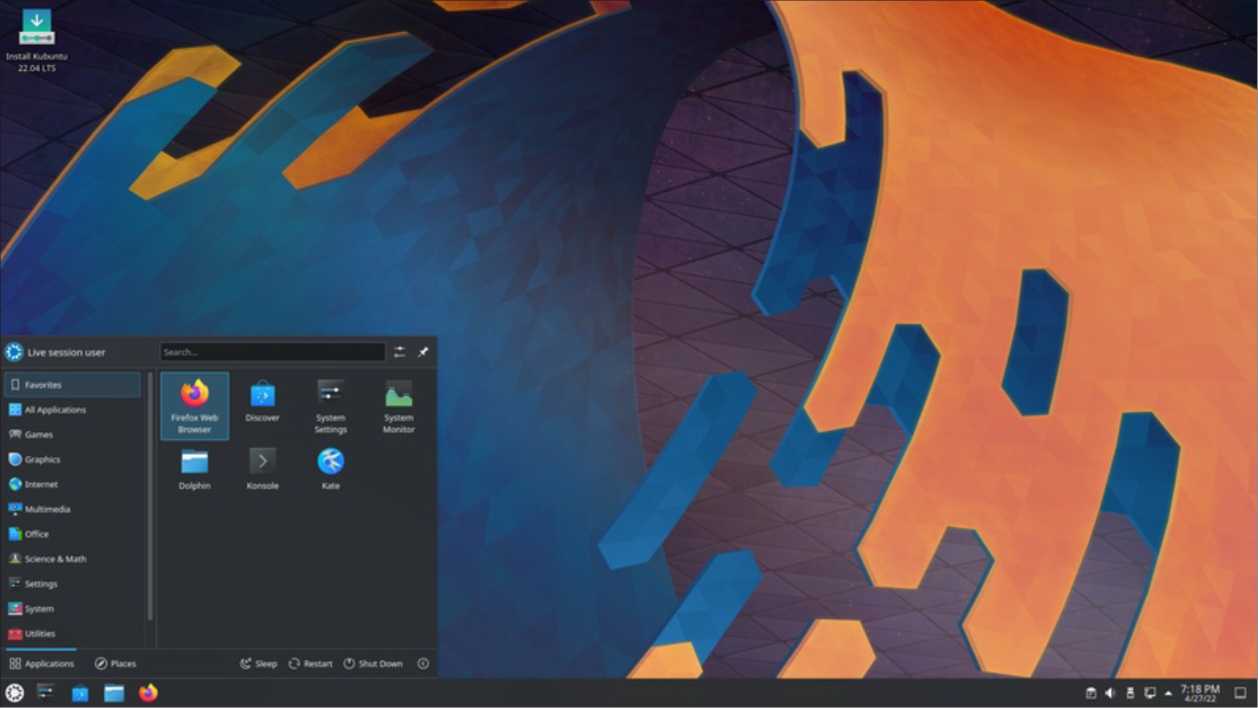 did in their release notes, but the Kubuntu release notes simply state: "Firefox 99 is the default browser, using a snap from the Ubuntu archive." No debate.
Conclusions
Kubuntu 22.04 LTS is a pretty-close-to-flawless release, with virtually no changes from Kubuntu 21.10. This is a good thing, as it means that there are no last minute additions or surprises – everything is well-tested and just works.
I think Kubuntu's dedicated fans will enjoy using this release for the next few years.
External links
Official website: