Edifier M1360 Review – Edifier produces quite a wide range of speakers. From simple (and inexpensive) USB powered units, designed specifically for those on the move to top-of-the-range surround sound systems that rival anything in the market. Yet in my experience they all have one thing in common: a realistic price for a stylish quality product.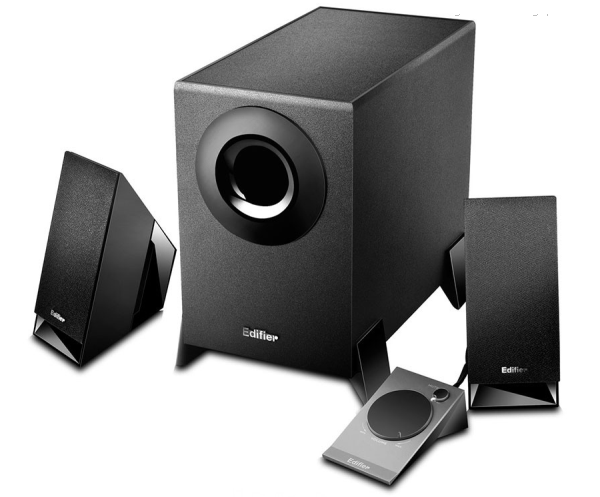 This latest product is no different, aimed squarely at the home or office computer user, the M1360 2.1 speakers are a fairly low priced set that perform surprisingly well. I say that, because when I did some online research I saw that one retailer was selling them. So naturally I had to look again at the information supplied by the manufacturer. I can only imagine the retailer must have got it wrong or is hoping that its customers are not going to check the current prices.
They have decent range, and both bass and treble are clear and without distortion.
Another thing I like about Edifier is that it always limits its products to the levels they're capable of. I see so many companies over driving their speakers just to get more volume out of them, but loud is not always good, particularly if it's distorted in the process.
The M1360 2.1 speakers consist of two relatively small satellite speakers measuring 64mm x 140mm x 112mm. They're angular units that connect to the back of the bass subwoofer by a 3.5mm plug, and they lean back to project the sound upward and forward. The Bass unit is a substantial MDF unit nicely finished in matt grey or white, (in fact, I'd say it was black), and it stands on four small legs that lift it off the floor. The unit measures 158mm x 225mm x 252mm, and it has a round bass reflex port in the front to balance the air displacement, which also adds to the bass element. The bass speaker itself is a decent sized unit that faces downward. This produces a good bass level, particularly if it's set on a floor that resonates. It also houses the power switch and the cable for the remote control unit. This is a nice addition that's particularly useful in an office environment, where you might need to mute the sound to speak to someone, or perhaps to take a phone call. It also has a large rotary volume control and a 3.5mm socket to accept a set of headphones.
While the M1360 speakers don't pretend to be the ultimate in home entertainment, they produce good clear sound, with a respectable range that would certainly brighten up an office or possibly add a new level of immersion to the latest shoot-'em-ups.
Joe Lavery
A surprisingly good set of speakers for the price.
Edifier M1360 Review: Specifications
• Power output: RMS 2W x 2 + 4.5W x 1• Signal to noise ratio: ?85dBA• Satellite frequency response: 150Hz – 20KHz, SubWoofer frequency response: 20Hz – 170KHz• Gross weight: 3.20kg• Net weight: 2.5kg