A high quality laptop with plenty of power for a very reasonable price
The 2018 refresh of the HP Envy 13 isn't the cheapest laptop we've reviewed recently, but we believe it's phenomenally good value for money. Cast in aluminium, it looks stylish without being ostentatious.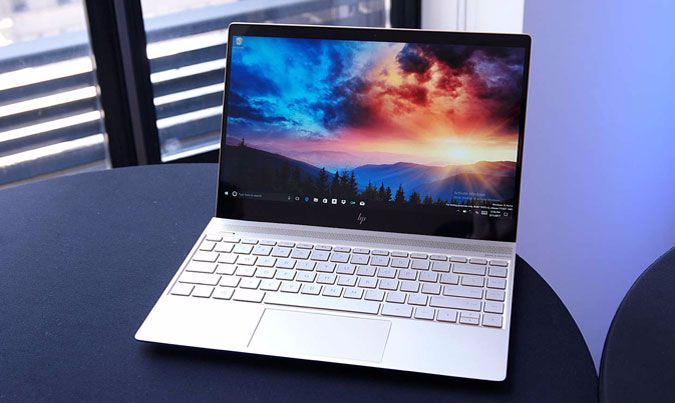 The keyboard is unfussy, with plenty of space between the comfortably large keys. We would have preferred the Enter key to be double-height, but that's our only criticism. The touchpad isn't a Microsoft Precision, which is also a shame, because it misses out on some Windows 10 gestures. However, it still includes the basics – such as resting three fingers and swiping up to reveal the Timeline feature – and responds accurately.
It has a fingerprint reader
SPECIFICATIONS
■  1,920 x 1,080-pixels screen resolution
■  1.6GHz quad-core Intel Core i5
■  8GB of memory
■  256GB SSD
■  Windows 10 Home
Slim, light and easily portable, the Envy 13 manages to cram a very respectable specification into its slender chassis
that sits on the right of the chassis next to one of the two USB 3.1 ports. There's no dedicated video output but a USB Type-C port means you can connect a separate monitor directly or through an adapter – HP includes an HDMI one in the box. There's also a microSD slot and a 3.5mm headphone jack.
Screen and battery
Compromises have been made with the screen quality to allow for the relatively affordable price – it's able to recreate 76.5% of the colours in Microsoft's sRGB colour standard, which is acceptable but not brilliant. Its peak brightness is 278 cd/m2 (candles per square metre), which is also a little lacking, but in combination with the 1,119:1 contrast ratio, it's fine for watching videos, which is ably helped by excellent Bang & Olufsen speakers.
The Envy lasted 7 hours and 10 minutes in our video-playback test, which isn't a brilliant result compared to its rivals but should be enough to get you through a working day. Fortunately, it is able to charge back up to 50% within 45 minutes.
Performance
The Envy 13 is slim, light and easily portable, but it still manages to cram a very respectable specification into its slender chassis. Its Core i5-8250U is a great mid-range chip, and although you only get 8GB of memory, it achieved a creditable overall score of 76 in our Windows benchmark tests. You'll hear some fan noise when it's pushed, but we didn't notice it in general use.
There's even some gaming capability. Its GeForce MX 150 isn't the fastest chip, but it hit an average of 38.9fps (frames per second) in the Metro: Last Light game at full resolution, although we had to drop the quality to Medium and switch off all effects.
There are higher-spec versions of the new HP Envy. Codes that begin with 'ah000' identify the 2018 models and, for instance, which includes 16GB of memory, a 512GB SSD and a Core i7-8550U, if you can afford it.
OUR VERDICT
HP Envy 13 (2018) Review
This slim, attractive laptop is a genuine bargain. If you want perfection, but if that's beyond what you're prepared to spend on a laptop, then the new HP Envy 13 is the next best thing. We'd have preferred a brighter, better quality screen but most other elements of the laptop surpassed our expectations of what you can get at this price.
PROS
Great value
Stylish design
Good range of supplied ports
CONS
Budget display
Poor battery life compared to rivals
Add your review
|
Read reviews and comments
Best HP Envy 13 (2018) prices ?
MORE DEALS

See also THE COMPLETE GUIDE TO…OLED laptops