A 2-IN-1 WORKSTATION THAT PROVIDES WINDOWS PC USABILITY TO DESIGNERS REQUIRING HIGH-END GRAPHICS TABLET FUNCTIONALITY. Read our HP ZBOOK X2 G Review.
HP's ZBook X2 G4 resembles the offspring of an HP 2-in-1 workstation and a Wacom graphics tablet. While it looks like a bulky, industrial-inspired laptop-tablet combo, it's a super-niche device for graphics professionals who want more PC functionality than professional graphics tablets usually provide.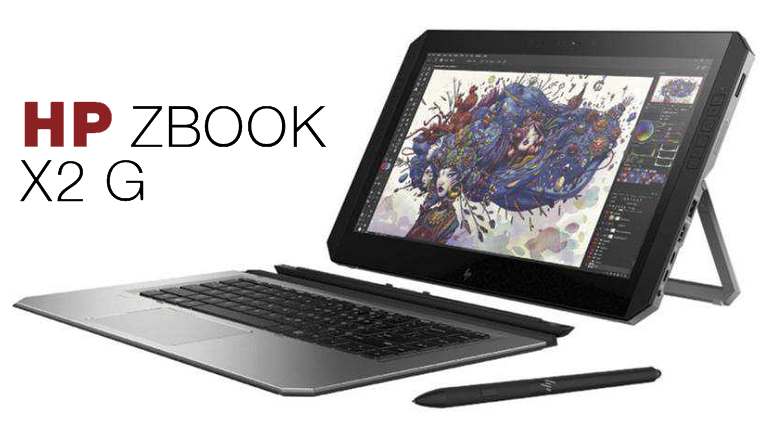 HP offers many SKUs of the ZBook. Ours came with a modest 1.9GHz Core i7-8650U quad-core processor, a generous 32GB of 2,400MHz RAM and a 512GB NVMe hard disk: a configuration that's optimised for graphics work. In regular PC terms, it's mid-range as its modest PCMark 10 score of 3,272 attests to, but then workstations tend to be optimised for certain tasks at the expense of general, benchmarkable performance.
Everything revolves around the bright, 14-inch IPS screen which boasts a full, 4K resolution of 3,840 x 2,160. It's uniformly lit and while there's some light bleed around the edges you need to be at full brightness on a black screen to see it. HP calls its screen technology, DreamColor and this ascribes a 10-bit panel. In reality it's an 8-bit panel which simulates 10-bit reproduction using dynamic frame-rates to synthesize 10-bit but the 10-bit calculations in the background are still accurate.
The screen also supports 100 per cent of the Adobe RGB colour space and the DreamColor technology offers profiles for other gamuts. It can't cover all of them – it supports 90 per cent of the top-end, P3 colour space – but you can connect the ZBook to an external monitor via HDMI or Thunderbolt when you need more support.
The matte screen has also been chemically etched which both reduces glare and provides a textured feel that enhances use of the Wacom EMR (electro-magnetic resonance) stylus technology. And it works: in combination with the screen, the supplied stylus supports up to 4,096 pressure levels and feels extremely comfortable and accurate for even the daintiest virtual brushwork. Just note that the technology means that only HP's stylus (which has no battery and draws power from the screen) is fully-compatible. There's also only one button on it which may be limiting to airbrushers and some CAD workers.
The bezel is very thick but this aids handling in tablet mode. There are 12 buttons (six on either side of the screen) which are particularly handy when used as graphics application shortcuts. Sensors in the screen and the pen ensure that stylus-based, tilt-related inputs are recorded accurately.
There's a (very) solid stand propping the screen up – it may feel a bit oversized and chunky to some but it provides very steady support.
The keyboard is connected magnetically and remains operational via Bluetooth when disconnected. It's comfortable to type on for extended periods and most important keys are full-sized. The trackpad felt particularly sensitive. Though it's connected via a tough fabric, it's part of a solid, plastic base and feels robust with minimal flex.
Other features include Bang & Olufsen-tuned speakers but they're disappointingly tinny and don't get loud. HP also offers multiple security features including a Smart Card reader and a Trusted Platform Module.
It's not the most portable machine at 2.2KG but it's robust enough to withstand some serious knocks. However, it's worth noting that battery life is mediocre: it only ran PCMark's battery test for three hours which is likely a consequence of the mostly-on workstation graphics.
Don't expect workstation graphics to easily handle games either.
The Zbook scored just 1,473 in 3DMark's Fire Strike Extreme test which represents an average of just three frames per second. A Cloud Gate score of 13,117 shows it will cheerfully play older games though.
Machines like this can't please everybody, but this is no Jack of all trades. It's a decent 2-in-l in its own right and, while its graphics tablet prowess can't match the best dedicated devices, it still offers the high-end design-oriented features that will sate most graphic designers.
NICK ROSS
HP ZBOOK X2 G Review: KEY SPECS
1.9GHz Intel Core i7-8650U CPU • 32GB DDR4-2400 SDRAM • Nvidia Quadro M620 GPU • 500GB NVMe SSD • 14in 3,840 x 2,160 IPS display • HD webcam • 6MP camera • 2x USB 3.1/Thunderbolt Type-C • USB 3.0 Type-A • HDMI 2.0 • SD card reader • 3.5mm audio jack • 3yrs warranty
Best HP ZBOOK X2 G prices ?
MORE DEALS

See also THE COMPLETE GUIDE TO…OLED laptops