The latest ZenBook offers up performance that's almost too good. Read our Asus ZenBook 3 Deluxe UX490UA Review.
Ultrabooks provided a much needed breath of fresh air to the tired laptop scene when they first made an appearance six years ago and Asus has been a major proponent since their inception.
While there is still a perception that ultrabooks are a pricey way of getting on the thin and light bandwagon, the likes of the ZenBook 3 prove there's a lot of great technology and performance to be had in small-form-factor laptops – if you're prepared to spend that little bit more.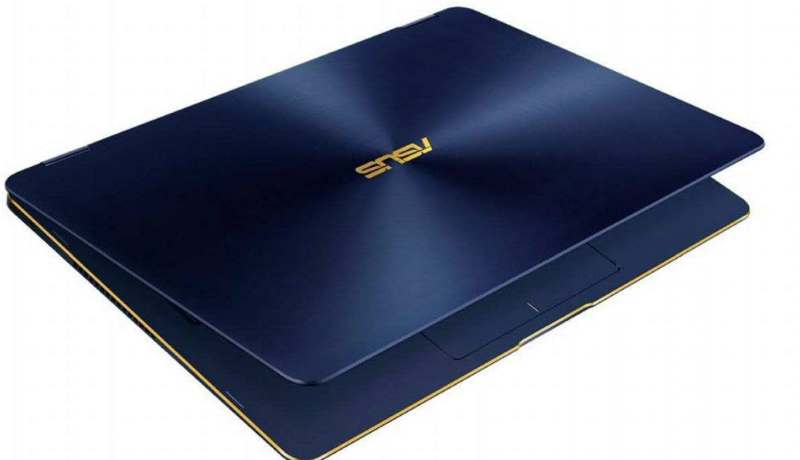 The latest ZenBook 3 employs one of Intel's eighth generation quad-core processors, codenamed Kaby Lake R.
Asus has combined that with a healthy amount of RAM and the latest NvMe PCIe solid- state drive (SSD) to make sure you have the performance you need.
Such high-end components come at a very real cost, and the price sticker attached to this machine certainly means that it's not a mainstream option.
If you're looking for a high-end ultrabook, its price isn't too outrageous, and it genuinely feels like you're getting a lot of kit for your money.
Price and availability
Ultrabooks command a premium over lesser, thicker machines, the ZenBook 3 certainly costs more than your average 14-inch laptop.
It's worth looking back at that specification, though, and the model on test is home to some truly cutting-edge hardware.
That 512GB of PCIe NVMe storage packs an incredible punch when it comes to data throughput, and the fact that the ZenBook 3 is also home to an eighth-gen Core i7-8550U shouldn't be understated either.
One thing to bear in mind when looking to buy this laptop is that there are a wide range of configurations to choose from, so it's worth drilling down into the details to make sure you're getting the exact model you think you are.
In this case, a range of CPUs can be found powering the ZenBook 3 from the latest quad-core chips, to last-generation dual-core parts.
While we can see a case for using a Core i5 instead of a Core i7, we'd still recommend going for the newer generation of chips over the seventh-gen if possible.
Design
With its lid closed, the ZenBook 3 is home to a minimalist design that errs on subtle, with only the gold edging suggesting that this is more than it may first appear.
A pair of speaker grilles can be found here towards the front of the machine, while two thin air intakes on the edges finish off the sober aesthetic.
Open the lid and the full-size keyboard glows into action nicely in a darkened room, although the backlighting is a little patchy.
Typing on this keyboard is pleasant enough, and the trackpad isn't a waste of time either. In fact, we didn't feel the need to reach for a mouse when using it.
There's a fingerprint scanner in the top right-hand corner as well, for added flexibility and security.
The 1,920×1,080 Full HD screen is a delight to use, both for work and for watching movies, with good vibrant colour reproduction, and great viewing angles.
The ZenBook 3 is also seriously light at 1.1kg, but it doesn't feel weak or fragile because of it. This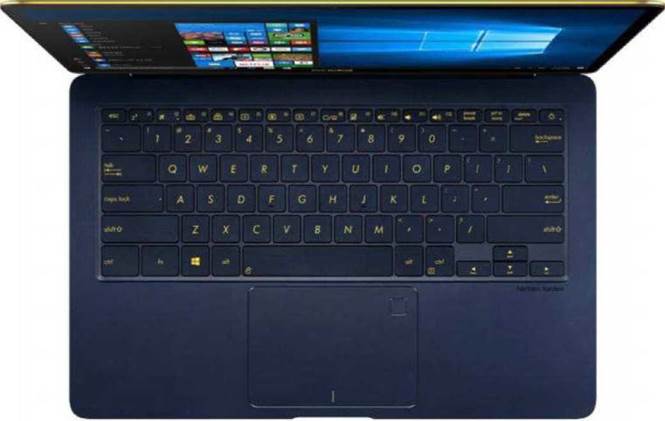 The Core i7-8550U has a stock frequency of 1.8GHz, although it rarely runs at that speed
is an easy device to slide into the included pouch and stow it in a bag, or carry under your arm.
If there's one criticism we could level at the ZenBook 3 it's that the standard VGA webcam isn't doing anyone any favours, especially when Asus are asking such a high price for this machine.
Performance
When it comes to performance, it's not a straightforward picture.
That's because the processor inside the ZenBook 3's svelte exterior is an incredible powerhouse, but it's also limited by the thermal envelope it's working inside.
For short bursts it'll wow with its raw power, but on longer workloads it throttles back, while producing so much noise and heat, that we question the decision to use that chip here – the Core i7-8550U has a stock frequency of 1.8GHz, although it very rarely runs at that speed, instead turboing up to anything as high as 4GHz (even if Asus states that it should only go as high as 3.8GHz), although for the most part it sits around its stock frequency because the cooling can't keep up.
This is compounded by how hot the ZenBook 3 runs. During our tests, internal temperatures topped out at a staggering 100-degrees C.
That's hot for a laptop processor, and while the exterior didn't get near that temperature, it's hot enough to be uncomfortable to use directly on your lap.
It's a much clearer picture when it comes to drive throughput, and that NVMe SSD drive makes a real difference to copying and moving files or loading and, indeed, installing apps.
If you have to handle a lot of data sets, or large media files, the speed increase offered by a PCIe drive is well worth the investment.
Battery life
Asus has used a 46 Whr lithium- polymer battery in the ZenBook 3, and claims a 12-hour battery life, although we can't see how you'll
KEY FEATURES
Processor 1.8GHz Intel Core i7-8550U (quad-core, 8MB cache up to 3.7GHz)
Graphics Intel UHD Graphics 620
RAM 16GB 2133MHz LPDDR3
Display 14-inch Full HD (1,920 x 1080) LED-backlit (60Hz, 100% sRGB, 178-degree viewing angle, Corning Gorilla Glass)
Storage 512GB PCIe SSD
Connectivity 802.11ac/b/g/n Wi-Fi; Bluetooth 4.1; 2x Thunderbolt 3 USB-C; 1x USB 3.1 Gen 1 USB-C Camera 480p (VGA) webcam Weight 1.1 kg Size 329x214x129mm
achieve that without letting it sleep for a good chunk of that time.
At over six hours playing back Full HD movies, it'll certainly keep you entertained when you're away from a power socket, but at just over three hours for serious work, you're going to want to track down that socket when working.
Admittedly, our PCMark 8 benchmark test is the worst in terms of power drain, but even so we've seen better recently.
Summary
There's a lot to love about the latest ZenBook 3, with the lightness of the device and it's high-end design being obvious highlights.
It's as good at playing back movies as it is handling more serious office work.
The performance on offer is also impressive, thanks in no small part to the super-fast NVMe SSD.
We do have a problem with the cooling on offer, though, as the ZenBook 3 can't keep up with the demands of the Intel Core i7 you'll find inside it.
Not only does it reach incredibly high temperatures internally, but it gets uncomfortably hot on the bottom as well.
The ZenBook 3's battery life could last longer, and we can't fathom why the webcam hasn't been brought up to date, but these are small niggles for what is mostly an impressive machine.
Just aim for a lower-spec processor and you're good to go.
Verdict
Editor choice
Asus ZenBook 3 Deluxe Review
A wonderfully thin and stylish laptop that packs a serious punch in the performance stakes.
Add your review
Best Asus ZenBook 3 Deluxe UX490UA prices ?
MORE DEALS

See also THE COMPLETE GUIDE TO…OLED laptops