The archetypal student laptop is back – and better than ever!
When it comes choosing the right laptop for school, college or university, the HP Pavilion is often at the top of many student wishlists. Why? Because this popular range of budget laptop PCs have proved, over the years, that they are both tough and reliable; while keen pricing and flexible configuration options mean there's a model to suit almost any need or budget.
For 2017, though, HP has adopted a slight change of tack. The Pavilion range is still sensibly priced; but has also been given a makeover, giving the line a more premium look and feel, while also making each model thinner and smaller. The 17-incher, seen here, is also incredibly cheap – with prices starting and rising, depending on model.
Design
The 2017 HP Pavilion borrows much of its classier design from the company's higher-end Envy family.
Most notably, the Pavilion laptop's classically plastic body has been infused with 3D metal to make it look more visually appealing.
Then there's the addition of the proprietary Lift Hinge, which you'll find drooping over the rear of the new Pavilion clamshells. Open up the screen and this rear extension props the entire machine at a slight slant for a more comfortable typing experience. At the same time, the Lift Hinge helps raise the bottom of the notebook above surfaces for better airflow.
The 2017 Pavilion frames also look noticeably less like they're made of plastic thanks to a new silver paint job, with the option to choose a different colored lid on the back of the display. There are five different color options available across the range – Opulent Blue, Silk Gold, Orchid Pink, Mineral Silver and Empress Red – although not all of the colors are available on all model sizes, as we note later. You can choose the color you prefer when you place your order online – although since the lids aren't interchangeable you'll be stuck with the color you've chosen for as long as you own the laptop. That said, the colors do look classy and give the Pavilion extra appeal for anyone who wants to make their laptop that bit more personal.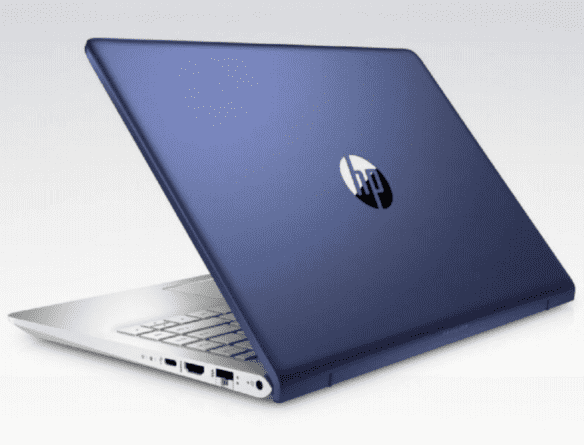 Other welcome changes to the 2017 Pavilion include drastically narrower bezels – 51% at the sides and 19% top and bottom – around the laptop's display. This helps the screen pop and look as if it simply falls off to nothing rather than being encompassed in large strips of plastic. The 17-incher's smaller 14-inch sibling is slimmer for another reason: HP has kicked out its optical drive, enabling it to drop the laptop from 22mm to 19mm in thickness. If you still need an optical drive (for games and other media) then it remain as an option on the 15-inch and 17-inch Pavilions. This, of course, means that the 17-inch model sports larger dimensions, measuring 27.1mm thick and weighing in at 2.8kg.
Specifications
The huge range of customization options HP offers on its Pavilion has always been once of its strongest suits. As well as a line-up that encompasses 14-inch, 15.6-inch and 17-inch screen sizes; you can also choose to equip your laptop with a choice of AMD or Intel Core processors; find room for all your stuff with storage options that include up to 2TB of hard drive storage; a 512GB SSD, or a 256GB SDD/1TB hard drive combo. Gamers and photo/video enthusiasts will love the choice of AMD Radeon or Nvidia GeForce discrete graphics – and the ability to upgrade to 1920×1080 Full HD displays.
The only catch is that some of HP's configuration options seem rather arbitrary. We've already explained that there's no optical drive option on the 14-inch model; while 4K Ultra HD displays aren't an option on any of them – not even the 17-incher. Even the color choices are limited: the 17-inch model comes in Mineral Silver and nothing else, so if you want an Orchid Pink one? No dice.
One thing that all of the new laptops share is HP's new Wide Vision camera, which is located above the display. This introduces new lenses that capture a wider than normal field of view. With this, you can have a bigger group to their whole family in frame during video calls. Optional IR cameras also add the ability to login with your face through Windows Hello.
HP says that the Pavilion should get a maximum of 10 hours of battery life between recharges, although, in our experience we wouldn't put much faith in these claims. This time around HP is also introducing Fast Charge, which brings a system's battery back up to a 90% charge in 90 minutes.
Summary
There's no doubt that the 2017 Pavilion is the best iteration of HP's entry-level laptop yet. It retains the long and popular tradition of combining both the affordable with the upgradeable, and the addition of a thinner chassis, slimmer bezels and a more premium feel – taken from the higher-end HP Envy – are undoubtedly a welcome touch.
However there are also some reasons to doubt the Pavilion's continuing popularity: firstly, it's now possible to buy Chromebooks equipped with Full HD screens for half the money that the HP Pavilion costs. And there are some things about the Pavilion line-up that remain stuck in the early years of the 21st Century: limited battery life and a lack of configuration options on some models among them.
Having said that we still think, the HP Pavilion is tremendous value – and remains the archetypal workhorse for students of all ages.
The HP Pavilion is slimmer and more premium, but some of its options don't go far enough.
KEY FEATURES
HP Pavilion 17-ab201na
Supplier www.hp.com
Operating system Windows 10 Home (64-bit)
Processor Quad-core 2.5GHz Intel Core i5-7300HQ (Kaby Lake), up to 3.5GHz with Turbo Boost, 6MB cache)
Storage 256GB PCIe SSD + 1TB HDD
RAM 8GB DDR4-2400 SD-RAM (upgradeable to 16GB)
Graphics Nvidia GeForce GTX 1050 (4GB of dedicated GDDR5 RAM)
Connectivity 802.11ac Wi-Fi (2×2); Bluetooth 4.2; 1x USB 2.0 port; 2x USB 3.0 ports; 1x HDMI port; 1x Ethernet port; 1x headphone socket
Optical drive SuperMulti DVD burner
Webcam HP Wide Vision HD with Dual Digital Microphone
Battery 6-cell, 62WHr Lithium Ion
Weight 2.85kg
Screen size 17.3-inch
Display resolution 1920×1080 Full HD
HP Pavilion 17-ab200na
Supplier www.hp.com
Operating system Windows 10 Home (64-bit)
Processor Quad-core 2.8GHz Intel Core i7-7700HQ (Kaby Lake), up to 3.8GHz with Turbo Boost,6MB cache)
Storage 256GB PCIe SSD + 1TB HDD
RAM 16GB DDR4-2400 SDRAM
Graphics Nvidia GeForce GTX 1050 (4GB of dedicated GDDR5 RAM)
Connectivity 802.11ac Wi-Fi (2×2); Bluetooth 4.2; 1x USB 2.0 port; 2x USB 3.0 ports; 1x HDMI port; 1x Ethernet port; 1x headphone socket
Optical drive SuperMulti DVD burner
Webcam HP Wide Vision HD with Dual Digital Microphone
Battery 6-cell, 62WHr Lithium Ion
Weight 2.85kg
Screen size 17.3-inch
Display resolution 1920×1080 Full HD