Stylish design and grunt to drive today's games is the mantra for a gaming laptop and Acer seems to have delivered on the front with the new Aspire VX 15.
While the brushed aluminium finish on the display lid along with a trapezoidal profile makes this a head-turner, the design is practical as well.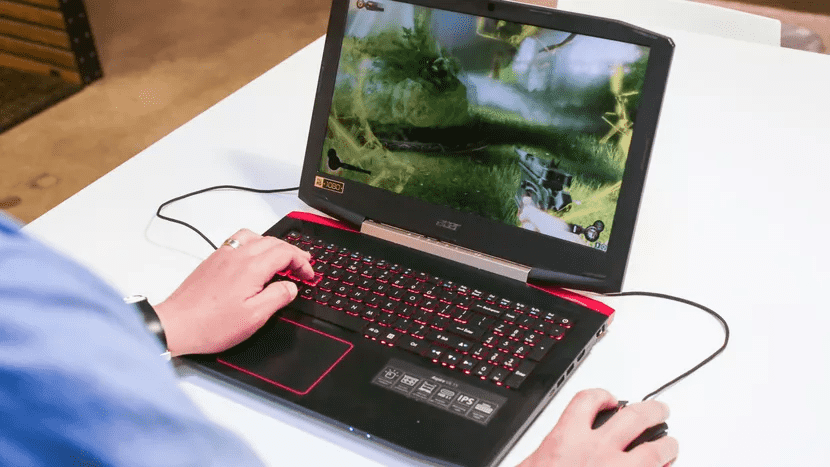 The 2.5kg laptop has neatly placed dual fans at the back to keep the thermal temperature in check with the multiple ports, including HDMI, USB, card reader, Ethernet placed on either side.
Acer is currently selling a single SKU of the Aspire VX 15 that is powered by Intel's Core i7 processor clocked at 2.8GHz with 8GB of DDR4 RAM and Nvidia GeForce GTX 1050.
The GTX 10 series is based on Nvidia's Pascal architecture, which is power efficient and shows an improvement in graphics. In terms of storage, the notebook offers 1TB of hard-drive storage and 128GB of m.2 SSD storage.
The laptop, as one would expect, is fast, responsive and has a capable GPU with dedicated 4GB memory, enabling a top-notch gaming experience.
The display found on the Aspire VX 15 is a 15.6-inch IPS panel which offers up to 170-degree of viewing angle and supports Full HD (1920×1080 pixel) resolution.
Enhancing the gaming experience further is the keyboard and sound.
Typing or gaming on the chiclet keyboard is fun and the iron-red backlit keyboard elevates the notebook's oomph factor.
In the sound department, the laptop is equipped with Acer True Harmony and Dolby Audio Premium that offers a home-theater-quality virtual surround sound.
Aspire VX 15 also boasts strategically placed stronger 802.11ac antenna for better Wifi reception; alternatively, you can use the integrated Gigabit Ethernet port.
The laptop runs Windows 10 OS and while many companies preload a lot of unnecessary software, the Aspire VX 15, in comparison, is much better. We could find two apps pre-installed on the device.
All in all, Aspire VX 15 has got the style and brawn to be a gaming laptop.
Verdict
Best Acer Aspire VX 15 prices ?
MORE DEALS

See also THE COMPLETE GUIDE TO…OLED laptops
Specification
DIMENSIONS 389×265.5×28.9 mm
WEIGHT 2.5kg
RAM 8GB DDR4
GPU 4GB Nvidia GeForce GTX 1050
STORAGE 1TB HDD, 128GB SSD
OS Windows 10 Home
DISPLAY SIZE 15.6-inch
RESOLUTION Full HD (1920×1080)
WI-FI 802.11a/b/g/n/ac
BLUETOOTH 4.1
PORTS Gigabit Ethernet, 2xUSB 3.0, USB 2.0, USB Type-C, HDMI
SD CARD READER Yes
BATTERY LIFE up to 6 hours