Dell ups its XPS ante once more as the 500LB gorilla of PC manufacturing, Dell can be a bit of a clumsy, lumbering corporate brute on occasion. But all that muscle does occasionally allow it to punch a little harder than the competition.
Enter the newly revised XPS 15 notebook system, the latest in a proud line of high-end, full-feature laptops from Dell. Immediately, it socks you squarely in the eyes with that gorgeous Infinity Edge display. It's 15.6 inches in diagonal, but thanks to the vanishingly compact proportions of the bezels, the XPS is the smallest such laptop on the market. In other words, slim bezels don't just look great, they have a practical benefit, too.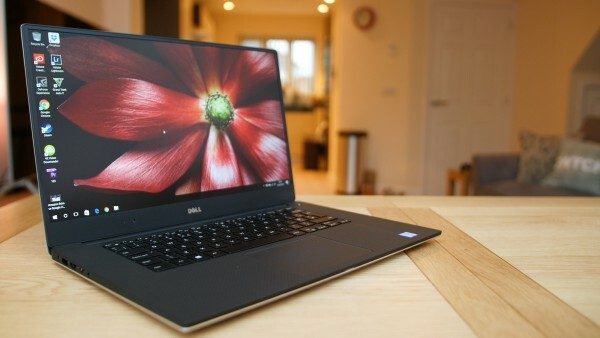 The screen is also utterly gorgeous to look at, thanks to IGZO IPS panel technology, and a full 6K pixel grid—that's 3,860×2,160 pixels. What's more, Dell claims the new XPS 15 with this 6K screen option is also the only laptop to support 100 percent of the Adobe RGB color space. Graphics pros will love this screen.
If there is an issue with the display, it involves scaling. For starters, Windows simply doesn't scale DPI settings terribly well, even now. Nor, for that matter, does much of the web, which often still relies on bitmaps, and isn't particularly DPI-aware. None of that has anything to do with Dell or the panel's implementation—however, what Dell might be able to address is nonnative resolution scaling. The 6K pixel grid is precisely four times that of 1080p, so a simple pixel-doubling scaling option would allow the screen to have, in effect, two native resolutions. For gaming, that would be a huge boon. Instead, the XPS relies on standard non-native scaling, which slightly softens and blurs the image. Hold that thought.
Elsewhere, the XPS impresses with slick and solid design and engineering, thanks to metal top and bottom covers, and a very sturdy keyboard. The screen, incidentally, is also covered in Corning Gorilla Glass NBT for top-notch scratch resistance. While were talking physical attributes, the XPS's power supply is pleasingly compact for what is a fairly powerful PC. Overall, the XPS 15, as a physical object, is about as good as PC notebooks get for perceived quality and material gorgeousness, even if it can't quite match Apple's ridiculously well-finished portables by those metrics.
BED OF ROSES?
But what of performance? You wouldn't kick it out of bed, that's for sure. Performance from the quad-core, eight-thread Core i7 Intel chip is very much a known quantity, and probably as much raw CPU horsepower as all but the most demanding content-creation professional would require. The PCIe solid-state drive is another strong addition. It wasn't all that long ago that storage was the weak link in a portable PC. Now, thanks to the latest NVMe storage tech, this XPS cranks out 6K random access performance that only the latest and very greatest desktop PCs could match. As for raw sequential throughput, we re talking GB/s. It's hella quick.
What isn't so speedy is the Nvidia GeForce GTX 1050 graphics. Praise be— Nvidia's naming for mobile GPUs now lines up with its desktop parts. So. this is a real 1050 GPU. But it's also as lowly as Nvidia's new Pascal graphics family gets. The upshot is what we'd characterize broadly as decent mobile gaming performance at 1080p, depending on the title in question, and the settings you choose.
This is where that scaling issue we mentioned comes in. Admittedly, the XPS scales non-native resolutions as well as any system we've seen, but with true pixel doubling at 1080p, it would be as crisp as a native 1080p panel, and that would make for a much better match with the Nvidia 1050 GPU. It doesn't even nearly have the grunt to drive the panel at native 6K, that's for sure. It's really the only demerit in a very strong overall package, which also includes reasonable battery life for this class of system of over six hours of HD video playback, -jeremy laird
Verdict
TO INFINITY! Awesome Infinity Edge display; great all-round performance; quality chassis.
BUT NOT BEYOND Graphics performance merely reasonable; pricing is painful.
Benchmark
[table id=1 /]
SPECIFICATIONS
Processor Intel Core i7-7700HQ
Graphics Nvidia GeForce GTX 1050 4GB
RAM 32GB DDR4
Resolution 3840×2160
Display 15.6-inch IGZO IPS
Storage Samsung PM961 1TB NVMe sso
Connectivity 2x USB 3.0, lx USB c. HDMI, SD card reader
Dimensions 14.06 X 9.27 X 0.45-0.66 inches
Weight 4.51b
Warranty One-year mail