HP OfficeJet Pro 7720 – This inkjet is the business
We're a fan of A4 printers like this, which feed the long side of the paper, meaning you can also use A3, at least for occasional jobs. An A3 poster is much more eye-catching, and fitting two pages on each side of an A3 sheet lets you print out, fold and staple an A4 magazine or brochure. You wouldn't want to attempt a print run of thousands with an inkjet like the OfficeJet Pro 7720, but it's a very practical format for the home or small office, and for most people it'll work out cheaper to run than a laser.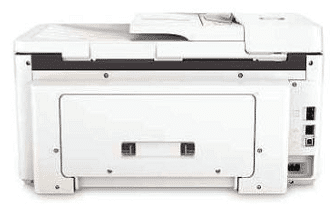 Print quality is generally good, and scans are sharp and accurate
HP's revamped case design has everything in familiar places, but looks notably neat and professional, though relatively large. It has clean lines and a striking combination of white and glossy black finishes. The touchscreen at the top left is a lot smaller than the black area around it, and although it looks like it might tilt up for easier access, it doesn't. Still, options are clearly presented.
On top is an A4 scanner with a 35-sheet Automatic Document Feeder (ADF), which you can lift up to place thicker originals on the scanning glass. Either way, you can only scan one side at a time, which is a pain for big jobs. The printer can print both sides (duplex) automatically.
The OfficeJet Pro 7720 connects to your PC and other devices via Ethernet, USB or Wi-Fi, and HP's Windows 10 software has been improved enough not to irritate us too much. Our 25-page text document came out at 22.7 pages per minute (ppm), which is great for a basic inkjet, and color graphics only slowed it down to an acceptable 8.6ppm. Five A3 pages came out in 26 seconds, or a minute with heavy graphics. An A4 scan at a sharp 300 dots per inch took 10 seconds.
Single photocopies were a bit slow, at 16 seconds in black and white or 22 in color, while the ADF copied long documents at just over 7ppm. Print quality is generally good, although there are better choices for top-quality photos. Similarly, scans are sharp and accurate but didn't find all the detail in shadows.
HP offers a choice of ink-cartridge capacities, with the biggest bringing running costs down to a reasonable 5p per standard colour page. You can also subscribe to its Instant Ink service to get replacements delivered automatically, which it reckons will work out cheaper.
SPECIFICATIONS
4800x1200dpi maximum print resolution • 1200x1200dpi maximum scan resolution • 35-sheet ADF • USB • Ethernet • 802.11n Wi-Fi • 306x585x445mm (HxWxD) • 15.5kg • Three-year warranty
VERDICT:
If documents rather than photos are your priority, this is an attractive and flexible machine that's reasonably cheap to run
ALTERNATIVE:
Canon PIXMA MG5750
If you don't need the document feeder, we recommend this – and it's better for photos
---
VERDICT
Fast, competent, and good value to buy and run, the OfficeJet Pro 7720 is a great A3-capable MFP minute and 23 seconds in black, and one minute and 41 seconds in color.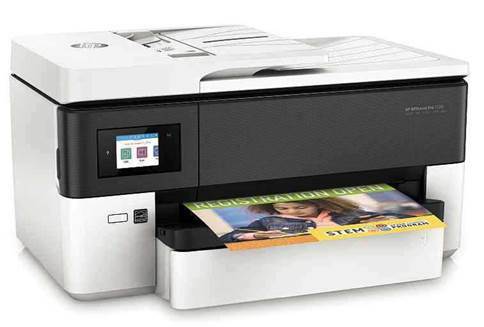 Recommended 5/5
BUSINESS BUY
HP'S OFFICEJET PRO 7720 is an inkjet multifunction peripheral (MFP) designed for moderate use in a small office. It's a bit bigger than the norm because it can print – but not scan or copy – on A3 paper. Few authorities would agree with HP's description of this as constituting wide format, but it's still a useful trick, particularly if you ever need to print detailed plans, posters or spreadsheets at a more practical size.
Aside from A3 printing, the OfficeJet Pro 7720 supports wired and wireless network connections, can print on both sides of a sheet of paper (duplex), and has a 35-page automatic document feeder (ADF) for automated, multi-page faxes or copies.
Direct jobs such as copies and faxes are controlled through the obligatory touchscreen interface. The only significant omissions are duplex scanning – so you can't make automatic double-sided copies or faxes – and a USB port for direct printing or scanning.
SOFT OPTIONS
We've never been particularly keen on HP's oversimplified print and scan software, but the latest iterations aren't all that bad. On Windows 10 the print driver is neatly laid out over several tabs, but on Windows 7 you have to dive into unfriendly Advanced settings to change paper size. HP's TWAIN scan interface no longer induces fury, but it's still our least favorite among major manufacturers. The MFP's touch interface is decent, but its Copy page includes only a single start button that defaults to color. If you want a black-only copy, you'll have to fiddle with the settings.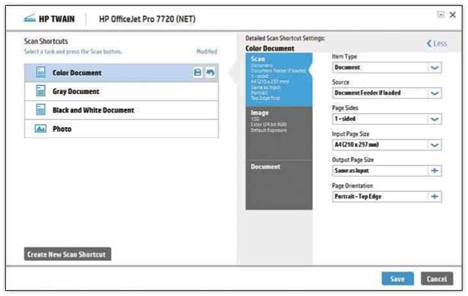 These are fairly minor grumbles, and in use the OfficeJet Pro 7720 quickly makes up for them. It raced through our 25-page text test at 22.7 pages per minute (ppm), and reached an impressive 8.6 ppm on our more demanding color graphics test. On A3 paper, five A3 pages of text took 26 seconds, while
The OfficeJet Pro 7720 raced through our 25-page text test at 22.7 ppm, and reached an impressive 8.6 ppm on our more demanding color graphics test five graphics-rich pages took a minute. Even at the Maximum DPI setting, each 6x4in color photo took little more than a minute.
Scans were swift, too, with A4 jobs at up to 300 dpi taking around 10 seconds. Scanning a 6×4 in photo at 600 dpi took 19 seconds, and at 1,200 this took 63 seconds. At 16 seconds in black and 22 seconds in color, single-page photocopies weren't especially fast, but 10-page copies from the ADF were competitive, taking one.
QUALITY STREET
Print quality was generally excellent on plain paper, with photo prints being good for an office device. Copies were fine, if slightly drab, while scans were above average: colors were accurate and the focus was reasonably sharp, but this MFP struggled to capture subtle differences in the darkest shades. Enabling its Auto Exposure feature just tended to wash out the lightest regions, too.
The OfficeJet Pro 7720 accepts a range of ink cartridges, with the highest-capacity black supply stretching to 3,000 pages, and color cartridges available at 1,600 pages. Calculated for these, running costs work out at a very competitive 5p per page.
Overall, this MFP finds a good balance between price, performance and features.
If your home or small business needs A3 printing, and can live without duplex faxes or copies, it's an excellent choice.
Simon Handby
SPECIFICATIONS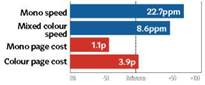 TECHNOLOGY Thermal inkjet • MAXIMUM PRINT RESOLUTION 4,800×1,200dpi • MAXIMUM OPTICAL SCAN RESOLUTION (OUTPUT BIT DEPTH) 1,200×1,200dpi (24-bit) • DIMENSIONS 307x445x585mm • WEIGHT 15.5kg • MAXIMUM PAPER SIZE A3 (print only) • WARRANTY ThreeyearRTB
WIDE-FORMAT (11x17) PRINTER FOR THE OFFICE - Print up to 11x17, scan and copy up to legal size inches with this all-in-one, high-volume printer.
EASILY PRINT FROM YOUR MOBILE DEVICE - Simply connect your iOS or Android device and print using Wi-Fi or AirPrint with the HP OfficeJet Pro 7720 printer.
Usually ships in 24 hours
& Free shipping
Last update was in: 2018-03-17 9:02 am
WIDE-FORMAT (11x17) PRINTER FOR THE OFFICE - Print up to 11x17, scan and copy up to legal size inches with this all-in-one, high-volume printer.
EASILY PRINT FROM YOUR MOBILE DEVICE - Simply connect your iOS or Android device and print using Wi-Fi or AirPrint with the HP OfficeJet Pro 7720 printer.
PROFESSIONAL COLOR PRINTS - Print borderless brochures, flyers, posters and more with stunningly vibrant color
OUR MOST POWERFUL PRINTING APP EVER - The HP Smart app is intuitively designed so it's easy to set up your printer, scan business documents with your mobile camera, and print through cloud services
IDEAL FOR SMAL BUSINESSES - Print borderless, double-sided marketing materials up to 11x17 inches
BREEZE THROUGH TASKS - Take control of print, scan, copy, and fax jobs, using the auto document feeder, auto two-sided printing, color touchscreen and the timesaving shortcuts
Use Original HP 952 & HP 952XL ink cartridges for great result print after print
Supported paper sizes include Letter; Legal; Government Legal; Executive; Statement; 3x5 in; 4x6 in; 5x7 in; 8x10 in; L; Photo 2L; Envelope; Card; Tabloid
---
HP OfficeJet Pro 7720 All in One Wide Format Printer with Wireless Printing, Hewlett Packard Inkjet Printers
Price History
Statistics
| | | |
| --- | --- | --- |
| Current Price | $199.99 | 2018-03-17 |
| Highest Price | $199.99 | 2017-10-26 |
| Lowest Price | $199.99 | 2017-10-26 |
Since 2017-10-26