Slick, slim, innovative – but is this laptop a little unbalanced?
When Asus unveiled the ZenBook Pro 15 at Computex, its biggest attraction was the ScreenPad, the company's new direction for the humble trackpad, and for the most part it seemed to have paid off. We were impressed by the functionality that Asus had crammed into this 5.5-inch space, and couldn't wait to see what else it could do. Now we're about to find out…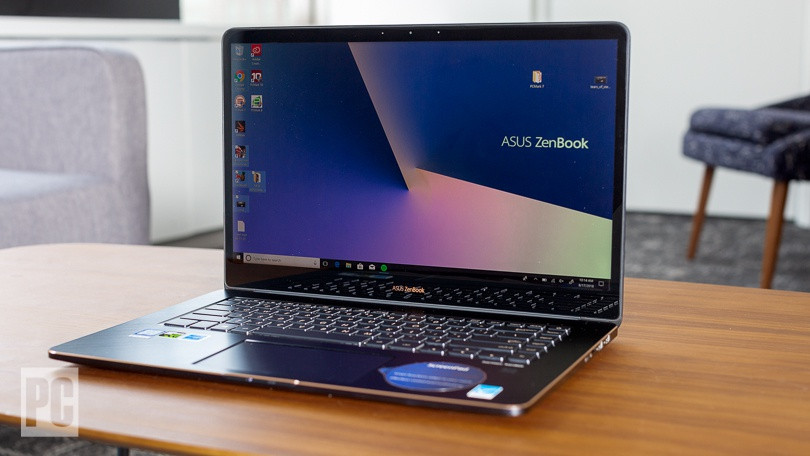 Price and availability
The ZenBook Pro 15 is available now, with a choice of Intel Core i5, i7, or i9 processors, along with either a Full HD or a 4K display.
Our review unit was the top-end i9 model. Prices drop if you opt for the i5 or i7 models, or choose a Full HD screen instead.
Design
The ZenBook Pro's design remains mostly unchanged from previous ZenBooks, with just a few subtle tweaks. The laptop now comes in one colour, Deep Dive Blue, with surprisingly tasteful gold trim. A brushed-metal finish on the inside helps hide fingerprints, although you will find yourself wiping it down at least a few times a week.
Connectivity-wise you get two USB Type-C ports, two USB Type-A ports, a full-size HDMI port, audio ports, and a microSD card reader.
You could, in theory, have three external monitors connected to the ZenBook Pro, bringing the total up to four (or five if you include the ScreenPad. A fingerprint reader sits under the keyboard to the right, for fast Windows logins.
Keyboard and ScreenPad
The keyboard is a sticking point, mainly on account of the layout rather than the typing experience. A row of extra keys on the right enables you to quickly navigate around paragraphs of text, but their presence means the keys are more tightly spaced. The arrow keys can be fiddly to operate, too, since they're about half the size of the other keys, while we became frustrated by how often we tapped the Power button rather than [Del], because they're so close together.
The functionality of the [F1]-[F8] keys is also reversed by default, so tapping them will control volume, ScreenPad and so on. Should you want their usual functions, you'll have to hold down the [Fn] key.
The 5.5-inch ScreenPad is a big talking point. It turns the trackpad into a second screen, and can be used in three different modes.
The first is the default ScreenPad mode. This enables you to use the ScreenPad like a normal trackpad, only you can also swipe down from the top edge to bring up a toolbar for launching things like a music player or calculator, or for opening a full drawer of apps. While using a trackpad to launch programs may not sound radical, the ScreenPad has other tricks, too. When you launch compatible apps the ScreenPad will offer app-specific features and shortcuts, making it easier to access common functions.
The best example of this is with MS Office: launch Word or Excel and ScreenPad offers shortcuts for editing the font style and colour, or for editing formulas directly. Open YouTube in Chrome and usable video player controls appear.
The second mode is the Extender mode. When activated, Windows
The 5.5-inch ScreenPad is a big talking point. It turns the trackpad into a second screen
treats the ScreenPad as a second display, which means you can drag program windows down to the ScreenPad. This mode is more for amusement than any practical purpose, since the ScreenPad isn't optimised for small text display.
The final mode disables the ScreenPad functionality, enabling you to use it like a regular trackpad.
You'll notice that while the ScreenPad is generally responsive, it isn't as fast if, for example, you're using its numeric keypad function to enter numbers – we put this down to the early software our review unit was running, however.
Performance
The ZenBook Pro has lots of power, but our tests suggest this doesn't necessarily translate into sustained performance. While it could run our benchmarks fairly easily, repetitive tests resulted in lower scores, presumably due to the i9 CPU not being able to cool quickly enough for optimal performance.
The three internal heat pipes and two fans certainly get to work hard, but they don't seem to be efficient enough to allow the machine to reach its full potential. The air vents are also located behind the display, so you need to keep these clear. If you were hoping to squeeze as much as you can out of the i9, this isn't the chassis to do it with.
It's also worth noting that your upgrade options are limited to storage – the 16GB of RAM is soldered on. The 1TB PCIe SSD pulls through some good read/write speeds, and should offer enough storage space for essential projects.
Screen
The ZenBook Pro's 15.6-inch display is worth gawping at, simply for the effort Asus has put into ensuring its screen meets the requirements of video editing pros – it's Pantone- validated and supports an exceptionally wide colour gamut, with 100 percent Adobe RGB and 132 percent sRGB coverage. It also has a Delta-E value that's less than
KEY FEATURES
Processor 2.9GHz Intel Core i9-8950HK
Graphics Nvidia GeForce GTX 1050Ti 4GB GDDR5
RAM 16GB DDR4 (2,400MHz)
Display 15.6-inch LED-backlit 4K UHD (3,840×2,160) touchscreen
Storage 1TB NVMe PCIe Gen 3 x4 SSD
Connectivity 802.11ac Gigabit Wi-Fi (up to 1.7Gbps); Bluetooth 5.0; 2x USB Type-C (USB 3.1 Gen 2); 2x USB Type-A (USB 3.1 Gen 2); 1x Full-sized HDMI 1.4; 1x audio jack; 1x microSD card reader
Camera VGA webcam
Weight 1.88kg
Size 365x241x18.9mm
2.0, which ensures the colours you're seeing onscreen are as accurate as possible.
The touchscreen is responsive should you need to use it, and with support for Asus Pen – or any active stylus – you can design and edit directly using the touchscreen.
Battery life
Depending on how you use the ZenBook Pro, battery life can vary greatly. For non-intensive apps, you'll get around 4.5 hours of battery life. Throw in gaming or video editing and you'll soon be reaching for the power adapter.
Summary
There's no question that the Asus ZenBook Pro 15 is a powerful machine, although its sporadic i9 performance won't please you if you want to wring out as much power as possible during demanding tasks. The screen is perfect for photo and video editing, and the option to expand your workspace to additional external monitors is a huge bonus.
Then there's the ScreenPad, which actually turns out to be useful. Yes, there are a few issues to be ironed out with it, but we hope that developers see the potential this feature has.
Asus ZenBook Pro 15 UX580 Review
If you're in the market for a sturdy workstation-level laptop that can breeze through photo and video editing, you've met your perfect match in the ZenBook Pro 15.
Add your review
Best Asus ZenBook Pro 15 UX580 prices ?
$

179.99
1 new from $179.99
in stock

MORE DEALS

See also THE COMPLETE GUIDE TO…OLED laptops
While there's a lot to marvel at, the heat from the i9 CPU stops this laptop reaching its full potential.