A GLORIOUS PIECE OF DESIGN AND STUNNING 4K SCREEN, BUT THAT HAS A CRUCIFYING EFFECT ON BATTERY LIFE
At first sight, the EliteBook Folio G1 may appear to be the ultraportable you've been dreaming of. Ever since the sub-1kg MacBook arrived on the scene, Apple's featherweight has been emptying bank accounts and – HP's stratospherically expensive Folio 1020 aside – competitors have been in irksomely short supply.
Now, finally, HP has provided a MacBook alternative that doesn't require you to recant your allegiance to Microsoft.
UNASHAMED LUXURY
Spending north of sets a certain level of expectation, but the Folio G1 delivers. The look and feel is unashamedly luxurious, and HP has squared of the soft, rounded curves of the Folio 1020 to give the Folio G1 a sharply angled makeover. If polished diamond-cut CNC aluminium appeals, you'll love it.
Build quality is impeccable. HP has subjected the Folio G1 to a barrage of military tests – the MIL-810-STD certification, to be precise – which consist of dropping the device 26 times from 76cm onto a hard floor, caking it with dust and subjecting it to extremes of altitude and temperature.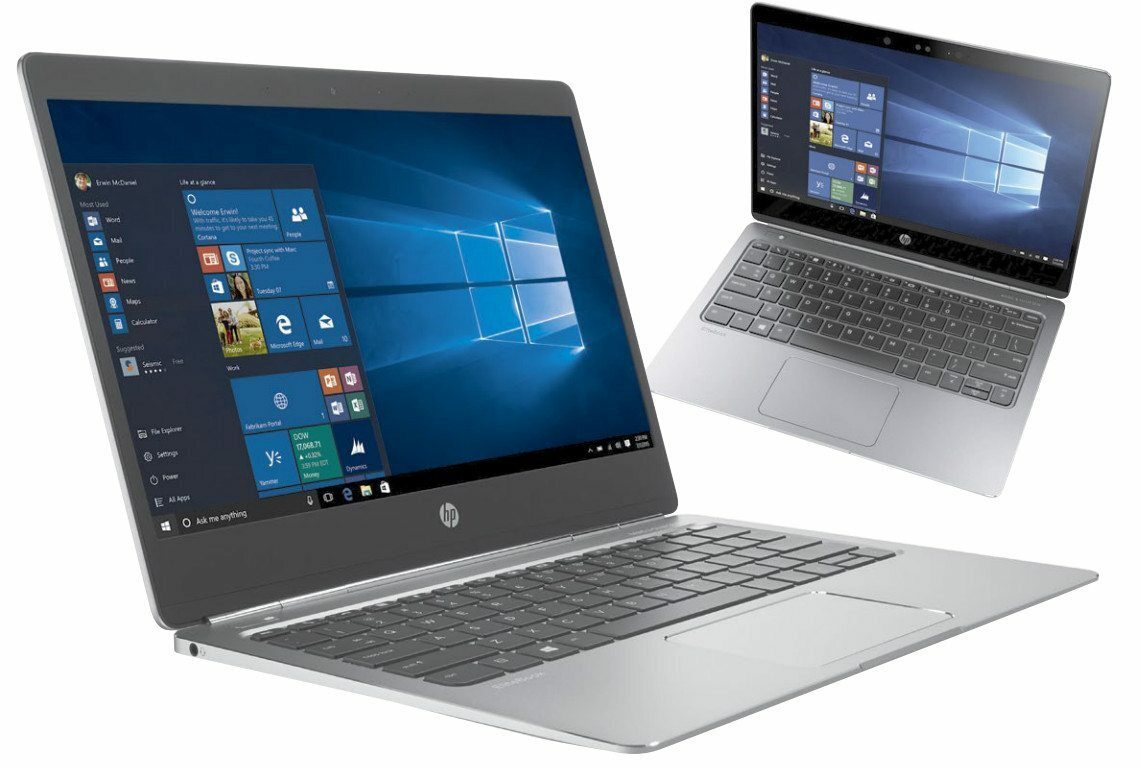 In short, this is a featherweight laptop that's certified to survive a battering.
Rigid plates of metal are clasped together with a chromed cylindrical hinge, and the Folio G1 has a reassuringly solid heft to it.
It's not heavy, though: the 4K touchscreen model on test here weighs only 1.07kg, and the cheaper Full HD model knocks that down to 970g by dumping the touchscreen and the protective layer of Gorilla Glass. The Apple MacBook is lighter still, but only by 150g and 50g respectively.
4K GLORY
Sitting down with the Folio G1 for the first time feels revelatory. The 12.5in 4K touchscreen is pin-sharp, capable of reaching squint-inducing brightness levels of 462cd/m2. It's also gloriously colorful thanks to the high-quality panel (its average Delta E was 1.93) that covered 98% of the sRGB color gamut in our tests. The ability to reach out grab, prod and interact with onscreen elements is a welcome bonus, and one the MacBook can't match.
The keyboard is another highlight.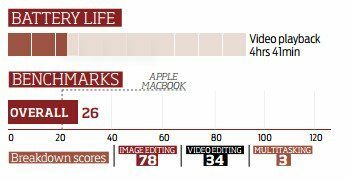 Where the MacBook's wide, short-travel keys aren't to everyone's liking, the Folio G1 feels just like a good keyboard should.
Each key gives roughly twice as much travel as the MacBook, and typing feels markedly more positive as a result. The touchpad doesn't quite scale the same heights, but this is mainly because it lacks OS X's intuitive array of gesture controls. The hardware itself works flawlessly, and the ability to disable it with a quick double-tap in the top-left corner is handy, too.
If you're scouring the photographs for a traditional USB port, though, stop now.
HP has equipped the Folio G1 with two Thunderbolt 3-enabled USB Type-C ports and a headphone jack.
That's your lot. To be fair, that's 100% more connectivity than you get on the MacBook, and the MacBook's port is slower, supporting "only" USB 3.1.
If none of this sounds remotely exciting, then the Folio G1's infrared 720p webcam might just do the trick.
This isn't designed to improve your night-time selfies but instead to take advantage of Windows 10 Pro's facial-recognition login feature, Hello. Combine the webcam, TPM 2 authentication and your face, and you have a super-secure login mechanism that doesn't require you to type a single thing. Another feature that may appeal to executives is its array of microphones, designed to make video conferencing a clearer, more audible a– air (the loud speakers help too).
SUPER MODELS
Fall for the charms of the Folio G1 and the Australian model partners a 1.1GHz Core m5-6Y54 with 8GB of RAM, a 128GB SSD and a matte Full HD display.
I tested it in everyday use, and found it to be flawless. Not everyone will find Intel's Core M processors fast enough, but so long as you don't task them with heavy, extended workloads, they feel as quick as devices with similar-generation Core i processors.
Combine the infrared webcam, TPM 2 and your face, and you have a super-secure login mechanism.
The Core M chip did mean that the Folio G1 took its time with our video-encoding and multitasking tests, but its performance is a match for similarly equipped rivals. For less business-like entertainment, note that it's capable of a 29.3fps average at Full HD in Dirt Showdown at Ultra settings, so there's potential for gaming if you're willing to sacrifice some detail and –effects.
HP has dropped the ball in some ways, though. One disappointment is that high-speed NVMe SSDs aren't an option in Australia. Instead, you'll have to make do with standard mSATA solid-state drives, which is a shame. The SSD in my review unit didn't come close to the speeds of the drives in the Apple MacBook. Admittedly, the –difference in real-world use may be slight, but the ability to whisk around gigabytes of data in mere seconds can make a tangible difference when you're pushing a laptop to the limit.
Battery life presents me with a difference dilemma. Buy the cheaper Full HD version and you can expect close to seven hours of battery life. On the pricier model I have here, however, the 4K touchscreen takes its toll. With four times the pixels of the Full HD variant, power consumption soars, and in our video-rundown tests, with the screen calibrated to 170cd/m2, the HP lasted a paltry 4hrs 41mins.
That's not even half as long as the Apple MacBook's 10hrs 12mins.
PERFECT PORTABLE?
In the midst of the 1990s, back when some marketing genius first coined the term "ultraportable", the technology simply wasn't up to the job. Achieving an acceptable balance between performance, usability, build quality and battery life was impossible; sacrifices had to be made. Slow processors, low-resolution screens and dreadful battery life were the norm.
Two decades later, HP is attempting to show just how far we've come with the EliteBook Folio G1. It's beautifully constructed, incredibly light, yet powerful enough to do almost everything you could ask of it. But with barely enough battery life to scrape halfway through the working day, you have to wonder what HP was thinking when it decided to include such a power-hungry 4K touchscreen.
With a tweaked specification – an NVMe SSD for speed and Full HD screen for better battery life – the EliteBook Folio G1 could have been a clear winner. As it stands, it not only falls shy of the Apple MacBook, it doesn't come close to the fabulous Dell XPS 13.
Sasha Muller
Specifications
Dual-core 1.1GHz Intel Core m5-6Y57 • 8GB RAM • Intel HD Graphics 515 • 128GB SSD • 12.5in 3,840 x 2,160 touchscreen display• 720p webcam • 802.11ac Wi-Fi (2×2 MIMO) • Bluetooth 4.2 • 2 x USB Type-C with Thunderbolt support• 38Whr battery• 3yr on-site warranty• Windows 10 Pro • 292 x 209 x 15mm (WDH) • 1.07kg

HP EliteBook Folio G1
With a tweaked specification – an NVMe SSD for speed and Full HD screen for better battery life – the EliteBook Folio G1 could have been a clear winner. As it stands, it not only falls shy of the Apple MacBook, it doesn't come close to the fabulous Dell XPS 13.
Add your review
See also THE COMPLETE GUIDE TO…OLED laptops