HP Deskjet 3630 Review – HP brings the Deskjet brand to a new generation of personal printers
I first used the Deskjet Plus in 1989, and 26 years later, we're not a long way from that original highly successful concept. HP's new Deskjet 3630 is still built around a combined ink head and reservoir in the cartridge, and produces reasonably rapid output on a good range of stock. And in this variation, it also comes with a scanner to add extra scan and copy functionality to the standard printing skills.
Best HP Deskjet 3630 prices ?

$

149.99
2 used from $149.99
in stock


£

160.00
1 used from £160.00
in stock

MORE DEALS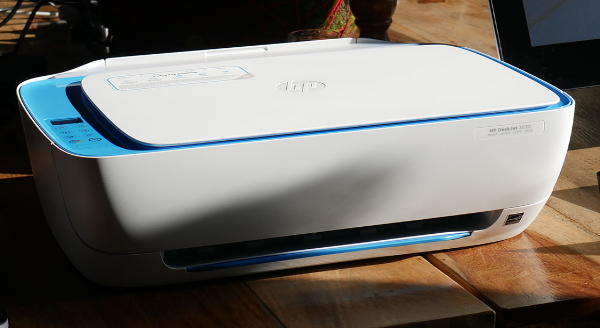 Seeing this printer after covering HP's Envy 4520 printer was most enlightening, because they're effectively built around the same print engine, but the designers took rather different paths. While the Envy was low, angular and wide, the Deskjet 3630 is taller, takes up less desk space and has a decidedly curved aesthetic. It's also a creamy white, making this seem much more like something you'd put in a home than an office.
But the biggest change is that there isn't a paper tray on this design; instead HP opted for a rear-angled feed, and this isn't as elegant.
I had some problems with it, because the feed failed to cleanly pull individual 15 x 10cm sheets of gloss from ten sheets I put in. And it has auto paper detection that wrongly identified A4 as Letter sized.
Oddly, the one area where I thought I'd have problems, wi-fi, worked flawlessly. As there isn't a big enough LCD for inputs, to connect the Deskjet 3630 to your wireless network needs you to initially use USB or WPS. I used the latter, and it worked really well and very quickly, and once visible on the network, the drivers automatically installed.
The LCD panel is postage stamp sized and gives you the number of copies you've selected, wi-fi signal strength (if wi-fi Direct is in use), ink levels and it reports any errors. As the LCD is mono, it assumes you know which of the two ink level relates to color and black, though I'd just assume the lower one is more likely to be color.
Ink comes in the same HP 302 cartridges as the Envy 4520 uses, and sadly that means all the colors are in one cartridge and black in the other.
The standard-sized HP 302 tri-color cartridge is rated for 165 pages at 5% coverage, which I found translated into just six A4 borderless prints before it was exhausted.
If this sounds expensive, and it is, HP has included this printer in its new 'Instant Ink' service option, where you pay from a month to have HP send you cartridges automatically when the levels reach a critical point. This will save you money over direct purchasing. However, given how rapidly they can empty, I'm not sure how you'd be protected from running out in practical terms.
Overall, unless you buy printers for their looks, I think this isn't as good as the Envy 5420, which brings you a slicker experience for just a tenner more.
Mark Pickavance
HP Deskjet 3630 Review: Verdict
A very basic printer, scanner and copier for home use..
HP Deskjet 3630 Review: SPECIFICATIONS
4800x1200dpi maximum print resolution • 1200x1200dpi maximum scan resolution • USB • 802.11n Wi-Fi • 158x438x310cm (HxWxD) • 4.2kg • One-year warranty.