HandBrake Review: An extremely free powerful video, audio converter
An extremely powerful video and audio converter that's also totally free.
HandBrake Review – HandBrake is a free video converter that's fairly well known to Mac users, but less famous in the world of Windows. It is worth noting that this is still something of an experimental program and it hasn't even reached version 1.0 in its Windows incarnation, but that doesn't mean it should be overlooked.
Available for Mac, Windows and Linux, Handbrake is a great choice for anyone who works on multiple platforms, but is also great for anyone who is dedicated to Windows.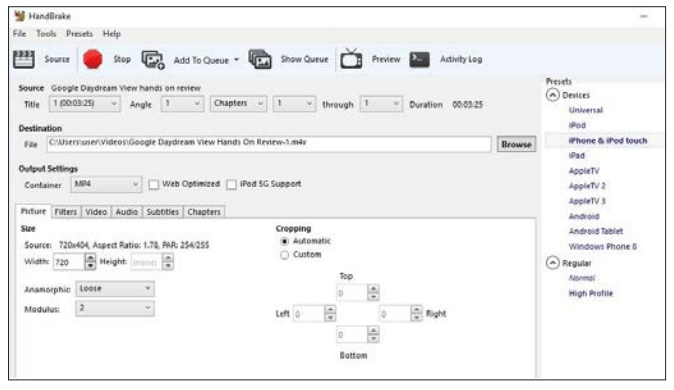 The app certainly is: it's a fantastic tool for ripping DVDs (or other kinds of video disc) or converting audio or video files from one format to another — although we should mention that HandBrake is not compatible with copyright-protected DVDs. However, the open-source software comes into its own when converting home-made Blu-rays and DVDs, or videos downloaded from the internet to a format compatible with your smartphone or tablet.
Not only does Handbrake provide extensive options for pixel perfectionists, but it comes with a really useful stack of presets that provide one-click access to common formats.
If you've ever wrestled with trying to convert video for an iPhone, PSP or other device, you'll be clicking the download button already.
It's not just about devices, though. It can transcode between H.264, H.265, MPEG-2, MPEG-4, VP8 and Theora, and its audio powers include AAC, CoreAudio AAC/HE-AAC, MP3, FLAC, AC3 and Vorbis. That means it's a great tool for converting any kind of video media into whatever format you need There are a lot of features that allow for fine-grained control of video conversion, too — including very precise cropping, advanced filtering, frame rate adjustment — but there are also presets for those who just want quick and simple results.
Finally, Handbrake has made its way to Windows. It may take a little while to get used to — as it's a full-featured app — but the output is worth the effort.
Mark Wilson & Gary Marshall