Nvidia's high end RTX 40-series graphics cards offer impressive performance, at a price . By Chris Szewczyk. Read our Group test RTX 40-SERIES GRAPHICS CARDS.
A CARD FOR USERS WHO WANT THE CORE CHARACTERISTICS OF AN RTX 4090, WITHOUT THE EXPENSIVE BELLS AND WHISTLES
RTX 40-series graphics cards are impressive. They offer excellent performance, cutting edge features, and power efficiency. But their pricing has received some fair criticism. But considering their intergenerational performance uplifts, improved ray tracing, upscaling magic, mostly low noise levels and operating temperatures, these are still some desirable graphics cards.
We've tested two of each of the RTX 40-series cards released to date, led by the flagship RTX 4090. It's the fastest graphics card ever released but it comes at a steep cost that's unpalatable to say the least. Next up is the high performing and power efficient RTX 4080. The RTX 4070 Ti is the latest out of team green. It isn't quite the mainstream hero that we've been waiting for, but it's a bit of a step towards it.
If you don't mind paying, you'll have a card to power your rig for years to come.
ROG Strix GeForce RTX 4090 OC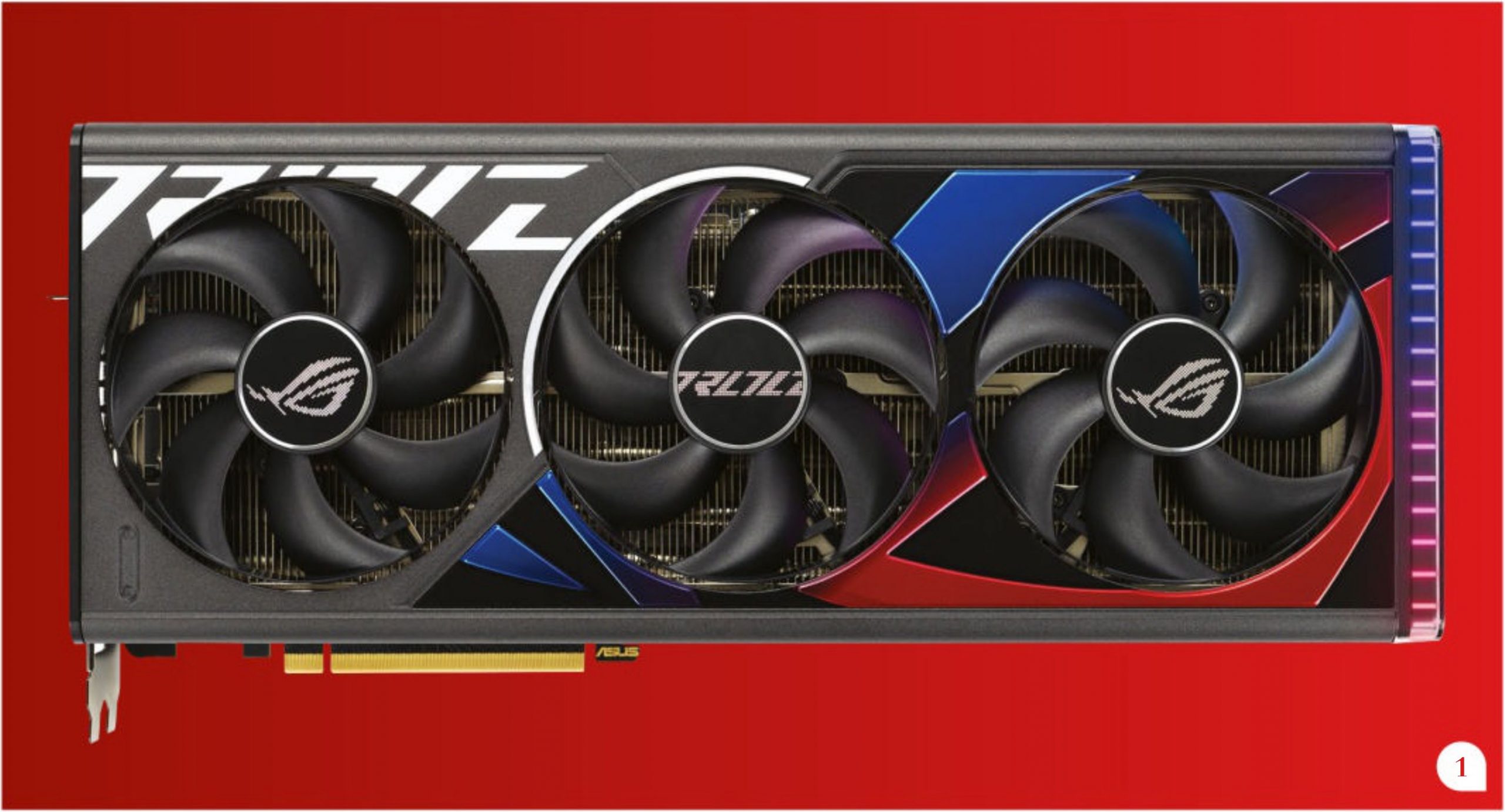 The 4090 dialed up to 11
If you want the highest performing card on the market, there's one graphics card that sits above all: the RTX 4090. All RTX 4090 cards are impressive, but Asus takes it to the next level with this ROG Strix. Some people just want the best, price be damned. The PCB is built for overclocking with dual BIOS and external fan control. The Strix is one of few cards to include three DisplayPort 1.4a and dual HDMI 2.1a. A notable omission is the lack of DisplayPort 2.1 support—a feature sadly lacking on all the RTX 40-series cards to date.
The RTX 4090 is built for 4K gaming and at this task, it has no competition. Feel free to turn up all the ray-tracing options. And even if you're playing one of the few games that can't hold 60fps, enabling DLSS should see you through. The Asus ROG Strix RTX 4090 is a serious contender.
VERDICT
-> Mega 4K performance
-> Cool and quiet
-> Big price premium
SPECS
CUDA CORES: 16,384 I BOOST CLOCK SPEED: 2,610MHZ I MEMORY CAPACITY: 24GB GDDR6X I MEMORY BANDWIDTH: 1,008 GB/S I DISPLAY OUTPUTS: 3X DISPLAYPORT 1.4A, 2X HDMI 2.1A I TDP: 450W
GeForce RTX 4090 NB EX-V
COLORFUL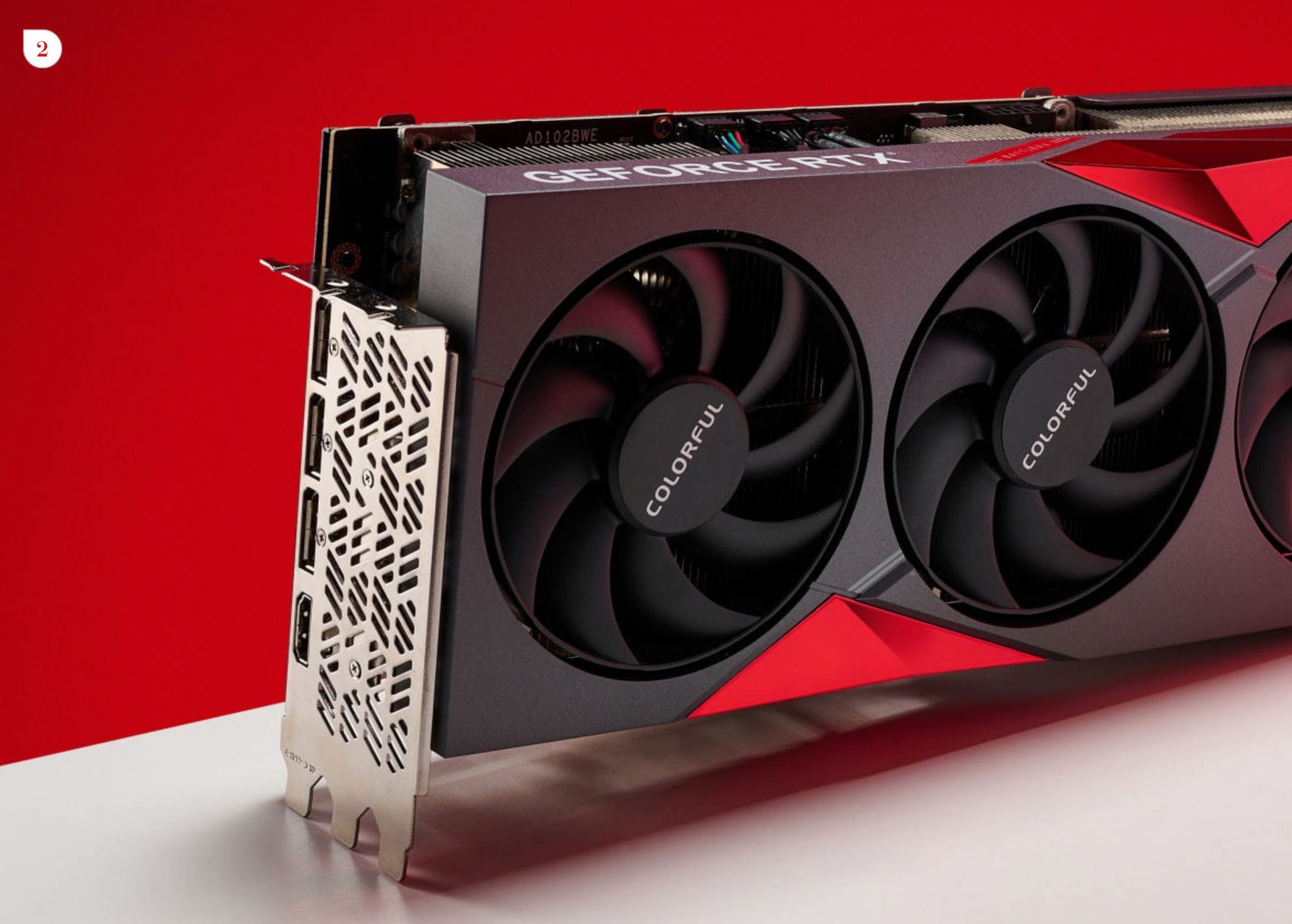 A gaming weapon
The Colorful GeForce RTX 4090 NB EX-V is a slightly more worldly option compared to the ultra premium ROG Strix. It's a card for users who want the core characteristics of an RTX 4090, without the expensive bells and whistles. The design is very reserved compared to some of the almost garish Colorful cards we've seen in the past. It comes with a small factory overclock, though it isn't the highest clocked RTX 4090 we've come across. It has some overclocking headroom if you're willing to push the limits. It includes the same core count, ray tracing and DLSS capabilities of all RTX 4090s. It runs cool and quiet, as it should do given the massive size of the so-called Battle Ax cooler. If you want all the performance and features inherent to the RTX 4090 but don't want to spend big bucks, then this is worth a look.
VERDICT
-> It's a 4090!
-> Excellent performance
-> The FE is superior
THE GIGABYTE RTX 4070 TI GAMING IS GIGABYTE'S ENTRY LEVEL MODEL
GeForce RTX 4070 Ti Gaming OC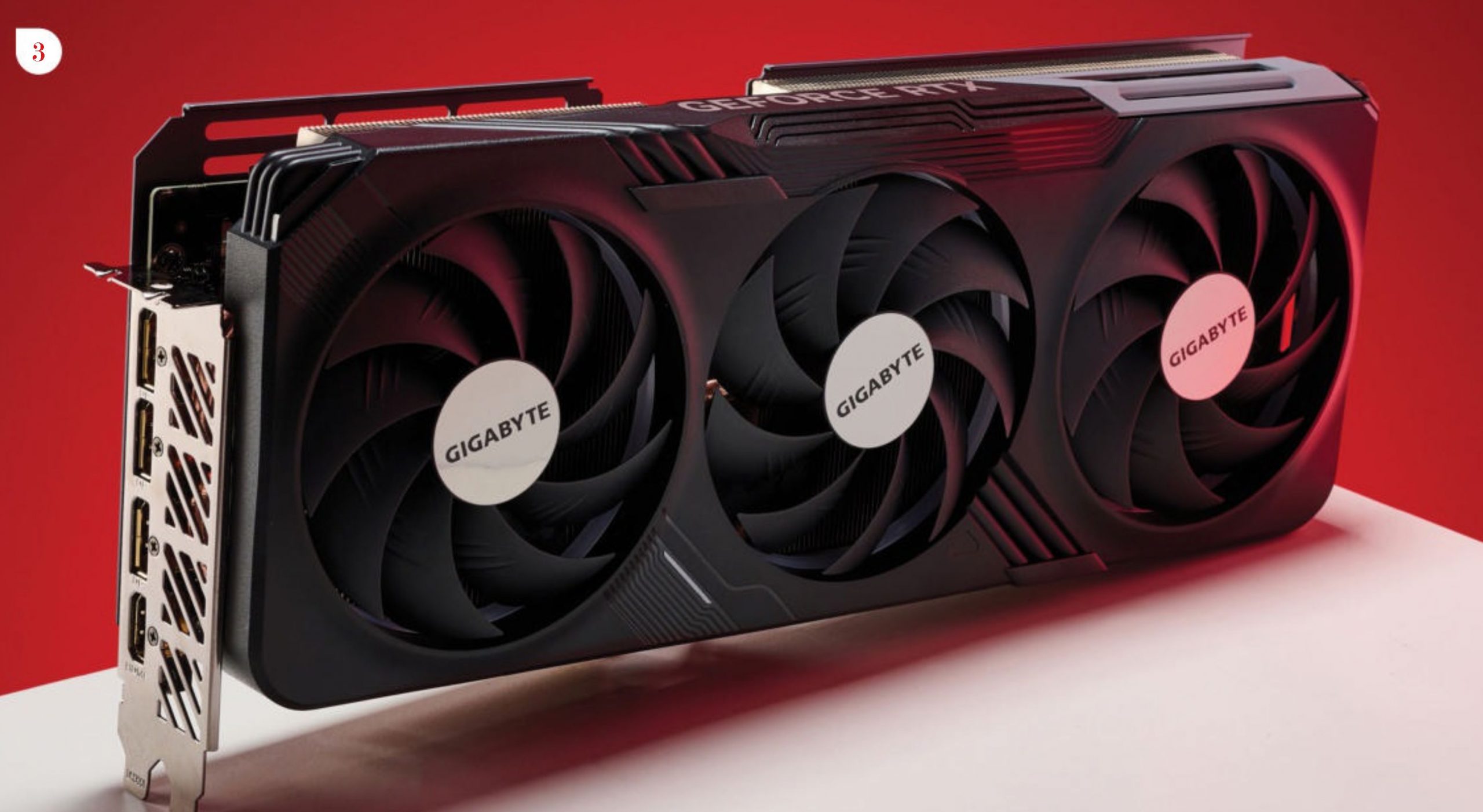 GIGABYTE $
An almost affordable 4070 Ti
The latest RTX 40-series GPU to be released is the RTX 4070 Ti. This card was once known as the RTX 4080 12GB before Nvidia embarrassingly unlaunched it. It's still an expensive GPU, but it's a step in the right direction.
The Gigabyte RTX 4070 Ti Gaming is Gigabyte's entry level model, selling for marginally above that MSRP. It's a big card, and a real eye catcher thanks to the RGB on the fans themselves. It includes all of the RTX 40-series goodies we love, including DLSS 3.0 support. When it comes to performance, it pretty much matches the RTX 3090 in performance while using much less power. And it costs a lot less than the RTX 3090 ever did, so from that perspective, it's a win. The Gigabyte isn't what you'd call a silent card but it's cool and efficient.
SPECS
CUDA CORES: 7,680 / BOOST CLOCK SPEED: 2,640MHZ / MEMORY CAPACITY: 12GB GDDR6X / MEMORY BANDWIDTH: 504.2 GB/S / DISPLAY OUTPUTS: 3X DISPLAYPORT 1.4A, 1X HDMI 2.1A / TDP: 285W
VERDICT
-> Relatively affordable
-> Power efficiency
-> Not silent
GeForce RTX 4080 XLR8 Verto Epic-X
Relative affordability
The second RTX 40-series card to be released is the RTX 4080. It delivers very good performance and power efficiency, but it's let down by sky-high asking prices. The PNY RTX 4080 XLR8 Verto Epic-X is a card that's among the cheapest of all RTX 4080s, at least, while still offering a high quality cooler and eye-catching design.
The PNY is a chunky 3.5-slot card, and with that cooler it's easily capable of dealing with the AD103 GPU. Interestingly, the PNY card comes with faster 23Gbps GDDR6X memory than most, and of course you get a generous amount of RGB lighting. The RTX 4080 delivers RTX 3090 Ti-beating performance with superior ray tracing capabilities and the magic of DLSS 3.0. It does so with much lower power consumption, too—that's what we love about it.
SPECS
CUDA CORES: 9,728 / BOOST CLOCK SPEED: 2,505MHZ / MEMORY CAPACITY: 16GB GDDR6X / MEMORY BANDWIDTH: 736 GB/S / DISPLAY OUTPUTS: 3X DISPLAYPORT 1.4A, 1X HDMI 2.1A / TDP: 320W
VERDICT
-> Great performance
-> Cool and efficient
-> Expensive
DLSS 3.0
DLSS 3.0, or Deep Learning Super Sampling, is a killer feature that's exclusive to Nvidia's RTX 40-series graphics cards. Its aim is to increase framerates with minimal sacrifices to image quality and latency. It uses your favourite 2023 buzzword, AI, to upscale a low-res game into a higher resolution, and do so in a way that's barely noticeable to your puny human brain. Unlike prior DLSS versions, DLSS 3.0 adds Frame Generation capabilities to generate entirely new frames in addition to those the GPU renders natively.
But DLSS 3.0 requires game support, so you might not find every game you play will make use of it. In those that do, it's well worth giving it a try if you're struggling to hold a smooth frame rate, or it might allow you to increase your resolution by a step.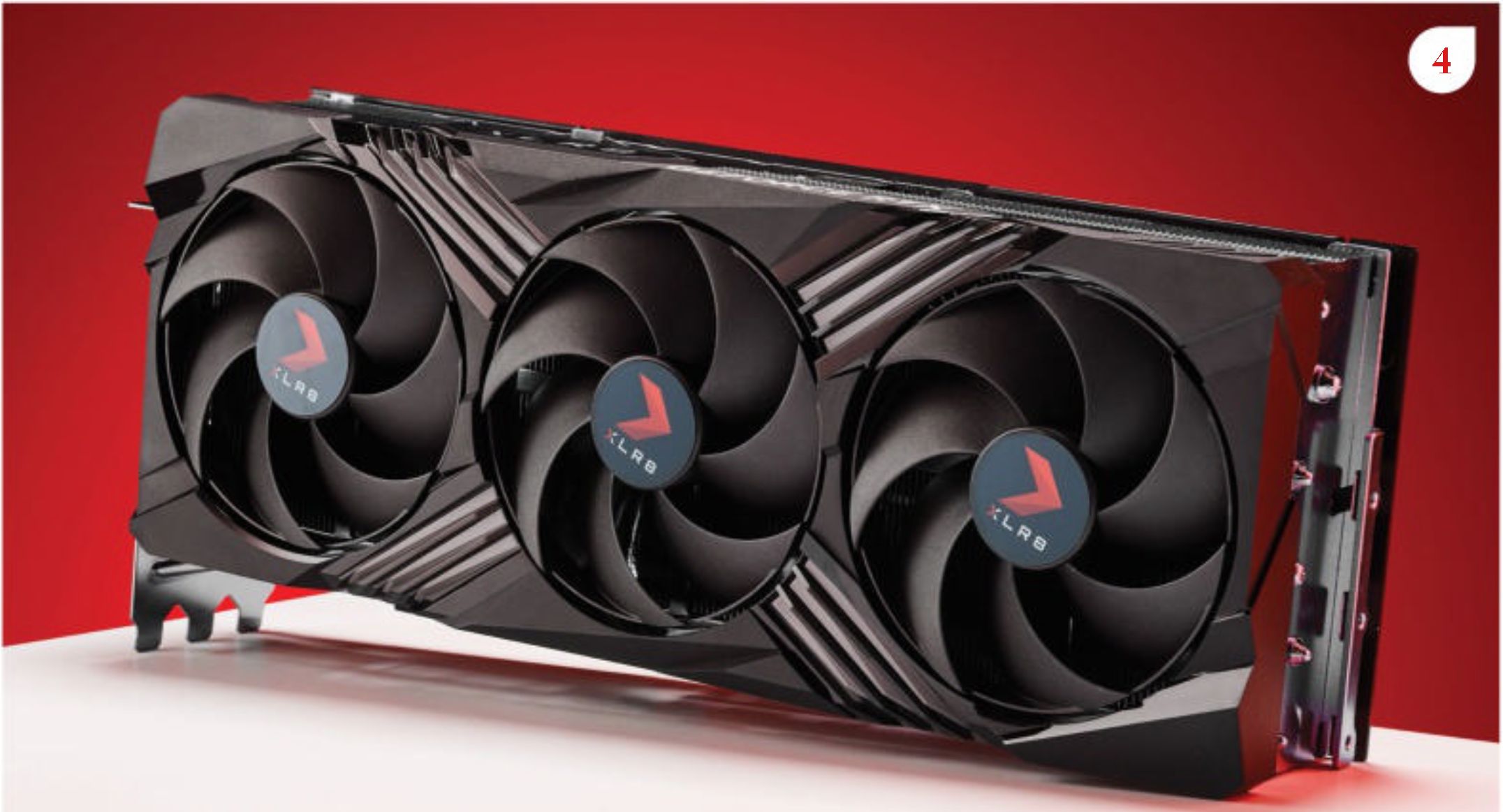 GeForce RTX 4080 Amp Extreme Airo
Fast and efficient
The Zotac RTX 4080 Amp Extreme Airo is, shall we say, curvy? Its design might be polarizing, but it's certainly one to look at if you're a fan of RGB. It even includes an RGB header for an additional light strip. The Zotac is a big card, like just about every RTX 40-series card released to date. That means it's easily able to keep the temperatures of the AD103 GPU under control. The Zotac is built like a battleship, including a massively overpowered 24-phase VRM and memory rated for 24Gbps. With that kind of PCB and cooling overhead, the Zotac RTX 4080 has some genuine overclocking headroom. Any card that delivers performance, power efficiency, and cool running, all while looking good, is well worth considering. The RTX 4080 really is an excellent GPU, and the Zotac is a well priced version of it.
VERDICT
-> High boost clock
-> Power efficiency
-> Again: it's expensive
SPECS
CUDA CORES: 9,728 I BOOST CLOCK SPEED: 2,565MHZ I MEMORY CAPACITY: 16GB GDDR6X I MEMORY BANDWIDTH: 716 GB/S I DISPLAY OUTPUTS: 3X DISPLAYPORT 1.4A, 1X HDMI 2.1A I TDP: 320W
GeForce RTX 4070 Ti
Gaming X Trio

The sound of silence
MSI's Gaming X Trio cards traditionally offer a good balance of cooling capability and low noise, and the MSI RTX 4070 Ti again excels. In fact it's one of the quietest GPUs around. The MSI strikes a good balance of cost and features. It doesn't go overboard with the PCB design, but then not as much is needed for a 285W GPU. You get dual BIOS and the standard three DisplayPort 1.4 and single HDMI 2.1 outputs. The performance characteristics are mostly the same as the Gigabyte card. It's a very good card for high refresh rate 1440p gaming, and it can even hit the 60fps mark in many demanding titles with ray tracing on. And that's without enabling DLSS.
It blends performance, and build quality into a balanced package. But like all RTX 4070 Ti cards, it's expensive at this time.
SPECS
CUDA CORES: 7,680 I BOOST CLOCK SPEED: 2,745MHZ I MEMORY CAPACITY: 12GB GDDR6X I MEMORY BANDWIDTH: 504.2 GB/S I DISPLAY OUTPUTS: 3X DISPLAYPORT 1.4A, 1X HDMI 2.1 I TDP: 285W
VERDICT
-> Excellent cooler
-> Power efficiency
-> Too expensive