GROUP TEST: BEST BUY SSDS & DDR4
PEP-UP YOUR PC WITH AN UPGRADE TO ITS STORAGE AND MEMORY. A NEW SSD BEST BUY AND SOME GOOD DDR4 MEMORY CAN ADD SOME MUCH NEEDED ZING.

SATAclysm
STILL THE CHEAPEST ROUTE TO SOLID STATE STORAGE, AND USUALLY FAST ENOUGH FOR MOST PEOPLE'S NEEDS, EDWARD CHESTER PUTS SEVERAL 2.5IN SATA SSDS TO THE TEST
HOW WE TEST best buy ssd
Our first test is CrystalDiskMark, a freely available synthetic benchmark.
We test at queue depths of both 1 and 32 – the former is the most relevant for regular users, while the latter is more representative of intensive workloads. We use the default settings but set the 32-queue-depth random test to use four CPU threads. Each test is run five times and we report the average.
Next up are two 'real-world' benchmarks PCMark 7 and PCMark 8, which both have storage tests that use genuine SATA trace data from applications such as Windows Defender and Battlefield 3. For PCMark 7, we only report the final overall score, but for PCMark 8 we also compare the data for the Battlefield 3, Microsoft Word and Photoshop Heavy tests. All these tests are run three times and we report the averages. In order to gauge how an SSD will cope with more intense workloads, we also run lometer to record the number of in/out operations per second (IOPS), as well as the average response time.
Finally, we test the boot speed using the freely available BootRacer app.
Each drive is loaded with a fresh install of Windows 10 64-bit and a full set of drivers. We then refresh the system five times to allow Windows to sort out its caching, before using BootRacer to perform five cold starts to find out how fast the system boots. Next, we take the average time of five fast startups, which is where the system boots from a standby-like state, with Windows saving the operating system state to a hibernation file.
This process results in a quicker boot time, as Windows doesn't have to reload the kernel, drivers and system state individually – it's the default Windows 10 shutdown behavior. All tests are performed on an Asus Z-170A motherboard with an Intel Core i5-6600K and 16GB of Corsair Vengeance LPX 2666MHz DDR4 RAM.
The speed score is based on a weighted breakdown of the performance tests. CrystalDiskMark accounts for 30 per cent of this score (with a heavier weighting on low-queue-depth results), while 70 per cent of it is allocated to the PCMark 7, PCMark 8 and BootRacer real-world tests, as they're the most relevant for everyday use. The dollars per gigabyte ($/GB) score is based on the pricing at the time of writing, divided by the accessible formatted capacity, while the bang per buck score is essentially a ratio of the speed and $/GB metrics.
CONTENTS best buy ssd
Kingston UV400 480GB
Samsung 750 Evo 500GB
Samsung 850 Evo 120GB
Samsung 850 Evo 500GB
Samsung 850 Pro 256GB
Samsung 850 Pro 512GB
SanDisk Extreme Pro 480GB
Crucial MX300 525GB
Crucial MX300 1TB
Results graphs best buy ssd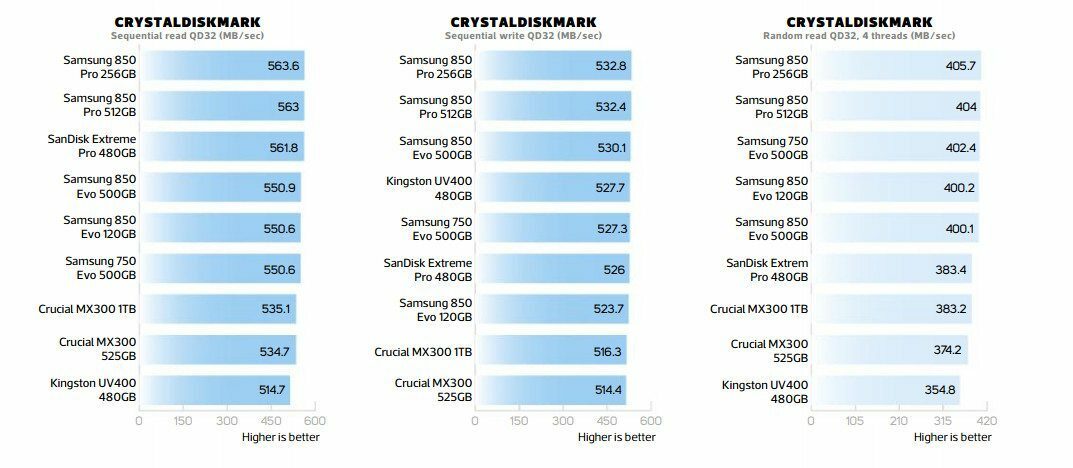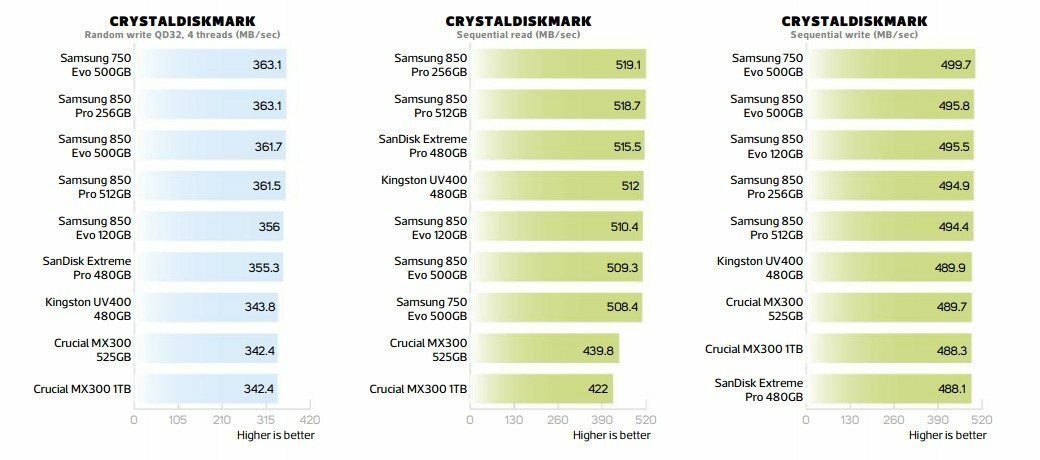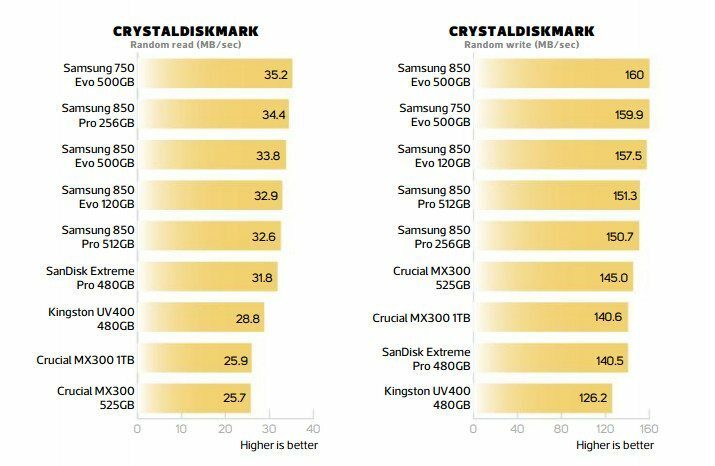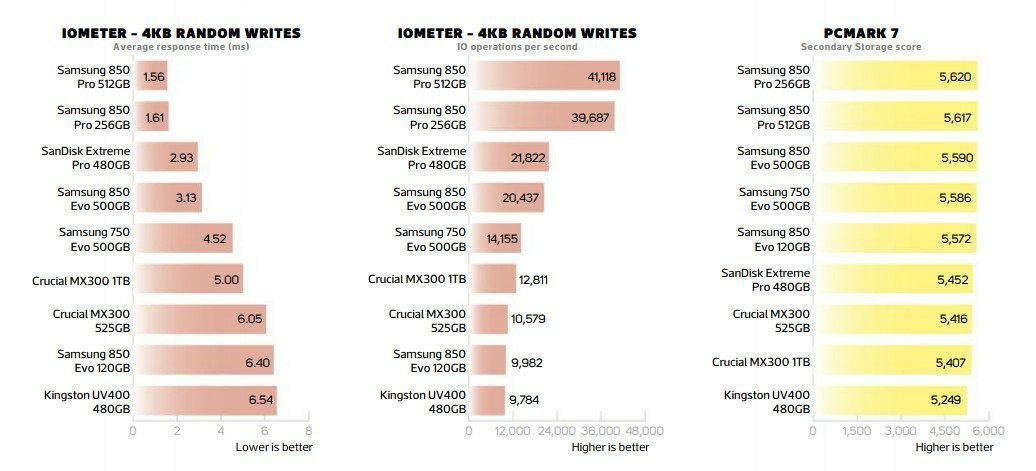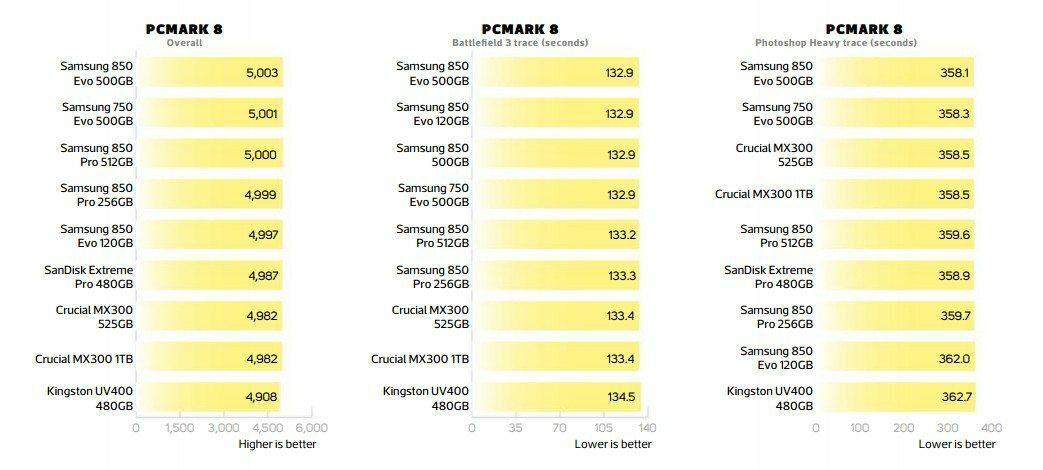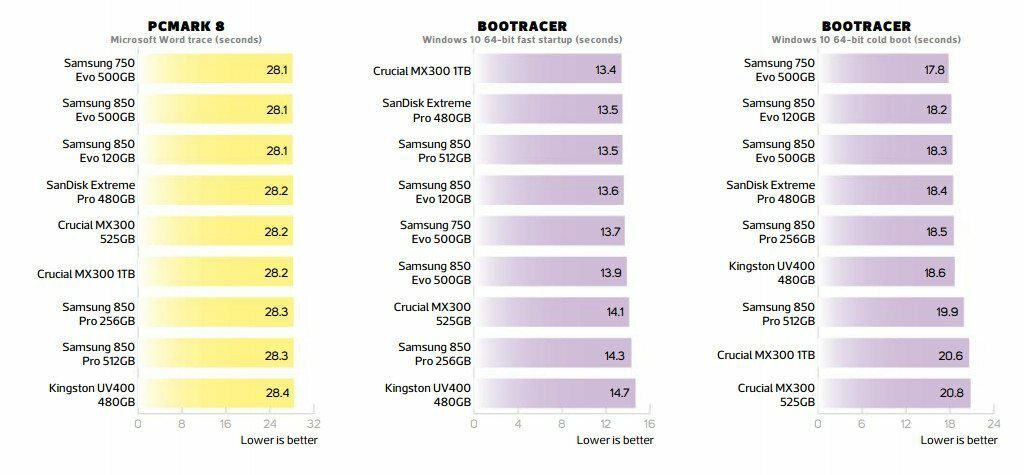 NO ocz?
We had hoped to include OCZ product in this group test, as the company has been in great form with good product at decent prices, but a couple of factors got in the way of that. We used an overseas-based lab for this test and they did not, unfortunately, include OCZ SSDs, and secondly we were hoping that the new OCZ VX500 would be released in time for review. Alas, it was not.
Winner best buy ssd
Last update was on: 2022-04-30 1:00 pm