Gigabyte's Aorus machines have carved a sizeable niche in the gaming laptop space, and this new machine is its first model with an RTX 3070 GPU. This Ampere-based chip has 5,120 CUDA cores and 8GB of memory, and here, the RTX 3070 has a peak TOP of 105W, which means a moderate boost speed of 1290MHz. Read our GIGABYTE AORUS 15G XC Review.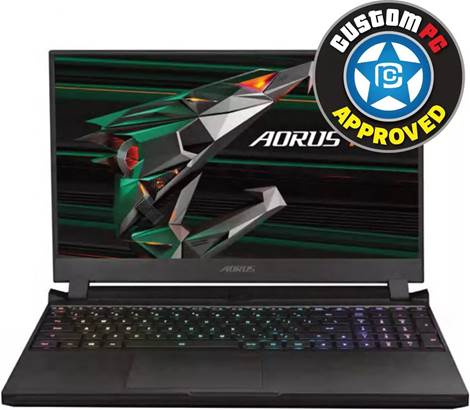 The rest of the Gigabyte's specification is decent-there's a Core i7-10870H CPU with six cores that runs at 2.2GHz with a potential turbo peak of 5GHz, 16GB of dual-channel DDR4 memory, and both 2.SGbps Ethernet and dual-band Wi-Fi 6. Meanwhile, the 512GB Phison SSD provides decent read and write speeds of 3,346MB/sec and 2,514MB/sec, but it could do with a larger capacity given the size of modern game installs.
The hardware slots inside a chassis made from black plastic. It might not be metal, but it looks sleek and classy, and build quality is decent – there's a little movement around the keyboard but hardly any flex anywhere else. There's plenty of internal access too: you can access both SODIMM slots, the wireless chip and the SSD, as well as a spare M.2 connector.
Around the edges, the Aorus serves up three full-sized USB 3.2 Gen 1 ports, a Type-C connector, and both HDMI and mini-DisplayPort outputs. It also has an SD card reader. It's a good everyday slate offeatures, but the last Aorus 15G laptop we reviewed had Thunderbolt and a fingerprint reader, and both of those features are missing here.
The Aorus' 23mm thickness and 2kg weight are only middling too, although neither will prevent his machine from being slung in a bag. The 15G also has a webcam, but it's awkwardly placed below the display.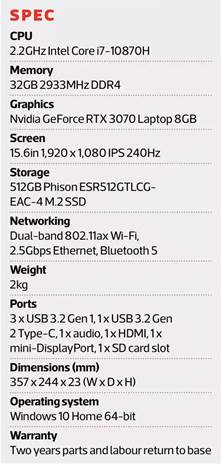 Meanwhile, the keyboard is a conventional chiclet model. It has a numberpad, large cursor and Return keys and per-key RGB LED backlighting. The buttons have reasonable speed, and they're quiet and comfortable to use – they're certainly good enough for mainstream gaming. But they don't have the crispness or deeper travel of the best chiclet keyboards. They're also a far cry from the mechanical keys used on last year's Aorus machine. The trackpad buttons push down too far as well, so we'd definitely use a USB mouse.
The 15G squares up against last month's PC Specialist Defiance VIII Pro, which included the same core components. That machine had a larger SSD, a better­ placed webcam and Thunderbolt support, alongside a three year warranty -the Aorus only has a two year deal. However, the PC Specialist suffered with a weaker, plainer chassis and a wobbly keyboard with poor backlighting, which are key considerations for a mobile machine.
The Aorus is also available with RTX 3060 and RTX 3080 GPUs and respectively. There's the 15P XC as well, which ramps up the RTX 3070 to 130W for no extra cost- but that machine is hotter, louder, heavier and thicker.
Performance
In our tough Cyberpunk 2077 and Assassin's Creed Valhalla benchmarks, the Aorus delivered 99th percentile minimums of 46fps and 40fps. Those scores were recorded at the games' highest quality levels, so you'll going to get smooth gameplay at 1080p with this GPU. The Cyberpunk scores didn't decline with Medium ray tracing and DLSS activated either. The Aorus delivered minimum and average frame rates of 131fps and 191fps in Doom Eternal, so you're easily going to get the pace for high-speed esports gaming from this machine.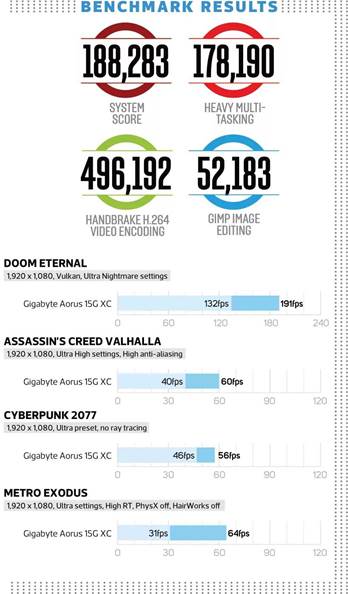 The results compare well with last month's PC Specialist laptop – the 15G was often a frame or two per second quicker than that cheaper laptop, and the Aorus' extra performance modes deliver a couple extra FPS too.
The 240Hz panel has a 1080p resolution with no active sync, but it's still satisfyingly smooth in fast-paced single­player and competitive games. The screen has good quality too: it renders 91.9 per cent of the sRGB colour gamut with great colour temperature and delta E figures of 6,461K and 0.84, and its contrast ratio ofl,021:1 is on par with most laptop IPS panels. This display delivers reasonable depth and accurate colours, so it's a good option for gaming and media use.
There are downsides though. The peak brightness of 286cd/m2 is only good enough for indoor use, and the panel can't handle the wider DCI-P3 and Adobe RGB colour gamuts. The speakers are middling too: the mid-range is a little muffled, the bass could be punchier and volume is mediocre.
Meanwhile, in our application benchmarks, the Intel processor delivered a decent overall result of 188,283, which rose to 193,247 in the lSG's beefier performance mode – both results are better than the PC Specialist and this machine will still handle gaming, everyday work and photo editing without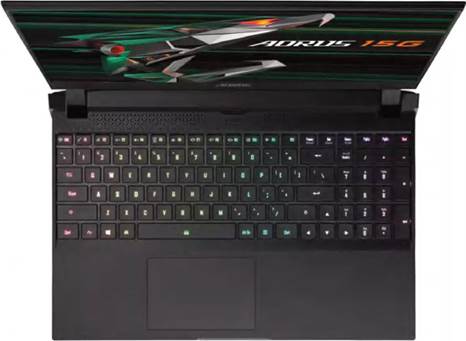 issues. However, it's possible to find laptops with the RTX 3070 and AM D's Ryzen 7 5800H for less than the Aorus' price, and AM D's chip is faster across the board.
The 15G is a superb thermal performer as well. When gaming, it's one of the best high-end laptops we've tested for ages – its fan noise is subdued, the exterior remains cool and the GPU consistently ran at speeds beyond 1400MHz while maintaining a solid delta T of SST. In work benchmarks, the laptop was barely louder, although here, the CPU did peak with a delta T of 68°C before throttling to lower speeds. Nevertheless, in single-threaded and multi-threaded tests the Core i7 CPU ran at4.6GHz and 3GHz respectively, so it's hardly slow.
Not surprisingly, battery life is ordinary. The Aorus lasted for six hours when handling basic work and four hours during a tougher productivity test, but only an hour during games.
Conclusion
The Aorus serves up impressive gaming speed and a good 1080p display alongside great thermal performance and a smart chassis. However, it does suffer from an patchy 1/0 option, an underwhelming keyboard and a higher price than similarly specified rivals. Indeed, it's not tricky to find RTX 3070 laptops for less money, and sometimes with better AMD CPUs. That said, that price gets you a decent screen, solid build quality and low-noise operation. It could be cheaper, but it's a well-built laptop if you can afford it.
MIKE JENNINGS
VERDICT
Editor choice
GIGABYTE AORUS 15G XC Review
The 15G is a solid gaming laptop with great thermal ability and low-noise operation, although it's a bit pricey for the spec on offer.
PROS
Fast in 1080p games
Decent 240Hz display
2.5 Gbps Ethernet
Great thermal ability
CONS
Mediocre CPU
Underwhelming keyboard
Pricier than rivals
Some missing features
Add your review
Best GIGABYTE AORUS 15G XC prices ?

$

190.00
1 new from $190.00
in stock


$

198.00
1 new from $198.00
in stock


The item in this listing is an Open Box (packaging maybe slightly distressed). The unit powers on with factory settings restored and includes the original accessories. The unit may have some minor cosmetic marks. Product comes with a Minimum 90 days warranty • NVIDIA GeForce RTX 3070 Laptop GPU...
$

1,649.63

$2,062.04
in stock

MORE DEALS

See also THE COMPLETE GUIDE TO…OLED laptops