Gigabyte Aero 15-15WV8 (2018) – THE REFRESHED AERO IS AGAIN GOING FOR GAMING-GRADE SPEED IN A PRO FORM FACTOR. SO IS THIS COMBO STILL AIR TIGHT?
OVER THE LAST few years, Gigabyte's Aero range of laptops has attempted to bring premium gaming components to the ultrabook form factor, and this newly- refreshed Aero 15 is no different. Combining a 15.6-inch Pantone colour-calibrated screen, full-sized keyboard with number pad, dedicated Nvidia GTX 1060 GPU and a generous 94Wh Li-Ion battery within a slim 35.6 x 25 x 1.9cm chassis is an impressive feat of engineering. Add to that one of Intel's new high-end 8th-generation mobile CPUs, 16GB of DDR4 RAM and a 512GB SSD and you have a cutting-edge gaming PC that slyly takes the shape of a professional ultrabook.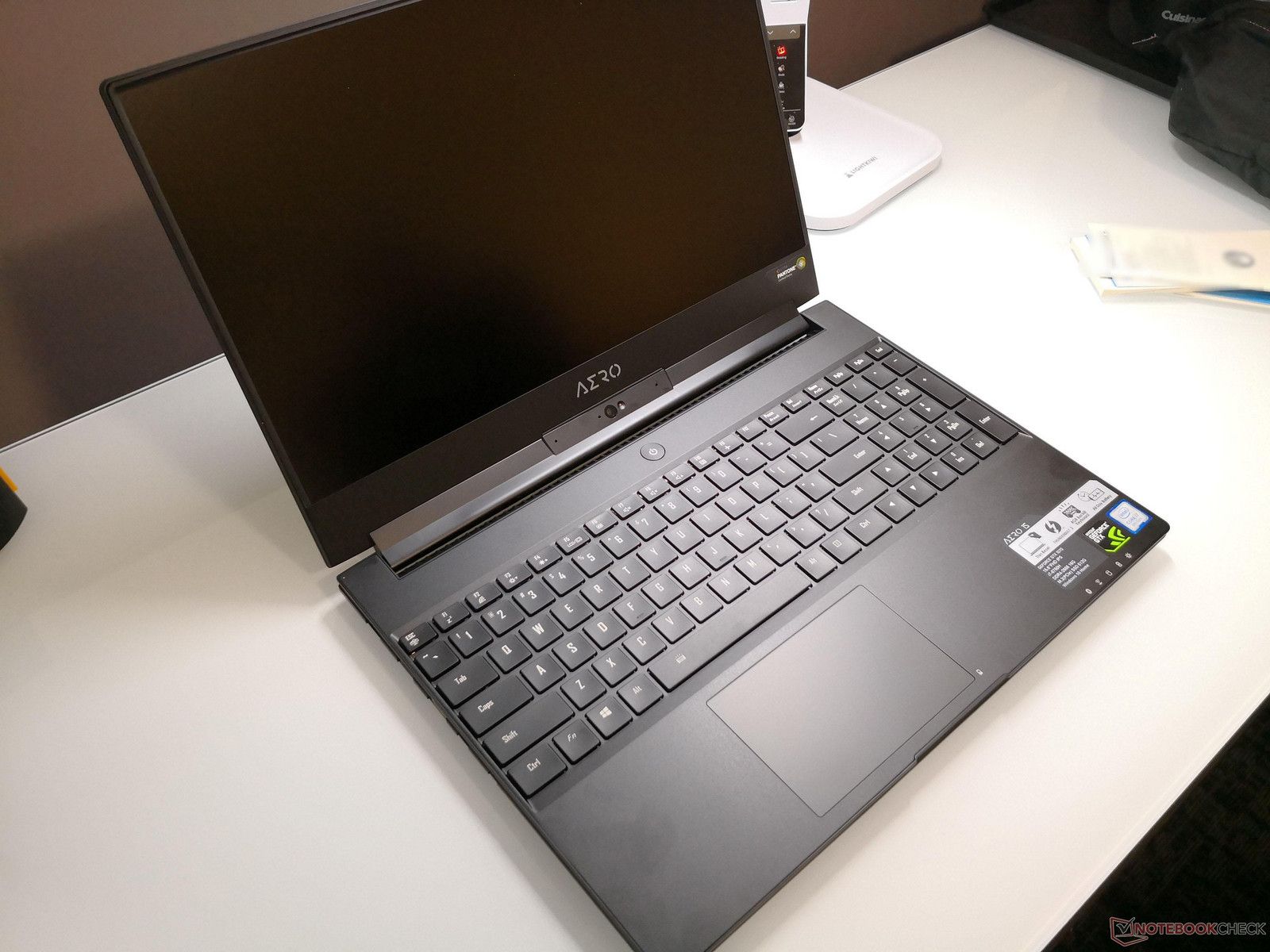 Pushing the envelope this far has invariably led to some design choices that will be divisive — like dropping the web camera to the bottom of the screen, and giving the keyboard a fractionally off-centre and slightly crowded feel. On the whole, though, these compromises seem to have been carefully considered and ultimately end up as minor grievances rather than major caveats.
Taking prime position at the top of the Aero 15 is that display, which looks great in its near bezel-less frame. While the entry-level configuration we tested for this review was only an IPS LCD at 1,920 x 1,080-pixel resolution, it's upped the refresh rate from last year's model from 60Hz to 144Hz, and it still has that unique Pantone colour calibration.
Packing the first six-core mobile CPU we've seen from Intel — one of the company's new high-end 8th-gen Core i chips — the Gigabyte Aero 15 cut a swathe through our CPU-intensive benchmarks. Take the raw CPU scores from Cinebench's R15 benchmark and you'll see that, on single-core tests, this laptop's new Core i7-8750H CPU scores only a little better than its i7-7700HQ predecessor on the ASUS RoG Zephyrus, with Gigabyte getting 156 to the ASUS's 149. This 5% per-core boost translates into a 17.4% overall boost in multi-threaded CPU benchmarks when using Windows' 'Balanced' power mode.
However, this CPU can be pushed considerably further by putting the Aero 15 into Performance power mode, which increases that multithreaded score from 861 all the way up to 1,125 — a massive boost that puts it 53.5% ahead of the ASUS, and fairly close to desktop performance levels.
In general work and home tasks, the Aero achieves similarly impressive results, hitting 4,460 and 5,635 in the respective Home (accelerated) and Work (accelerated) PCMark 8 benchmarks, which means it powers through tasks better than any previous laptop we've tested with 16GB of RAM.
While the Aero 15 has generous GPU power for a professional ultraportable, the Nvidia GeForce GTX 1060 model is a bit middle-of- the-road when it comes to performance against today's gaming laptops. It'll still get close to, if not more than, 60fps on most early 2017 games using Ultra settings at 1080p, albeit it only managed 35 fps on Ghost Recon Wildlands. Turn down those graphical settings a little, however, and you'll be able to really put that 144Hz screen to use, with less- demanding titles often pumping out over 100 frames per second.
Gigabyte has done some work optimising the battery life, allowing it to get over 7 hours of movie playback when in Performance mode. And while the unit is on the heavy side at a little over 2kg, for something with this much power and battery life, it's actually exceptionally lightweight. The updated model does sacrifice the 3,000/1,500MB/S NVMe SSD from last year's model for a slower 500MB/s SATA SSD, but this is the device's only real step backwards — and it's a largely inconsequential one.
[joel burgess]
CRITICAL SPECS (AS TESTED)
Windows 10 Home or Pro 64-bit; 15.6-inch FHD (1.920 x 1.080) 144Hz LED display (Pantone calibrated); 2.2GHz Intel Core i7-8750H (hecta-core, up to 4.1GHz) CPU; Nvidia GeForce GTX 1060 graphics; 16GB DDR4 RAM; 512GB Crucial SATA 3 SSD storage; 8o2.nac Wi-Fi. Bluetooth 4.2; 35.6 x 25 x 1.9cm; 2kg
GENERAL PERFORMANCE

MEDIA ENCODING PERFORMANCE

MEDIA ENCODING PERFORMANCE

GRAPHICS

PERFORMANCE

GRAPHICS

PERFORMANCE

GRAPHICS

PERFORMANCE

BATTERY LIFE

PCMARK 8-HOME (SCORE)

HWBOTX

265  1080

P(AVG FPS)

CINEBENCH – MULTI-THREADED CPU

3

DMARK FIRE STRIKE EXTREME (SCORE)

GRID

2

-ULTRA

1080

P (FPS AV)

THE DIVISION-ULTRA

1080

P (FPS AV.)

PCMARK 8—HOME ACCELERATED (HRS:MINS)

4,460
34.323
1,125
4,882
118.74
52.3
06:17