Garmin Nuvi 2599LMT-D Review
Features don't get in the way of simple operation with Garmin's latest satnav.
The Garmin Nuvi 2599 LMT-D has an unwieldy name, but it looks great with its slim dimensions and 5in glass screen.
It costs half the price of competing high-end satnavs yet it still has a huge feature list including free live traffic updates, free updates for the included Europe-wide maps and, for the first time, Foursquare integration.
Foursquare is the social-media service that lets you "check in" at locations so your followers know where you've been. Even if you have no interest in this, having Foursquare built into a satnav is still useful as the service has a database full of useful points of interest such as shops, restaurants and tourist attractions.
The Nuvi 2599's Digital Traffic feature sends up-to-date traffic and accident information directly to the Nuvi rather than through a paired smartphone as with other satnavs. According to Garmin, it uses DAB radio signals and it updates every minute.
Throughout our testing the Nuvi 2599 reported traffic updates less than a minute after entering our route, with problems shown hours ahead into the projected itinerary. Unsurprisingly, coverage is limited to motorways, A roads and town/city routes, with no data for smaller, rural roads. The Nuvi also needs to be connected to its power cable for Digital Traffic to work as this doubles as an antenna.
Traffic alerts are shown to the side of the map, so you can still see your route as well as any upcoming delays or diversions. Each alert is also spoken, and responds to voice commands, so you can adjust your route or avoid a particular road without having to reach for the touchscreen. By default, the Nuvi reacts to the key phrase "Voice Command", but you can change it to whatever you like.
Your current street, speed, speed limit and arrival time are all shown onscreen, but the interface never feels cluttered. It's easy to understand, as are the visual and spoken driving instructions. Directions such as "Turn left at the next traffic lights" and "Stay in the right two lanes" are paired with images of junctions as you approach them. These are invaluable aids when you're driving on unfamiliar roads. The speed limit will update to reflect average speed-camera zones, which is a welcome inclusion.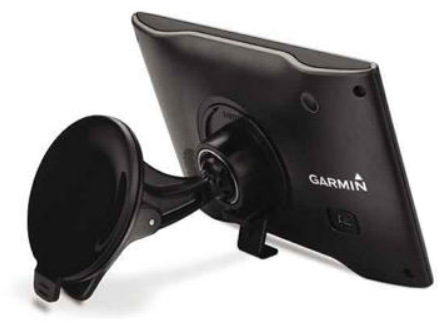 The Nuvi 2599 also doubles as a hands-free speakerphone. After pairing your smartphone, you can make and receive calls without having to reach for your phone. In our test, the microphone was able to clearly detect the voices of both driver and passenger, while the speaker was clear and loud enough to be heard while we cruised down a busy, noisy road.
SPECIFICATIONS
5in 480×272-pixel touchscreen • European maps included • Bluetooth • Accepts microSD cards •180x140x8mm (HxWxD) .184g
To get the most out of Foursquare you'll again need to pair the Nuvi with your smartphone via Bluetooth and install the Garmin Smartphone Link app (free for iOS and Android) to see up-to-date opening hours, ratings from Foursquare users and other information for each location.
The Nuvi 2599 LMT-D is an affordable and well-built satnav that has an impressive number of easy-to-use features. Plus, map updates and traffic data are free, making it even better value.
ALTERNATIVE: TomTom GO 500 It has more detailed maps, but you'll have to pair it with your smartphone to get the best from it and it lacks voice control.