Excellent malware defence and clear pricing make up for some creaky system optimisation tools. Read our G DATA TOTAL SECURITY Review.
(5 devices) US$ | gdatasoftware.com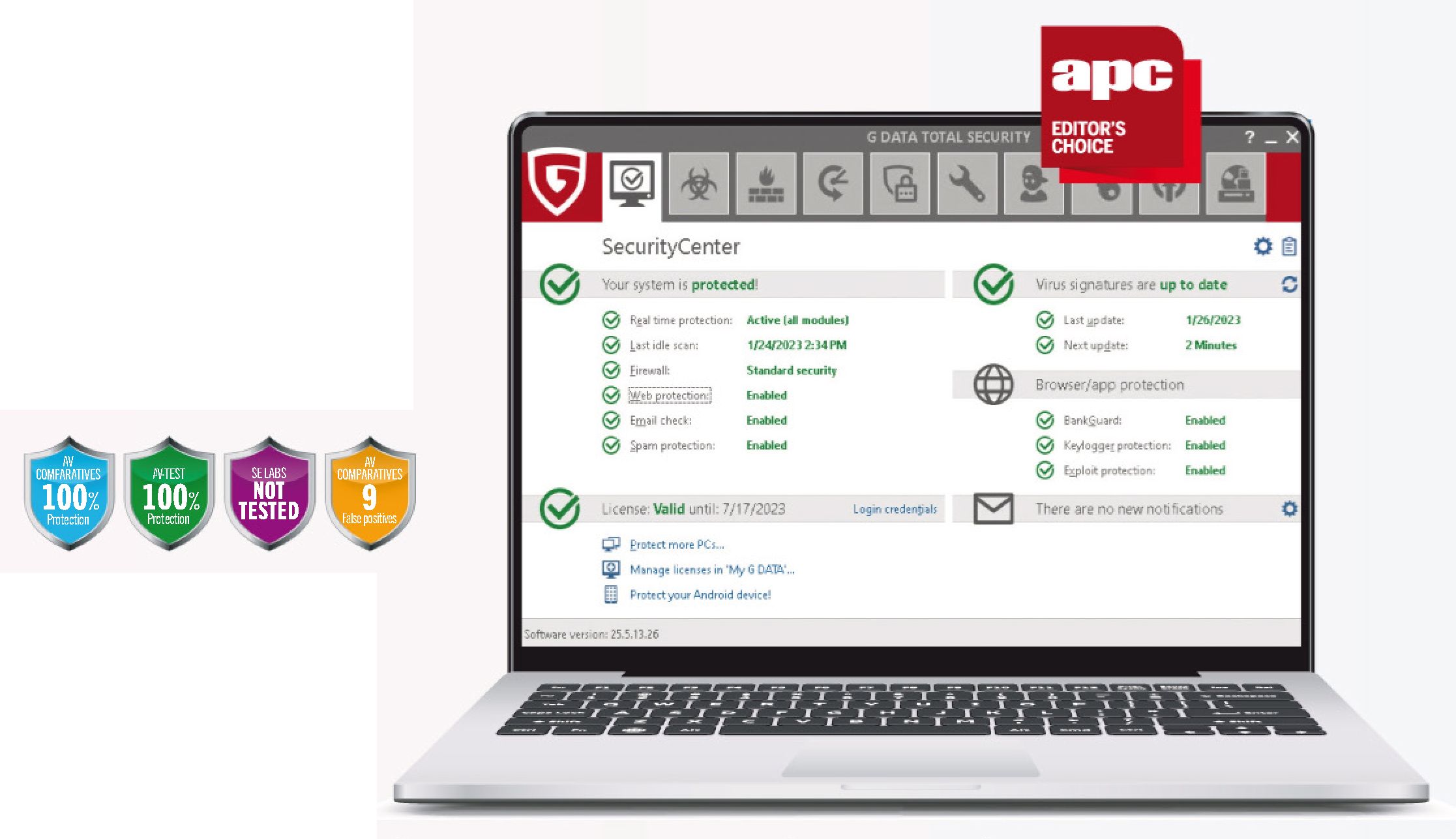 The bright screen produces rich colours and sharp images.
G Data is a long-established independent anti-malware firm based in Germany. It combines its own internally developed malware-detection engine with the Bitdefender engine, which helps it identify threats with formidable accuracy.
In fact, its malware detection has been among the most effective recently, blocking 100 percent of malware in tests by both AV-Test and AV Comparatives. It misidentified a few legitimate programs as threats, however – one in AV-Test's set and nine in AV Comparatives'.
Total Security is the most comprehensively feature-packed version of the company's antivirus suites, available for Windows and macOS, with complementary iOS and Android apps.
G Data is sold in US dollars, which currently works out as follows: US$ is around $ for a one-device subscription, US$ is roughly $ for three devices and US$ equates to $ for five devices.
Very unusually for antivirus software, there are no hidden renewal costs, making this a mid-priced, mid-range security suite that stays that way. This is genuinely refreshing in an industry that's had numerous auto-renewal price-hike scandals.
As well as the core antivirus suite, it comes with the same firewall and parental controls as G Data Internet Security, plus a password manager, parental controls, performance tuner, encryption tools and USB device access control. Installation deposits a pair of shortcuts on your desktop: the G Data Total Security client and G Data Shredder, which will securely delete files or folders that you drag onto it.
The G Data client itself is an almost charmingly old-school security suite control panel, with bright colours, lots of information and a clear set of icons. The main pane gives you a heads-up display of the status of the suite's core modules.
Under Virus Protection, you can run or schedule a full malware scan, or scan specific files or directories, your computer's memory and autostart processes, removable media, and check for rootkits. You can also access quarantined files or burn a bootable rescue image to a CD or USB drive.
G Data Total Security comes with a dedicated firewall to replace the Windows Defender Firewall. There's not a lot in it, but we found the interface to create new firewall rules more pleasant to work with than Windows' integrated one. The firewall is on autopilot by default, ensuring that you'll spend as little time interacting with its rules as possible.
The suite also comes with a comprehensive integrated backup tool. It supports full, differential and incremental backups of any selected files and folders, on a schedule of your choice. You can back up to physical media, a network location or synced storage such as OneDrive.
Unfortunately, it's all downhill from here for the bundled apps. The integrated password manager is minimally documented, only works via a browser and provides plugins only for Google Chrome and the long-outdated Internet Explorer. We recommend using a dedicated password manager such as KeePass or Bitwarden instead.
The near-obligatory system tuner, designed to tweak Windows settings, is full of features from the past. There's a disk defragmenter that doesn't warn you not to defrag SSDs, while the clean-up tools refer to long-dead products such as Google Picasa and the Yahoo Browser Toolbar.
Parental Controls are simple and clear, allowing you to tie controls to a specific user. You can restrict their access to the internet and applications by time and category, but they do nothing that Windows Family Safety can't. It also feels as if it hasn't been updated in a while: for example, if you tick "block all encrypted websites", that includes anything with a TLS certificate and https prefix. Otherwise known as most of the modern internet.
Let's end on positive notes. An encryption tool creates and mounts an encrypted virtual partition (although this is too easy to delete), you can improve boot times by delaying autostart applications, while device control can block unauthorised USB devices, discs, webcams or floppy disk drives from being used.
While some of the more outdated "value-add" features could be unruly in the hands of someone who doesn't know their way around their PC, this is a security suite that power users should be able to get behind. And for those who prefer not to be bothered by their antivirus, you can instruct G Data not to display malware detection messages.
G Data Total Security is an excellent security suite that easily dominates its mid-range price bracket.