The design of your home has a huge impact on your Wi-Fi quality. Will Stapley plays matchmaker and shows you how to find your home's perfect wireless partner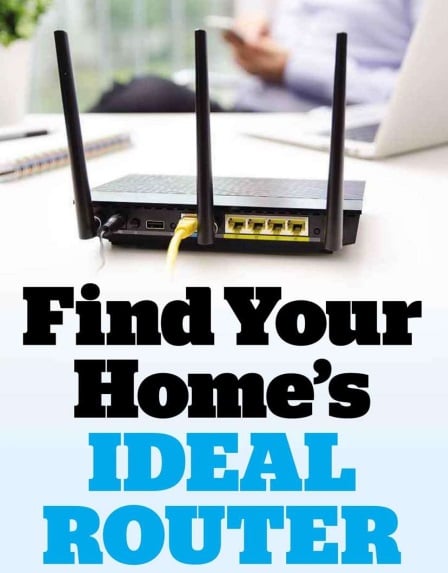 Your wireless router is at the heart of your digital home, if it's underperforming, everything that depends on it is affected – websites take an age to load, streaming video stutters and downloads are painfully slow. Before investing in a new router, however, it's worth checking whether your broadband is at fault. To do this, run Google's speed test by typing speed test into a Google search, then clicking the blue Run Speed Test button. To make sure your Wi-Fi's performance isn't affecting the results, be sure to connect the computer you're running the test on directly to your router using a wired Ethernet connection. If the result is more than your Wi-Fi score, but matches what your ISP claims you should be getting, the fault almost certainly lies with your router. If it doesn't match, contact your ISP and ask them to test your line.
Best for small homes
The size of your home and the material used in its construction ultimately dictates the type of wireless router you need. While it's tempting to go for the latest mesh routers (more on these later), they're expensive and, in many cases, unnecessary. If you live in a bungalow, flat or small house with stud walls, a single Wi-Fi router should reach all rooms. However, if you're still using an old 802.11n router (perhaps you've had it for more than five years) and are struggling to get a consistent signal, a router upgrade will certainly help. We recommend
D-Link's EXO DIR-882 AC2600
(below). This is a dual-band router, meaning it broadcasts on two frequencies: 2.4 and 5GHz. Both networks share the same name (or SSID) and your router will determine which devices (laptops, phones, smart speakers, etc) will use which network. This reduces
D-LINK DIR-822
D-Link's DIR-822 is a great, low-cost router for small homes
congestion on your network and improves speeds – even at the further reaches of your home. The DIR-822 also has external, adjustable aerials, which allow you to direct the wireless signal. This is usually a case of trial and error, adjusting the direction of these aerials until coverage improves. Best of all, the DIR-822 is cheap. This router doesn't have a built-in modem, but you may be able to use it alongside your existing router (in modem-only mode – check your router manufacturer's support site to find out). If your existing router doesn't offer this option you'll need to buy an ADSL or VDSL modem separately. The former is used in older broadband technologies, the latter in newer fibre broadband such as BT Infinity. You can then connect the modem to your router's WAN port using an Ethernet cable. Contact your ISP if you're unsure what type of broadband you have. If you have cable broadband with Virgin Media, check its support site (
www.snipca.com/30343
) for instructions on how to set your Virgin Hub to modem-only.
Best for medium-sized homes with thick walls
If you live in a larger two-storey home (three to four-bedroom house); an older property with thick walls throughout; or a newer home that's designed to stricter environmental standards (heavily insulated partitions can play havoc with your signal), consider TP-Link's Archer
TP-LINK VR2800
The tri-band TP-Link VR2800 reduces congestion on your wireless network 
VR2800
. As a tri-band router, it transmits across three networks: one 2.4GHz and two 5GHz bands, which improves speeds at the edge of the router's range. So, for example, if you have three laptops in far-flung rooms of your home, your router can place each on a separate network so that they won't be fighting for a slice of one or two lower-quality networks. Another reason we recommend the VR2800 is its versatility. Unlike the D-Link AC2600, this router includes both an ADSL and VDSL modem. Its WAN port also lets you connect a Virgin Media hub in modem-only mode. The VR2800 should send a signal to a garden shed or outside office as long as they're not at the far end of a long garden. Another option is the
Linksys EA9500
(pictured above right), a tri-band model that's one of the best performing routers around. It's not cheap, but in our tests it performed well – even penetrating thick walls. It also has eight Gigabit Ethernet ports (twice as many as most routers), letting you attach devices such as a smart TV, NAS drive and satellite TV box, freeing up your wireless network for other devices. One downside is that it doesn't have a built-in ADSL or VDSL modem.
LINKSYS EA9500
The Linksys EA9500 is a high-end router, both in price and performance
Best for larger three-storey El homes
If you live in a large two- or three-storey house, upgrading to mesh Wi-Fi is probably your best option – especially if you also want to get a decent wireless signal to a conservatory, garage or loft conversion. This works by repeating your signal using separate access points. All share the same SSID, so you won't need to log into different networks as you move from one part of your home to another. You can wander around with a laptop, for example, and it will connect to the nearest access point seamlessly.
BT Whole Home Wi-Fi
(pictured above right) is one of our favourite mesh Wi-Fi systems. You position the discs around your home. The setup
TENDA NOVA MW3
Tenda Nova MW3 is the cheapest mesh Wi-Fi system currently available
BT WHOLE HOME
Get seamless Wi-Fi in every room with BT's Whole Home Wifi mesh system doesn't include a router, however, so if you don't already have one you can connect it to, you need to factor in the cost of a buying one. You connect one of the discs to the router using an Ethernet cable, then place the other two on different floors of your home. But adding to this at a later date is expensive. BT Whole Home Wi-Fi works with all ISPs and routers, so you don't need to be a BT Broadband customer. It's worth noting that BT also offers a 30-day money back guarantee, so if you still experience Wi-Fi dead spots you can return the product for a full refund. If you're thinking of switching your ISP, BT recently opened up its Complete Wi-Fi service to new customers on its Superfast Fibre packages. Previously, it was only available to those on the more expensive BT Plus contract, which combines fibre broadband and 4G. As standard, it includes a router and one access point. If this doesn't cover your entire home, BT will send up to two free additional access points. If you find BT's kit too expensive, there is a budget option: Tenda's Nova MW3 (pictured left). This kit comprises three access points and costs. Measuring just 90mm on each side, the access points are impressively small and easy to install – simply connect one to your existing router or modem using an Ethernet cable, then download the Tenda WiFi app and follow the setup instructions. The downsides are speed is slower and coverage noticeably less widespread than BT Whole Home. Each access point also uses slower 100Mbs Ethernet ports rather than the Gigabit ports found on BT's kit, so any devices you attach directly to it won't be as fast. But if you're on a tight budget and simply want to increase wireless coverage, it's a good option.
Waiting for Wi-Fi 6?
Announced last year, Wi-Fi 6 is the latest wireless standard and uses 802.11ax technology, which promises faster speeds and greater coverage – particularly in areas with multiple competing Wi-Fi networks. At present, however, only a handful of Wi-Fi 6 routers are available and they're not cheap. The Asus RT-AX88U. What's more, to reap the benefits of Wi-Fi 6, your laptop, phone and other wireless devices will also need to support the new standard – at the moment, none do. Wi-Fi 6 devices won't be widely available for at least another year, so there's no point paying over the odds now for a router that has benefits you can't take advantage of.