A further refinement of their high-performing cordless track saw now makes it even safer. Read our Festool TSC 55 K Cordless Track Saw review.
By Rob Johnstone
Track saws have long been centered in Festool's wheel­house. The accuracy and versatility of their track saws has allowed some space-con­strained woodworkers to avoid buying a table saw but still do fine woodworking with these instead. And of course, they are just part of Festool's systematic ap­proach to power tools.
The TSC 55 K is a further refinement of their track saw offerings. Powered by two 18-volt batteries, it has sufficient torque to cut hardwood, softwood and plywood alike. You can also use the saw with one battery for lighter duty.
I own the TS 55 REQ corded track saw, and while I did not use the two side by side as I checked out this new "K" cordless mod­el, I noticed no appreciable drop in performance with the battery-powered tool.
What's New Here? There are two significant changes to the TSC 55 K that separate it from its predecessors. The first is the use of thin-kerf saw blades. Thinner blades make better use of battery power because they remove significantly less material from the kerf. It saves energy and extends run time. (The blades are not backward compatible to earlier TS 55 saws.)
Consider the claim in Fes-

The new TSC 55 K can be used with a full complement of thin-kerf saw blades. Color-coded, three of them are for specific woodcutting uses. Another is for high-pressure laminate or aluminum and a fourth blade is for concrete. Thin-kerf geometry helps the 18-volt batteries deliver more cuts per charge.
tool's documentation: "Thin- kerf blade design allows users to work up to two times faster with up to 50 percent longer battery life for more cuts per charge. Additionally, enhanced tooth geometry provides up to 40 percent lon­ger blade life with improved cutting performance and consistent cut quality."
Kickback Stop
We usually associate kickback with table saws where the blade grabs a piece of stock and throws it back at the user. That is not what is under consideration here. Occasionally with the plunge-cutting action that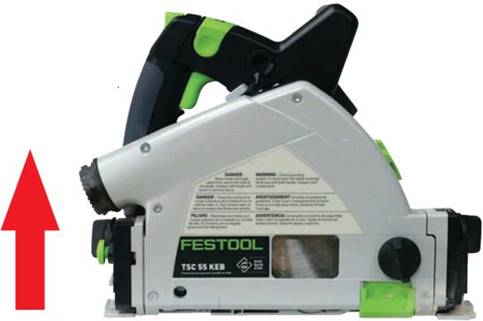 When the saw detects immi­nent kickback, an internal lever pushes down and lifts the saw and blade up and clear of the cut. This protects both the work surface and the track.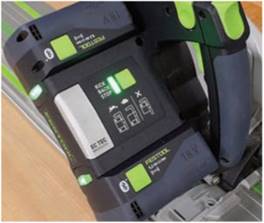 The anti-kickback feature can be controlled by a button on the left side panel of the saw. It can be turned off completely or adjusted to fast or slow.
track saws employ, the blade can become stuck, and its rotation can throw the whole saw back upward and out of alignment. It has happened to me before, and I have some scarred-up track and have damaged my workpiec­es because of it.
The TSC 55 K has an electromagnetic system that stops this dramatic event. If the saw senses kickback starting to occur, an internal lever pushes down to lift the saw up and clear of the cut. It does so in a much more controlled manner than a kickback, saving your workpiece and aluminum saw track from damage. It not only protects your stock and track but also adds more safety to the plunge-cutting operation.
This new saw works with all of Festool's guide rails, dust extraction and MFT portable worktables.
Rockler reports that it will be available for sale in March. Sometimes you just have to wait to get the goods!
Festool: TSC 55 K
Street Price (basic package): $ Motor: Brushless EC-TEC with Soft Start No-load RPM (one battery): 2650 to 3800 No-load RPM (two batteries): 2650 to 5200 Net Weight (with batteries): 10.14 lbs Cutting Depth (90 degrees): 2 1/8″ Cutting Depth (45 degrees): 1W Inclination: -1 degree to 47 degrees Kickback Stop: Electromagnetic Saw Blades: 160 mm*
* Thin-kerf saw blades are not compatible with other previous TS 55 track saw models
Best Festool TSC 55 K Cordless Track Saw prices ?

£

375.00
6 new from £375.00
in stock


£

768.25
5 new from £768.25
in stock

MORE DEALS