Devolo's latest powerline kit extends your home network without tears, says Martin Pipe
The receiver plug features a trio of Ethernet ports
PRACTICALLY EVERY DOMESTIC gadget needs some kind of network connection nowadays.
But getting the network to where it's needed can be an issue, especially if your home is of a shape and size that makes a broadband router's Wi-Fi coverage an uneasy compromise.
Also, in some densely populated areas, Wi-Fi can be erratic because many users will be fighting for capacity on the most common (2.4GHz) band.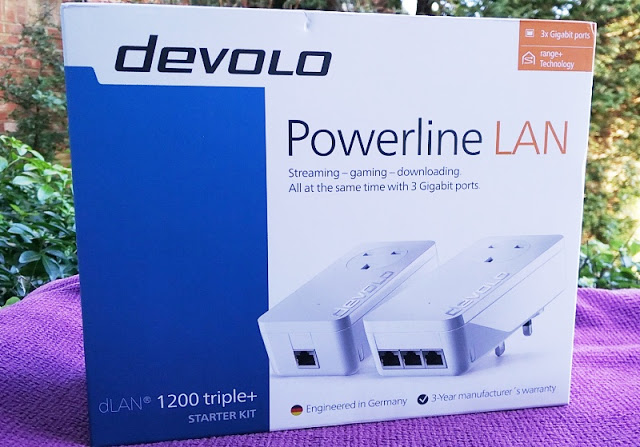 Using a wired connection for demanding applications like video streaming, and leaving Wi-Fi for tablets and smartphones, is preferable.
And if the idea of snaking unsightly CAT5 Ethernet cables around the home scares you, fear not – powerline networking devices, such as this unit from German company Devolo, use your home's existing mains wiring to carry high-speed data as well as power.
PRODUCT: Powerline networking starter kit
Position: Tops Devolo's Ethernet-only range
PEERS: TP-Link TL- PA8010PKIT; Netgear Powerline PLP1200
Start me up
The Devolo dLAN 1200 triple+ Starter Kit provides all you need to get going.
It consists of two adaptors that resemble overweight mains plugs.
One (which we'll call the 'transmitter') is inserted into the wall socket nearest your router, while the other one (the 'receiver') is plugged in wherever data is needed.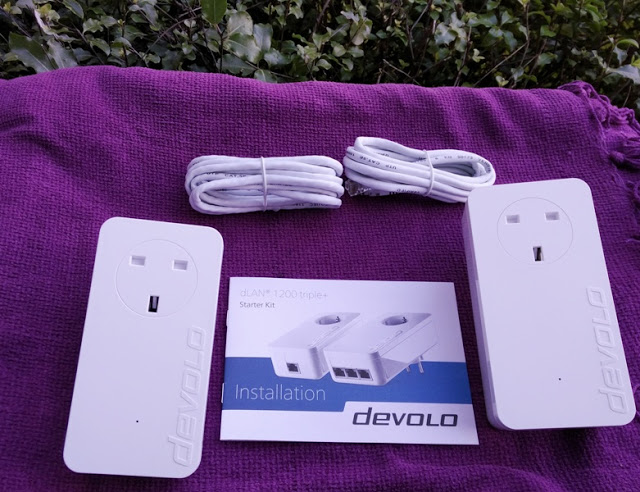 Included in the package are two Ethernet cables.
One links transmitter to router, while the other will connect the receiver to one of your devices.
Actually the receiver has an in-built Ethernet hub, enabling as many as three devices to be accommodated (hence the 'triple').
Your viewing room's smart TV, networked AVR and games console could thus be online (and not via Wi-Fi) simultaneously, with no need to swap cables.
Between them is shared the total capacity of the link, which Devolo says can be as high as 1200Mbps.
Installation is a doddle, not least because front-mounted 'passthrough' mains sockets mean no outlets are lost.
The adaptor cannot, however, revolve around the plug, and so some tight spots (sockets under cupboards, for example) may be denied to it.
After pressing side-mounted buttons to initiate a pairing process, the result should be a secure (it's encrypted) and reliable link.
The data transfer rate you'll get depends on the distance between transmitter and receiver; the nearer the better, but a range of up to 400m is claimed.
Also important is the state of your mains wiring (distribution boards aren't recommended) and 'quality' of your electricity supply.
The supplied receiver lacks a Wi-Fi hotspot, which might have been a useful feature.
Some other adaptors (from Devolo and third
Specifications
CONNECTIONS: Mains plug and 'passthrough' socket (both); Gigabit Ethernet (transmitter); 3 x Gigabit Ethernet (receiver) DIMENSIONS (WITHOUT PLUG PINS): 143(h) x 72(w) x 41(d)mm WEIGHT: 280g
ALSO FEATURING: Homeplug standard; Devolo Cockpit application; 'plug-and-play' installation; 1200Mbps powerline link with 128-bit AES encryption; 400m range; multiple receivers can be added; status LEDs; Range+ technology; maximum power consumption 5W (per unit; 0.8W when in standby); three-year warranty
parties alike) are indeed wireless-enabled.
As long as they're compliant with the Homeplug industry standard, they should work with this duo; additional dLAN 1200 triple+ receivers are of course game, too.
I easily got an older Devolo dLAN 500 Wi-Fi to dovetail with this kit, thereby adding Wi-Fi coverage.
The available link capacity is, again, shared between the adaptors, according to their individual specifications.
Helping you to monitor the status of your powerline networking is Devolo's excellent Cockpit application, which is freely available for desktop computers (Windows/Mac/ Linux) and smart devices (both Android and iOS).
As well as indicating which devices are active, some idea of link speed is indicated.
Cockpit also allows you to manage your adaptors, instigating internal software updates and password changes.
If one of your adaptors has Wi-Fi, Cockpit provides access to its settings.
In terms of real-world performance, I didn't quite get the impressive numbers that Cockpit claims – note that Gigabit Ethernet wired connections max out at 1000Mbps, and so there may be capacity 'bottlenecks' elsewhere in your network.
Using LAN Speed Test software, and with transmitter and receiver close, I achieved 165Mbps.
That's far off the suggested peak, but more than enough for simultaneous 4K video, hi-res music streaming and responsive internet browsing.
When separated by 60m, though, the link dropped below 100 Mbps – still a very useful connection.
Overall, this starter kit gets the job done, and the Cockpit software is great for user management.
The plugs themselves are a bit chunky, though, and some may want Wi-Fi hotspot functionality too
VERDICT
DEVOLO DLAN 1200 TRIPLE+ Review
Easy to install and use, this offers a simple fix to Wi-Fi weakspots. Prepare for variable real-world link speeds.
Add your review
Best DEVOLO DLAN 1200 TRIPLE+ (STARTER KIT) prices ?
MORE DEALS