Although it's comparatively cheap, the Covr is nicely designed. The satellites look quite neat on display
VERDICT
Simple and cheap, this mesh system doesn't have the performance to keep up with the best
IT FEELS AS if you can't move for wireless mesh systems at the moment, with every manufacturer under the sun joining in.
The latest system is D-Link with the Covr-C1023, a slightly cheaper option that nets you three satellites, only a little more than the older BT Whole Home Wi-Fi.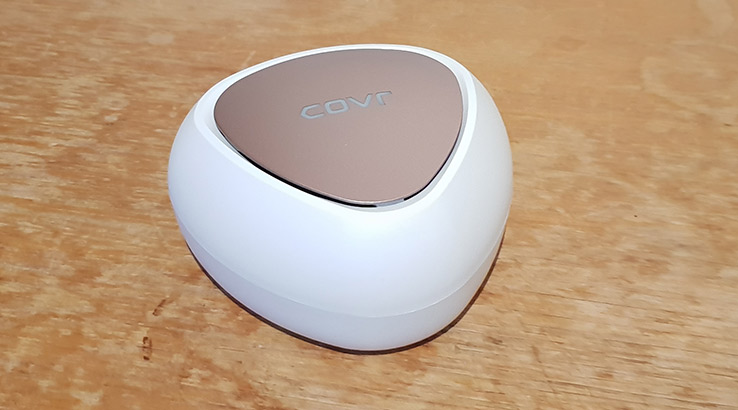 D-LINK Covr-C1023 Review
Simple and cheap, this mesh system doesn't have the performance to keep up with the best
Add your review
MORE DEALS

As with BT's system, the D-Link Covr is designed to upgrade your existing router's Wi-Fi.
The idea is that you hook up the first device to your router via Ethernet, and then disable your old wireless.
The remaining two satellites then create a wireless mesh network, extending the network throughout your home and, hopefully, eliminating dead spots.
A PLUCKY CHOICE Although it's comparatively cheap, the Covr is nicely designed.
Each identical satellite is triangular, looking like a guitar plectrum from above. With the copper finish to the top, the satellites look quite neat on display.
Each satellite has two Ethernet ports, which is handy, as it gives you a way of hooking up wired devices to your mesh network.
In comparison, the BT Whole Home Wi-Fi system has just a single Ethernet port on each of its discs.
As with all the other mesh systems we've reviewed, the D-Link Covr is configured via a smartphone app.
This talks you through setting up the first satellite and hooking it up to your router, before placing the other two satellites around your home.
The app just tells you to wait for the satellites to start flashing orange before continuing, but it doesn't measure signal strength.
Once we'd finished setting it up, we found that one satellite was listed as having a 'poor' connection (despite being just one floor up), and the other was listed as 'bad' (located at the other end of the house).
Given the placement of our satellites, it's hard to work out how we could move them, aside from putting them so dose to the main unit that it wouldn't really make it worthwhile.
LITTLE CHOICE
The Covr acts as a router, creating its own separate network.
This may make some features, such as port forwarding, harder to configure.
Generally, you'll find that devices on your wireless network can see things on your old wired network, but not vice versa.
It's possible to configure the main Covr satellite to use PPPoE, which lets it hook up to a modem, replacing your main router.
However, this would only give you a single free Ethernet port, so you'll most likely need to add an Ethernet switch into the mix.
The D-Link Covr has surprisingly few options.
There's no support for BT IGMP, for streaming YouView channels such as BT Sport. This is an excellent reason to leave your main router in place if you have BT TV.
You can add schedules to devices, defining when they can go online.
The Covr supports up to 10 schedules, so you can have one per household member, which is great for dealing with kids.
It would be easier if you could create profiles that have schedules and then add devices, but the result is the same.
The neat auto-reboot option lets you reboot the system daily or weekly. This can keep things in tip-top condition and means you don't have to do the job manually.
D-Link uses the AC1200 standard, with up to 300Mbit/s for the 2.4GHz band and 866 Mbit/s for the 5GHz band.
Band steering ensures that your device connects to the best wireless band based on performance, capability and range.
Strangely, there's no way to change the wireless channels being used, and Covr uses entirely automatic settings.
We're used to automatic channel selection being the norm, but there's usually an option to override the setting and pick a fixed channel.
As a modern device, the Covr has all the wireless technology you'd expect, including beamforming and MU-MIMO.
CLOSE CALL
Performance at close range was very good: on the 5GHz band we saw 215.38Mbit/s upload speeds and 234.7Mbit/s download speeds.
On the first floor, however, performance took a nosedive, with 66.23Mbit/s upload and 163.18Mbit/s download speeds. The second floor was worse, with 56.88Mbit/s upload and 74.77Mbit/s download speeds.
Unfortunately, we couldn't move the satellites closer together and having no control over wireless channels meant we couldn't try this either.
Performance didn't improve outside, with the Covr satellite placed at the back of the house.
We saw upload speeds of 68.62Mbit/s and download speeds of 85.32Mbit/s.
The D-Link Covr is a simple and well- priced mesh system, but it doesn't really have the speeds to beat our top-rated products.
The BT Whole Home Wi-Fi system is cheaper and faster.
If you can spend a little more, the Netgear Orbi RBK5O is the ultimate system to buy.
It may have only two satellites, but it's more powerful and did better at range in our tests.
David Ludlow
Specifications
MODEM Gigabit Ethernet
• WI-FI STANDARD 302.11ac
• STATED SPEED 866 Mbit/s (5 GHz), 300 Mbit/s (2.4GHz)
• USB PORTS 0
• WALL MOUNTABLE No
• WARRANTY Two years RTB
• PART CODE D-Link Covr-C1023