YES, THE KEYBOARD DOES HAVE SLIGHTLY SMALL AND MUSHY KEYS THAT EVEN TRUMP WOULD COMPLAIN ARE TOO SMALL, AND THE TRACKPAD COULD DO WITH MORE SURFACE AREA AND LESS ASYMMETRICAL EDGES, BUT BOTH ARE ACTUALLY PERFECTLY FUNCTIONAL AND WORK WELL ONCE YOU GET USED TO THEIR MILD QUIRKS.
A LESSON IN WHY YOU SHOULDN'T ALWAYS JUDGE AN ULTRABOOK BY IT'S COVER.
AFTER CASTING YOUR eyes and hands over Toshiba's latest Portégé, we'd forgive you for thinking it was one of the company's low-end, 'high-school laptop'-compliant Chromebooks.
That's not exactly the first impression you'd expect (or want) from a high-end $2,000-plus ultrabook, but apparently 'premium feel' was one of the things that had to go with the X20W's 'Thinner, Lighter, Faster' brief.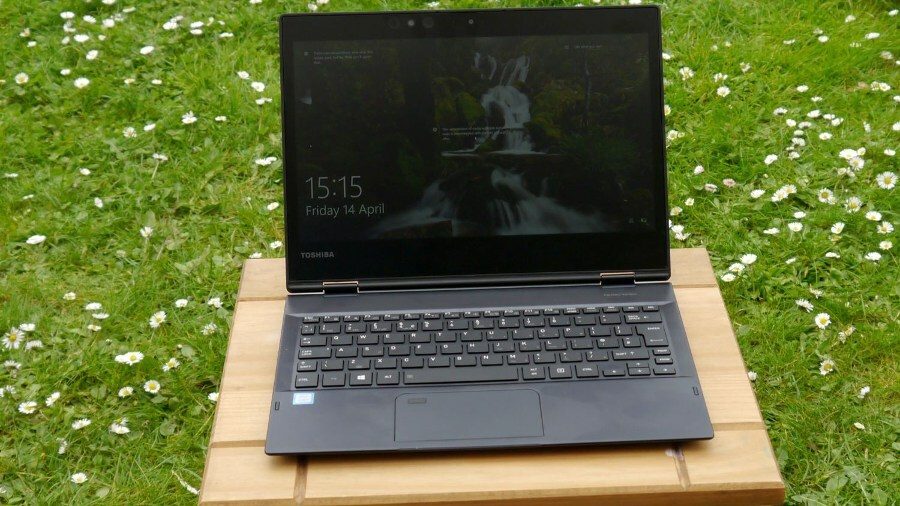 That may sound harsh, but stripping some of the pedigree out of this laptop's exterior design has facilitated considerable gains in overall weight and functionality — enough to make an argument that it's worth considering for anyone looking for a highly-functional work unit.
For starters, it's encased in an ultra lightweight painted magnesium case that we don't expect to be particularly good at resisting transport damage and is largely responsible for giving the unit its cheap plastic feel.
But this lightweight exterior is key to being able to make it notably lighter overall — it's a tiny 1.1kg.
And that's one of the key factors in the X20 being one of the rare hybrids that actually feels natural in both laptop and tablet modes.
In fact, the well balanced stylus, 12.5-inch 1080p capacitive touchscreen and sturdy 360º foldable hinge combine to put the X20W up there with Microsoft's tablet-first Surface Pro 4 when it comes to slate-mode performance and versatility.
It isn't just a success as a tablet though.
The Portégé X20 also does an excellent turn as a ultrabook. Yes, the keyboard does have slightly small and mushy keys that even Trump would complain are too small, and the trackpad could do with more surface area and less asymmetrical edges, but both are actually perfectly functional and work well once you get used to their mild quirks.
And if you peer beneath the surface, though, you'll find a very compelling picture with the X20W smuggling in a powerful Intel Core i7-7600U, a whopping 16GB of DDR3 RAM and a generous 512GB SSD that's connected via the absurdly fast PCIe bus.
This premium spec sheet means the Portégé X20 can spin a PCMark 8 Home score of 3,277, crank out 1080p media encoding rates of 8.17fps and float sequential read and write speeds of 3,060MB/s and 1,604MB/s, respectively.
All of which add up to a level of performance that's almost inexplicable in such a compact 15.4mm thick, 1.1kg package.
The performance prowess of the Portégé doesn't end there, with integrated Intel HD Graphics 620 managing to wrangle impressive 3D-rendering and gaming scores.
The X20W's downward-firing stereo speakers are surprisingly loud for a small unit and produce a clean sound.
All this power does have it's downsides, though, with the most noteworthy being the 3 hours and 38 minutes battery life (that's in PCMark 8's admittedly tough Home benchmark) and toasty peak CPU temperatures of 88ºC.
While that battery benchmark score will get near a full day's light usage for many users, it's still a little less than we'd like — and a good couple of hours behind the likes of Dell's XPS 13.
The matte screen could also perhaps be a little more vibrant but, really, our main gripes with this one are cosmetic and financial — from a functional perspective, there's not much wanting here, although you do have to pay for it.
[ JOEL BURGESS ]
CRITICAL SPECS
Windows 10 Pro 64-bit; 12.5-inch 1920 x 1080p touch display with Corning Gorilla Glass 4; Intel Core i7-7600U 2.8–3.9GHz CPU; Intel HD Graphics 620; 16GB DDR3 RAM; 512 Samsung PCIe SSD; 44Wh Li-Ion battery; USB Type-C; USB Type A; 3.5mm audio jack; 29.9 x 21.9 x 1.5cm, 1.1kg

See also THE COMPLETE GUIDE TO…OLED laptops