Dell's line-up of notebooks has always been the choice of many, no thanks to a variety of reasons, including build quality, specs and aftermarket service. They are also known to refresh their mobile devices with all the latest components, and the latest iteration of the Dell Vostro 14 5000 is no different.
Despite its svelte looks, the Dell Vostro 14 5000 is a mix of an office laptop that can also function as a multimedia machine. As its name implies, it features a 14 inch HD display (1,366 x 768 pixels), powered by a choice of Intel's 6th generation Core processor. It also comes with 8GBs of RAM, a 1TB hard drive, running an option of Microsoft's Windows 10 operating system.
Not only that, the Vostro 14 5000 also comes with a discrete GPU, which in this case is an NVIDIA GTX 930M. As far as I/O options go, the Dell laptop sports three USB 3.0 ports, one HDMI port, a RJ-45 LAN port, an audio jack port as well as an SD card reader.
For all the components that are thrown in here, the Vostro 14 5000 is actually a fairly slim device. The overall metallic design of the laptop makes it exude classiness, and with the device measuring in at under 2 cm in thickness and just over 1.6kg in weight, this is a laptop that you can easily bring around without having to worry about back or shoulder pains.
As far as performance is concerned, the Vostro 14 5000 is a great work and play companion. The unit we received came with an Intel Core i7-6500U processor, which pretty much crunches through any task that you throw at it, be it word-processing, code compiling, and even video processing. In fact, with a discrete GPU built-in, you can even game while on the move. Titles like Diablo 3, Starcraft II, Counter Strike Source all run decently well on this machine.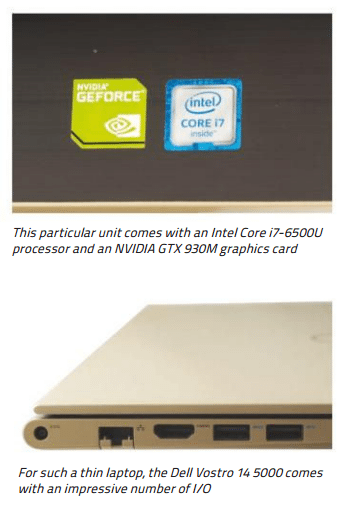 Dell also claims that the battery life of the Vostro 14 5000 goes up to about 10 hours, but we found that this is highly dependent on usage patterns and the settings that are in place to ensure the maximum battery life possible. During our use, we managed to get about seven to eight hours of use out of the laptop, which is still very decent considering that we managed to get a full day's use out of it without having to lug a power adapter around.
Specification
Operating System: Microsoft Windows 10
Display: 14.0 inch (1,366×768)
Processor: Intel Core i7-6500U
Connectivity: WiFi, Bluetooth, USB 3.0 x3, HDMI, RJ-45 LAN
Memory: 8GB DDR4
Storage: 256GB SSD, 1TB HDD
Dimensions: 340 x 240 x 19.2 mm
Weight: 1.66kg
Verdict
Dell Vostro 14 5000 Review
The Dell Vostro 14 5000 is a sleek laptop that performs as well as it looks. The inclusion of a discrete GPU makes it a great work-and-play computing solution on-the-go.
Add your review
|
Read reviews and comments
Best Dell Vostro 14 5000 prices ?

$

1,999.00
2 new from $1,999.00
in stock

MORE DEALS

See also THE COMPLETE GUIDE TO…OLED laptops