Adaptability At Its Best – This modularity of this tablet is something
Ttoo-in-ones may not be the most novel thing in 2016, but it is seen by some as the way forward by those who love having the convenience provided. One of the latest is Lenovo's new ThinkPad X1 Tablet.
The ThinkPad X1 Tablet is, for all intends and purposes, a hybrid 2-in-1 device. It was clearly designed for busy people who need to be mobile, as it weighs less than 800g and measures at a mere 8.45mm in thickness. While quite large for a tablet, when used as a notebook the size can be an advantage as there's more virtual real estate. Despite its slimness, the main body itself has excellent build quality. It doesn't flex or bend easily, if at all, nor does it wobble while the stand is up.
The stand itself is very solid and allows the tablet a large degree of tilt-angle of about 35 to 80 degrees.
There aren't many ports on this device. It only has an audio jack, as well as a USB 3.0 port, USB Type-C port for charging, and a Mini-DisplayPort. Connectivity to display hardware is the biggest issue here, since a converter would be required in most cases. There's also a pair of speaker grills, one each on the left and right side of the tablet.
Don't let the size of the ThinkPad X1 Tablet fool you, it packs decent performance under the hood. The X1 Tablet is able to handle productivity programs such as spreadsheets or word processing easily. And although heavier workloads like video or photo editing isn't really its strong suit, it's still capable of handling those to an extent. Forget about gaming on this tablet, as it doesn't even have a discrete graphics processor.
Another thing good about the X1 Tablet is its display. By condensing a 2160 x 1440 resolution display into this screen size, the X1 Tablet has a sharp display with very accurate colours. The glossy surface of the display does tend to be reflective, however, and attracts fingerprints.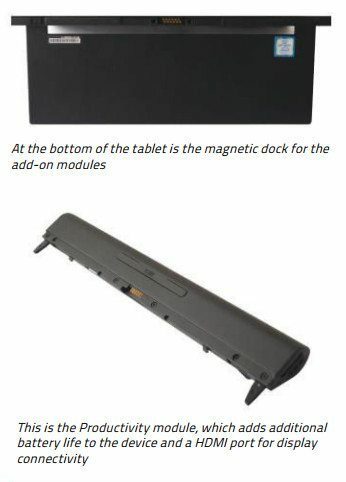 Optional accessories, such as the Presenter or Productivity module, can be magnetically docked to the X1 Tablet to extent its functionality. The Productivity module, for example, adds more battery life to the tablet and extra ports, including a HDMI and USB 3.0 port. We were quite impressed with this particular module, which increased the tablet's meagre 5-hour batten/ hour to more than 8 hours.
Lightweight + Display Modular
Battery life Lacks I/O Ports
Verdict
A great choice for the hybrid 2-in-1 category. It has respectable performance and a unique feature – the ability to add modules to it. While the uses may be a bit specialized, there should be some niches it can attract.
PCMark Home: 2,368 points PCMark Creative: 2,326 points PCMark Work: 2,665 points
Best Lenovo ThinkPad X1 Tablet prices ?
MORE DEALS

See also THE COMPLETE GUIDE TO…OLED laptops
Specifications
Operating System: Windows 10 Pro Processor: Intel Core m5-6Y5Y Graphics: Intel HD Graphics 515 Memory: 8GB DDR4 Storage: 500GB SSD Others: Bluetooth 4.1, HD webcam, 802.11ac Wi-Fi Dimensions: 291 x 209.5 x 8.45 mm Weight: 0.7kg