A great little machine that gets the job done, and looks good doing it
Based on our experience. 2-in-1 laptops tend to spend most of the time in one configuration or another. The convertible aspect is diminished when the computer is primarily used as a laptop.
The updated Dell 2-in-l Inspiron, however, does such a fine job as both laptop and tablet that we found ourselves switching between modes all the time. Still, we used the Inspiron 13-7000 series more often as a laptop, but its size and weight make the tablet mode a joy with leisurely applications.
Design
The Dell 2-in-l is contained in a very smart aluminium casing.
The bevel around the trackpad is milled to an angle that brings out the natural shine of the metal on an otherwise brushed-aluminum body. The outer rim of the lid has the same chamfered edge around it, giving it just enough flash to make it pop.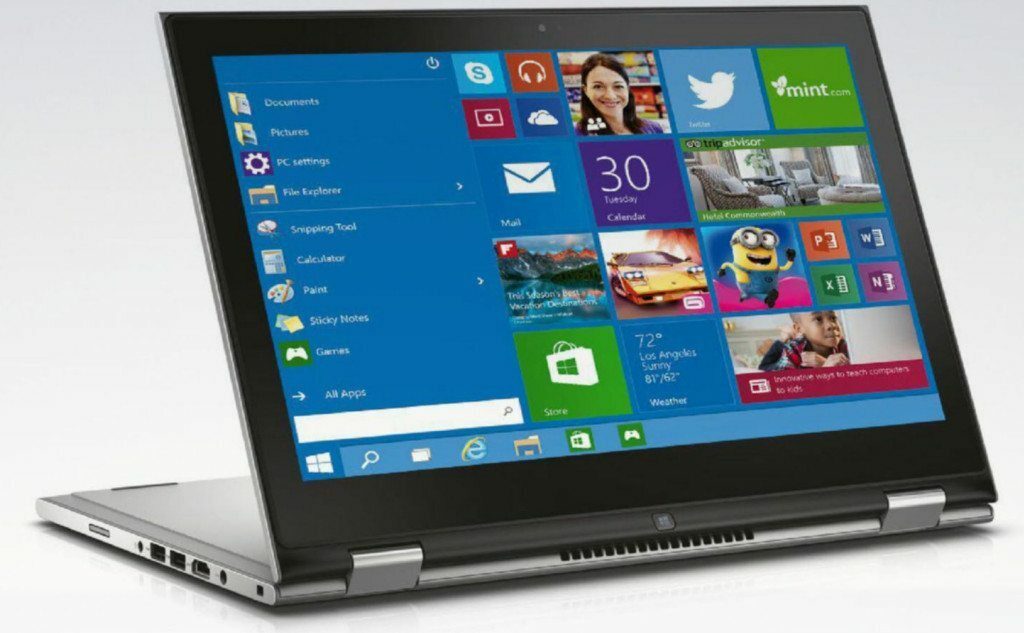 The chiclet keyboard has a bluish-white backlight and the travel on the keys is fairly shallow, but it still feels comfortable and satisfying to use for writing papers or long emails. The trackpad, too, is satisfyingly tactile, with just the right amount of dick.
Input-wise, the only place we really found the Inspiron lacking was in its touch interface -although that might have more to do with Windows 10 than quality of the screen.
Depending on the size of your hands, you might occasionally tap a backlink or open a program from the desktop and either miss entirely, or hit something nearby.
Another annoying issue that broadly affects Windows 10's touch keyboard is the lack of autocorrect. In other words, if you're used to typing on a smartphone, you're probably going to make a lot of typos using the Windows touch keypad.
By default, it doesn't autocorrect, or auto-complete. Typically, if you're typing on a keyboard you can catch typos for the most part, but it's too easy to slide over multiple touchscreen keys and enter errant characters.
Gone from the updated Inspiron 2-in-l is the built-in stylus, which would help with accuracy on the touchscreen. Older models hid the stylus away in such a fashion as to make it look like a physical button. It would have been nice to have the option, but third-party solutions exist if you really need a digital pen in your life.
For getting work done, laptop mode is the clear winner. Typing on the Windows 10 on-screen keyboard is okay for entering URLs into search bars, but otherwise, not great. For fun stuff, like reading comics on Comixology, surfing the web, or watching films, tablet mode is great. In fact, we're considering changing the orientation of our desktop monitors because reading on a vertical screen works well for us.
Performance
Running multiple applications in the background while we streamed a film didn't slow anything down. So while this 13-inch convertible isn't a powerhouse, it gets the job done. That said, it definitely doesn't hit the highs of a gaming laptop, but you wouldn't have too much trouble playing smaller or older games on it if that's your thing.
Really, a 2-in-1 computer is perfect to split between productivity and casual use, while the computing power on-hand strikes a good balance between affordability and utility. We never noticed any performance issues with it in everyday use, although we know better than to try and play something like GTA 5 or edit multiple movie files in Adobe Premiere Pro.
The Inspiron ekes out a win on every test except battery. Dell claims the configuration we tested gets 8 hours, 24 minutes of life from its integrated, 3-cell battery, but it came up short with this machine.
That's not to say battery life is a problem. Far from it. With Guardians of the Galaxy playing in full-screen, in HD and on repeat, we got 5 hours 25 minutes of life from the Inspiron. This was about the same usage we got over the course of a day, with Chrome and Firefox open, running some heavy work-related Ajax webpages in the background. We bounced back and forth between work and watching movies online, and were satisfied with the battery life.
Looks great, sounds bad
Dell proudly touts the Inspiron's included Standard Waves MaxxAudio Pro audio software for an enhanced "multimedia experience with an impressive soundstage". Unfortunately, sound is a disappointment. It's passable when using the Inspiron in laptop mode, but any deviation in its configuration throws the sound into the rubbish bin. Or at least, it sounds like it does.
"For fun stuff, like reading comics, surfing the web, or watching films, tablet mode is great"
Laptop sound is, for the most part, bad, but in tablet-configuration the Inspiron sounds like a muffled smartphone cupped into your hand. Not pleasant in the slightest, and it detracts from the gorgeous screen.
By the way, if you were to decide you really did want to do some more graphically intense gaming than what's possible with the on-board graphics, the 17-inch model comes with a dedicated graphics card.
Honestly, though, you'd probably be better off spending your cash on a laptop built for gaming. A 17-inch 2-in-l is such an ungainly device, it would rarely see use as a tablet and even a 15-inch 2-in-l feels just too big.
Verdict
If you're going back to school and you want a laptop you can easily tuck into your bag or under your arm, the Inspiron is a great choice. It's a little heavier than its competitors, but is there really any noticeable difference between 2.9 and 3.5 pounds?
The sorts of tasks most people use a computer for – emails, word processing, streaming musk and movies – are no challenge for the Inspiron, and the tablet mode gives you that extra bit of flexibility for media consumption.
The touch-enabled screen and ability to switch into a tablet turns it into a nice little machine to curl up in bed with and relax with an ebook.
A backlit keyboard, and bright display makes this the ideal device for everyday life, far Windows
Specifications
Processor 1.8GHz Intel Core i5-6260U Processor (dual-core, 3MB cache, up to 2.9GHz with TurboBoost)
Storage 256 GB SSD
RAM 4 GB single-channel DDR4 2133 MHz Graphics Intel Iris Graphics 540 Ports HDMI 1.4a, USB Type-C (ThunderBolt 3.0), USB 3.0 with PowetShare, USB 2.0, SO card reader Connectivity 802.11 ac dual band Wi-Fi; Bluetooth 4.0 Weight 1.7S kg Size 12.69 x 8.82 x0.76in
Display resolution screen 133-Inch, FHD (1920×1080) Truelife LED-Backlit Touch Display
Camera 720p Infrared webcam with dual digital microphone array
Best Dell Inspiron 13 7000 2-in-1 prices ?

$

219.00
1 new from $219.00
in stock


$

1,079.99
1 used from $949.00
2 new from $1,079.99
in stock

MORE DEALS

See also THE COMPLETE GUIDE TO…OLED laptops