Dell Inspiron 5368 Review – A capable laptop whichever way you look at it
This convertible, or 'two-in-one', laptop has a keyboard that folds back so you can use it as a touchscreen tablet. Thanks to Windows 10 and the Inspiron 13's superbly responsive keyboard and touchpad, both modes felt natural.
The limited surface area – slightly more than A4 – means typing on the keyboard sometimes feels a little cramped, but the keys are full size at least.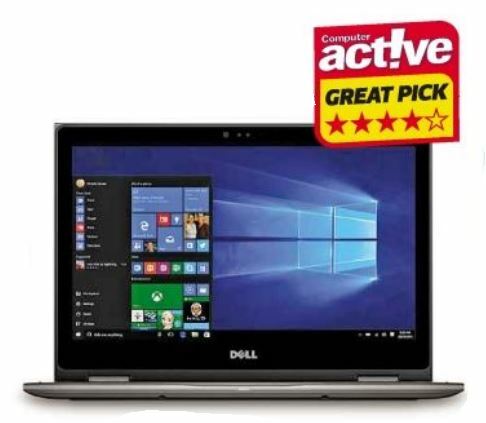 At 1.62kg, the machine isn't exceptionally light, but it's reassuringly solid. The gunmetal grey plastic chassis showed no signs of bending, and the all-important 360-degree hinge held the display firmly at whichever angle we chose. There's no Ethernet port, but 802.11ac Wi-Fi is built in and you get two USB 3 ports, one USB 2, an HDMI socket for a monitor and an SD card reader.
This laptop-tablet hybrid is good value and a perfect travelling companion
The Inspiron 13 5000 series comes in three configurations, with an Intel i3 processor. This chip is slower than its desktop counterpart, as found in the Chillblast Virage, but is fine for basic tasks in Windows 10. Our test model was the most expensive, which buys you an i7 processor and 16GB of memory. Again, this wasn't as fast as a desktop i7 PC in our tests, and struggled a bit with 4K video editing, but at this price its performance was excellent, aided by the fast SSD. The latest 3D games were too much for it, but older titles worked at low settings, as did Minecraft. Comparing it with Dell's plain XPS 13 laptop.
The trade-off is the display. A screen that displays anything less than 80 per cent of the sRGB color range rings our alarm bells, and this panel managed just under 59 per cent Brightness wasn't great either, although contrast was good and the Full HD resolution looked sharp. This lends some irony to Dell's marketing slogan, 'Create: Run the most demanding software at its best'. For photo and video editing, you really need a better screen.
For other tasks, however, image quality is less critical, as long as you don't need to use it in sunlight. The color accuracy probably won't even bother you much when watching films, which benefit from the Full HD resolution, even if some detail is muddied. The built-in speakers are decent, too. Battery life, at just under five and a half hours of video playback, was unimpressive but acceptable.
The screen is a disappointment, but as an all-round flexible laptop with great build quality, the Inspiron 13 is good value and a worthy travelling companion.
SPECIFICATIONS of Dell Inspiron 13 5368 Review
2.5GHz Intel Core 17 6500U dual-core processor • 16GB memory • 256GB SSD • B.3in 1920×1080-plxel screen. Webcam • 802.11ac Wi-Fi. 2x USB 3.0 ports • lx USB 2.0 port • HDMI port • SD card reader • Windows 10 Home • 9.5x325x224mm (Hx WxO) • 1.6kg • One-year warranty
VERDICT of Dell Inspiron 13 5368 Review:
We can see where comers have been cut to make this two-in-one laptop affordable, but for many users it will be a successful compromise
See also THE COMPLETE GUIDE TO…OLED laptops
ALTERNATIVE of Dell Inspiron 13 5368 Review:
Lenovo Yoga 700 (14-inch)
With an i7, 8GB and 256GB SSD, this similar convertible is also good. Shop around for this price