DALI Opticon 1 Review – The smallest speaker often starts off as the underdog, but small can be good, especially if it's made by DALI
Almost lovably petite, the Opticon 1 is the smallest speaker in the group by a dear margin, which means it will fit almost anywhere. For the purposes of coaxing out its best performance, however, its journey starts atop my Slate Audio stands and Townshend Podiums, initially pulled a little way into the room. The cabinet feels solid and inert and is quite weighty for its size. Round the back, the small reflex port is angled downwards beneath the high-quality, gold-plated binding posts.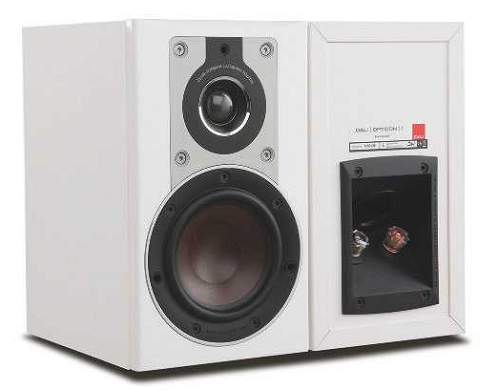 The Opticon 1 has been designed to be placed close to the wall or even mounted on it to give the lower frequencies a helping hand. That said, a surprising internal volume of almost 5 litres and the rear port provide decent support for the 121mm low-loss wood-fibre mid/bass driver, which uses exactly the same cone material as DALI's flagship Epicon models – likewise the unique Soft Magnetic Compound magnet motor system, claimed to deliver a high magnetic conductivity and a very low electrical conductivity The 26mm ultra-light soft-dome tweeter, however, is new and has been developed specially for the Opticon range.
As with the mid/bass drive unit, all the woodwork that goes to make the Opticon l's enclosure is carried out by DALI's large facility in Denmark. The matt satin white of the review pair looks very smart, but black and walnut finishes are also available.
Sound quality
Immediately impressive is an airy soundstage with good dimensionality and specificity, if a little restricted in scale. The Beach Boys' famous nostalgia-fest Disney Giris is perhaps too starkly enunciated. But a more gorgeously warm, cuddly and velvety recording it would be hard to imagine and the little speaker lets you hear that without any need to be brimming over with tonal balm itself. A small production, maybe, but deftly realised.
Re-positioning the speaker to within a few inches of the rear wall certainly plumps up the bass. Perhaps that's a must to respect the weighty bedrock of low end on Thirty Seconds From Mars' anthemic Walk On Water. But it also sacrifices some of its previous agility and texture. Sure, small speaker bass nearly always lacks weight and extension without boundary reinforcement, but I prefer the DALI's fast, taut and nimble offering with no fat or flab.
It's a speaker that revels in its midrange and upper bass. It knows exactly what it can and can't do. Pulled back away from the wall its treble can seem a little exposed, but the animated clarity and detail are beyond question listening to the carefully crafted acoustic and ethereal electronic effects that run through much of Eels The Deconstruction. You rarely get the feeling you're missing anything, save low bass and heft
OUR VERDICT
LIKE: Fast, ary, animated sound quality; small-size convenience: build
DISLIKE: Lacks scale and bass authority and fun, but rather
SOUND quality 4.5/5
VALUE FOR MONEY 4.5/5
BUILD QUALITY 5/5
EASE OF DRIVE 4/5
OVERALL 4/5
BABY DRIVER
The DALI way is to do almost everything in-house, the sole exception being dome tweeters which, while designed by DALI, are manufactured by Scan-Speak. When it comes to the dinky mid/bass driver as used in the Opticon 1, however, the Danish brand has ploughed its own unique development path, side-lining the usual solid iron cores for a soft magnetic compound formulated from a composite of materials, including magnetic granules, with the aim of improving efficiency, reducing electrical conductivity and significantly lowering distortion – assets permitting a crossover design that retains a flat frequency response across the critical midrange where the ear is at its most sensitive.
DETAILS
PRODUCT DALI Opticon 1
ORIGIN Denmark
TYPE 2-way standmount loudspeaker
WEIGHT 4.5kg
DIMENSIONS (WxHxD) 152 x 261x231mm
FEATURES
1x 26mm fabric dome tweeter
1x 121mm mid/bass driver
Quoted sensitivity: 86dB/1W/1m (4ohm)