These speakers' premium build and ribbon tweeters have Steve May grinning all over
Airpulse A200 Review – WHILE THE BRAND may not be familiar, the designer behind Airpulse Audio might be. Phil Jones helped found British hi-fi outfit Acoustic Energy, and was responsible for a run of high-performing designs. These studio-style active monitor speakers are built from comparable sonic DNA.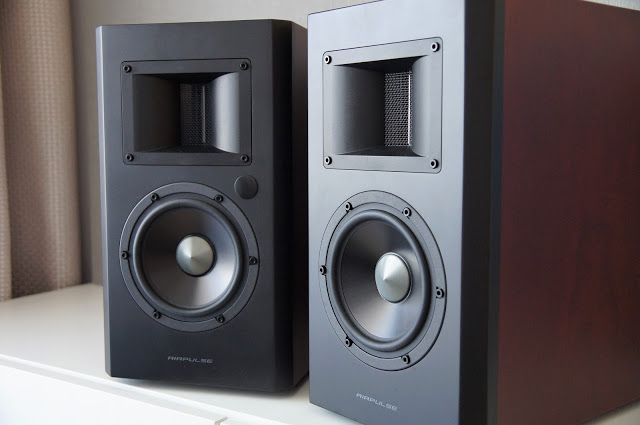 Build quality and cosmetics are unmistakably premium; the cherry wood cabinetry has a lush, satin-lacquer finish that is definitely living room friendly.
Built into the enclosures are 5.5in midbass drivers with stiff aluminium cones, and horn-loaded ribbon tweeters.
These tweeters are key to the Airpulse Audio A200's outstanding detail. A CD rip of Blondie's Sunday Girl is conveyed as fresh and punky; the scritch of guitar and percussive detail sounding as exciting as a night on the town in 1970s New York.
Connectivity is good. The integrated amp on the 'master' speaker (which links to the 'slave' via a supplied cable) links to two analogue inputs (one balanced), plus two digital (optical and coaxial) audio ports. There's also Bluetooth aptX support for direct streaming. A claimed 2 x 10W drives the ribbon tweeters, with 2 x 55W feeding the woofers. The rear panel section has volume, bass and treble knobs, all offering a tactile incremental movement. A remote makes source switching simple.
While the A200s expend most of their energy above 50Hz. that doesn't mean they can't rock. Sweet Leaf (Black Sabbath), remastered in MQA for the Ten Year War box set. is pure excitement with engaging stereo imaging. The speakers are high-res audio capable, handling signals up to 192kHz.
Audition these if you want active speakers that outperform the usual wireless suspects when it comes to scale and resolution.