Dynaudio Emit M10 – As the entry model to its range, Dynaudio understands the importance of making a good first impression
Having largely ditched its wilfully wacko designs, Dynaudio's Emit MIO is a smart, well-finished box with nicely chamfered edges at the front that's only slightly larger than the DALI, though once you've pulled away the grilles the bare baffle's exposed fixings aren't quite as pretty. Even so, the solid, no-frills approach is refreshingly unselfconscious and raises expectations for a similarly honest performance, as do the chunky, high-quality binding posts.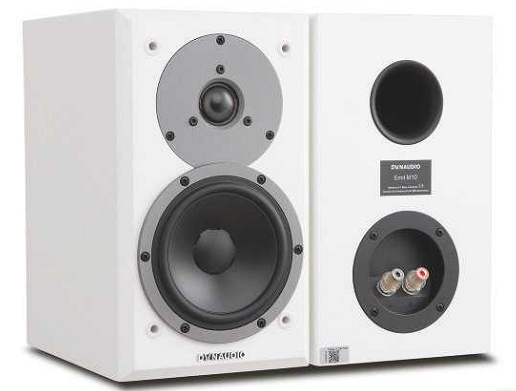 A 140mm MSP mid/bass driver and 28mm soft-dome tweeter team up with a first-order crossover and what should be an amp-friendly linear 6 ohm impedance. The tweeter deserves special mention. Named D280, it's a derivative of the D260 used in speakers from much further up the Dynaudio food chain. It has a silk soft dome with Dynaudio's 'precision coating' – a process that has been continuously developed and updated over the years.
The critically tuned bass-reflex port and long-throw main driver are said to be optimised for smaller and mid-size rooms and Dynaudio's designers claim the M10 will still work "shoved up against a wall or on a shelf – because we know not everyone has (or wants) a dedicated listening room".
In spite of this, the MIO is afforded the same luxury of super-heavyweight Slate Audio stands and bouncy Townshend Podium isolation, with a degree of flexibility allowed for boundary proximity and toe-in.
Sound quality
Two things are apparent from the off. Mild toe-in helps focus the sound and the M10 doesn't actually need much bass reinforcement. It's at its best around a foot away from a rear wall. And that 'best' is very good indeed. Rather than be a small speaker trying hard to sound like a large one, the M10 takes the virtues of a superbly realised large speaker and downscales them to work optimally with a smaller box. All right, there's less bang for your buck, but musically everything is picture perfect.
It would be hard to make Disney Girls sound anything other than 'nice', but the balance and natural sense of proportion is beautifully judged. Again, dealing with the busy, twinkling upper-register complexity of Eels' The Deconstruction there's genuine transparency rather than spotlit detail. The Dynaudio is so exquisitely voiced, I can't begin to imagine the hours of fine tuning that must have been poured into it. What it lacks in slam, it makes up for in speed and subtlety. No, the massed strings that cushion Sara Bareilles' pure and sonorous vocal on I Can Let Go Now aren't the warmest or most fulsome in the group, but the fine sense of individual instruments playing with a proper, breathing harmonic life is just as appealing
THE PLEASURE DOME
Dynaudio has relied on silk soft-dome tweeters for recreating high frequencies since it was founded, continuously improving and perfecting the soft-dome principle over the years. Its tweeter designs necessitate a labour-intensive manufacturing process where the fine fabric diaphragm is shaped into a dome and then treated with a specially formulated coating. As a further refinement, its aluminium voice coil is suspended in a magnetic oil to increase power handling and improve the dome's excursion. So the fabric dome is king and Dynaudio is rightly proud of its tweeters, which it claims achieve a higher level of balanced and natural frequency response than any other design.
DETAILS
PRODUCT Dynaudio Emit M10
ORIGIN Denmark
TYPE 2-way standmount loudspeaker
WEIGHT 5.6kg
DIMENSIONS (WxHxD) 170 x 292 x240mm
FEATURES
1x 28mm soft- dome tweeter
1x 140mm MSP mid/bass driver
Quoted sensitivity: 86dB/1W/1m(6ohm)
DISTRIBUTOR Dynaudio UK Ltd.
OUR VERDICT
Editor choice
Dynaudio Emit M10 Review
In any other group this would be a clear winner
PROS
Not a particularly big hitter
Workmanlike cabinet
CONS
Not a particularly big hitter
Workmanlike cabinet
Add your review
Best Dynaudio Emit M10 prices ?
$

599.00

$639.20
2 new from $599.00
in stock


$

599.00
1 new from $599.00
in stock

MORE DEALS