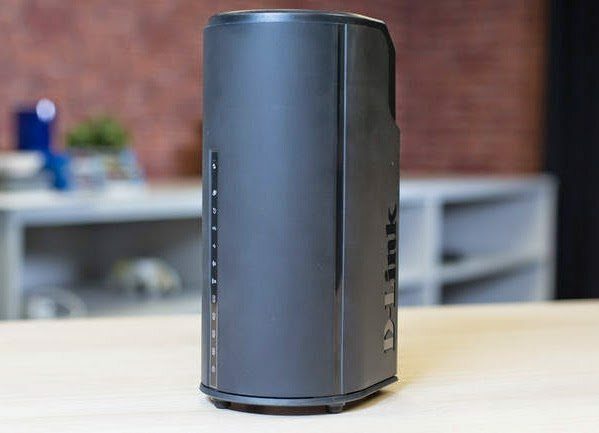 Blistering performance, great designWith D-Link's Dual-band baby impressing me so much, I was rather excited to see what its latest product could do. Gazing at the high price tag, I immediately assumed this was a Tri-band router, but it turns out I was wrong. D-Link is charging Tri-band prices for this Dual-band router, so it had better deliver some outstanding results to justify the price hike. Thankfully, it does.
Before I delve into the performance results, let's just take a look at the very unique design of this product. Looking a little like a toilet roll holder, this black tower of Wi-Fi goodness doesn't have an ugly antenna sticking out from every orifice. Which begs the question as to how it can perform so well compared to those with exterior antennae? It turns out that D-Link has managed to squeeze six antennae inside the case, yet the cylindrical design has a tiny desk footprint, something worth considering if your desk space is more crowded than Sydney's inner-city suburbs. Compared to the slab that is theASUS RT-AC3200, the Viper is positively dainty. The router includes an ADSL2+ modem within, which goes some way to justifying the higher price tag.
As expected, the usual four Gigabit Ethernet ports adorn the rear, alongside the ubiquitous USB 2.0 and 3.0 ports. You guessed it, these can be used for both printer and external storage duties. There's no fifth Ethernet port for a WAN device though, as the internal modem takes care of that. The same remote monitoring and accessibility features found on the cheaper DIR-880L are present here, in the form of the mydlink Shareport and Lite. It also features an identical user interface, built around D-Link's recently refreshed design. I can't overstate just how easy this is to navigate, and it made setting up the Viper an absolute delight.
Keeping track of which devices are connected to the router is a breeze thanks to the easy-to-read homepage, so discovering unwanted guests should be a cinch. On the flipside, this router lacks the advanced features found on more professional routers, with just the very basics of Wi-Fi configuration available. One improvement over its cheaper sibling is a doubling of the number of Port Warding rules, with a maximum of 32.
Enough about the fluff though – let's get to what really matters, performance. As the benchmarks attest, the Viper is a speed-demon. Its upload speed in the 2.4GHz network was between three times and nine times as fast as the competition, and download speed increases were similar. Performance in the 5GHz was similarly impressive, with the top upload speed.Whether the Viper is the router for you comes down to whether you need Tri-band support for multiple high-speed devices. If you don't, and can handle the Viper's price tag, then you're looking at one of the fastest routers around.
Despite only being a dual-band device, the high speeds of this router help offset the wallet-bruising price tag.