CYBERGHOST VPN
From www.cyberghostvpn.com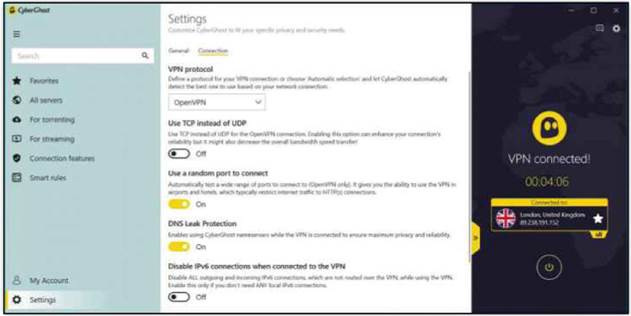 CyberGhost is easy to set up, but more advanced settings are available if you need them
THERE ARE MANY valid reasons to use a VPN; you might be accessing or inputting sensitive data that you don't want tracked, when online banking, for instance, or you may wish to use the internet unencumbered when visiting a country that censors it. Sometimes, you might just want to watch a geo-blocked video streaming service, and that's fine too.
CyberGhost is a complete VPN package, but it has an interesting focus on unblocking video. The interface includes a For Streaming tab, where you'll find a list of country names and streaming services, which you can simply click on to unblock. Alternatively, you can search for a specific service to see a list of server locations through which you can access it. Supported services include Netflix, BBC iPlayer, US Amazon Prime and US Fox, as well as Netflix France, Globo in Brazil, CBC Canada and UK Eurosport.
HIDDEN TALENTS
It's all very easy to get going. Opening CyberGhost VPN instantly connects you to the fastest secure server available, with no waiting around for a connection like some VPNs. To choose a server yourself, it's simply a case of opening the All servers tab and picking one from a huge list.
CyberGhost itself is located in Romania, which isn't part of the Five Eyes intelligence alliance, so it's not mandated to keep any user logs. According to the service's strict privacy policy, all that is stored is your email address, payment information and cookie preferences, and user traffic is protected using the same AES 256-bit encryption that secret services use to protect classified information.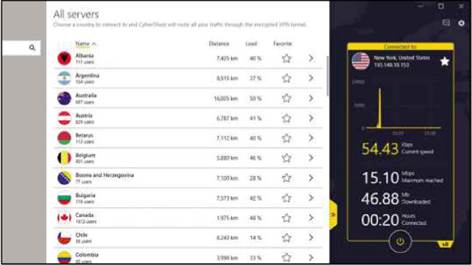 CyberGhost VPN allows you to connect to servers right across the world, and tells you exactly what sort of performance you'll get with each one
Performance is pretty good. Using Ookla's Speedtest.net tool to measure connection speeds, we found that connecting to a British server over a domestic 60Mbit/s connection in London had a performance impact of around 20%. That means CyberGhost isn't as fast as super-speedy VPNs such as SurfShark or IPVanish, but it's still barely noticeable if you have a fast internet connection.
Connecting via France and Belgium, CyberGhost was even more on a par with other VPNs, with a performance drop of 25-30%.
For longer-distance connections, CyberGhost was even faster than the competition: the US East coast server gave us a 40% drop in speed, while we lost 65% when connected to an Australian server. Of all the VPNs we've tested, only ExpressVPN gave us a faster connection to the US and Australia.
READY AND STABLE
Performance isn't flawless: occasionally connections took longer than expected, or we were diverted to a different server, but these are quirks you can expect with any VPN. Once a connection was established, it remained stable and never dropped; besides taking a few attempts to start, we could watch an HD film via the US server without interruption.
In addition to the desktop app, you can also get Android and iOS versions for mobile devices. These look and function almost identically: upon opening the app, you're greeted by the same instant-connection slider as on the Windows version; tapping the Connect to menu at the bottom of the slider takes you to a screen with three tabs, labelled All, Streaming and Favourites. These work largely the same as their Windows counterparts; the only difference we noticed is that here you can only search by country name, and not for a particular streaming service.
The Android and iOS apps also have settings to automatically engage the VPN when you connect to specific and open Wi-Fi networks. Functionally, the biggest difference is that the Android version includes the option to block ads and malicious websites, enable data compression and prevent online tracking, while those capabilities aren't possible in iOS. The Android version also connects over the OpenVPN protocol, while iOS uses IKEv2.
The other difference is performance. We found the Android version performed similarly to the PC version, but iOS speeds were much faster. We only lost 5% of our download speed when connected to a local server, 10% when geo-shifting to Paris and just 15% when we selected New York. The iOS app also let us watch US Netflix right away, whereas Android initially detected we were using a proxy: we had to clear the Netflix cache and reinstall the app to rectify the problem.
CyberGhost positions itself as a premium VPN service, and its price plans aren't the cheapest around – certainly not the monthly plan, which starts at £ per month.
The yearly plan is much better value at £ per year, equivalent to £ per month. The very best deal is the three-year plan, which works out to £ per month.
As well as major credit cards, CyberGhost accepts payment via PayPal and bitcoin.
The free trial period is only 24 hours, but CyberGhost does offer a 45-day money-back guarantee, which is longer than most VPN services offer. Unlike other VPNs, CyberGhost also refunds bitcoin payments.
PHANTOM GAIN
Only a few years ago, CyberGhost VPN was a decent alternative to the likes of ExpressVPN and NordVPN (Shopper 367), but it never truly stood out. In 2019, however, it's become one of the very best VPN services around: the streaming features are great, privacy protections are top-notch and performance stays relatively high even when connecting to servers on the other side of the world.
We recommend trying it – with the 45-day guarantee, you've got nothing to lose.
Verdict
Sherwin Coelho
SPECIFICATIONS
OS SUPPORT Windows, macOS, Linux, Android, iOS • DETAILS www.cyberghostvpn.com • PRODUCT CODE CyberGhost VPN