Piriform's CCleaner is one of the most useful free tools available, so surely its paid-for upgrade must be even better, right? Mike Plant pays his money to find out. Read our CCleaner Professional Review.
CCleaner has more useful tools than a Swiss Army knife. It's my go-to utility whenever my PC is creaking under the weight of temporary internet files and browser extensions, and has prolonged the life of more than a few of the PCs we prod, tweak and experiment.
Format: Windows
Website: www.piriform.com/ccleaner
Imagine my disappointment, then, when I upgraded to CCleaner Professional only to find that its paid-for features barely added anything to the free version of the program I'd been using for years.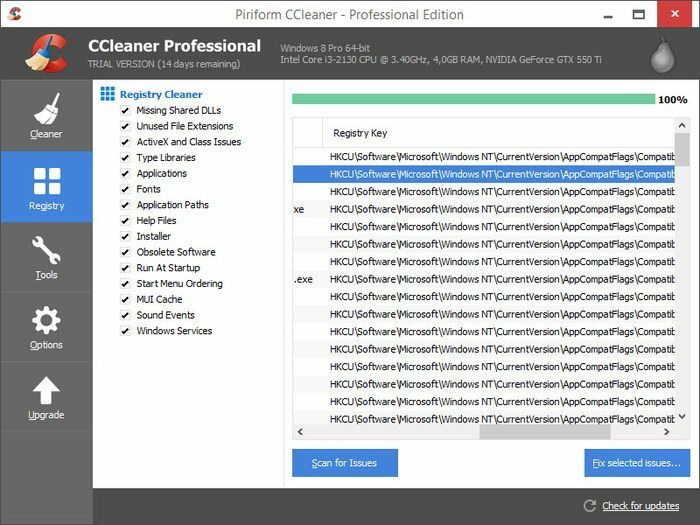 Nothing to see here In truth, I was fearing as much as I read Piriform's description of what to expect from CCleaner Professional. The first two entries in its bullet-point list of features – Faster Computer and Privacy Protection – are both included in the free version.
Exclusive to the Professional version are Real-time Monitoring, Scheduled Cleaning, Automatic Updates and Premium Support, which sound useful but aren't particularly enticing upon closer inspection.
Real-time Monitoring, for example, just means that CCleaner will run in the background and prompt you whenever it 's possible to free a certain amount of space (you can set the amount by clicking Options and Monitoring).
However, having the program running at all times slows your system and makes it take longer to boot, which largely defeats the point of installing CCleaner in the first place.
In the end I switched the feature off altogether by clicking Options, then Monitoring, and removing the ticks next to 'Enable system monitoring', 'Enable browser monitoring' and Enable Active Monitoring (see screenshot left).
Scheduled Cleaning and Automatic Updates do just what you'd expect: the former lets you schedule scans for a convenient time, while the latter allows CCleaner to update itself automatically as new versions are released.
These are slightly more useful than Real-time Monitoring, but they're hardly worth paying for.
Besides, I can already run a scan when it 's convenient in the free version simply by ticking 'Shutdown after cleaning' – click Options, then Advanced to find it (see screenshot above). This allows me to start a scan when I'm finished with my PC in the evening, knowing it 'll shut down automatically when the scan has finished.
As for Automatic Updates, CCleaner practically begs you to keep it updated by placing a 'Check for updates' button at the bottom-right of every menu screen, so you're only ever a click away from the latest version.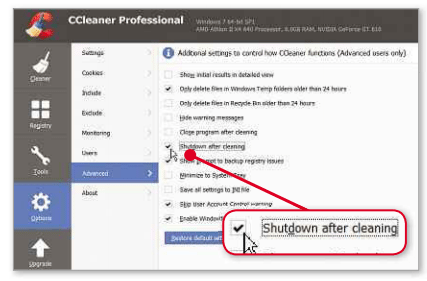 At last, a reason to be cheerful The final added extra, Premium Support, is more useful. It moves you ahead of people using the free version when you need help from CCleaner's support team.
That said, I've managed all this time by visiting Piriform's Community Forum (https://forum.piriform.com) for advice.
It's home to plenty of knowledgeable CCleaner users and the advice is free.
One other feature that Piriform doesn't list is the expanded Users menu.
CCleaner Professional lets you run a single system scan on multiple user accounts. It didn't help me much, but could save time depending on your setup.
The best way to improve CCleaner for free is to install CCEnhancer. This was created by CCleaner users who wanted to remove more types of junk, such as Skype Temporary Files.
Avast removes CCleaner update after privacy backlash
Avast has pulled the most recent update of CCleaner (5.45) after users complained they couldn't stop the software monitoring how they used it.
The security company, which bought CCleaner's developers Piriform last year, says any data it collects is "anonymised". However, it has faced a backlash from users who said that after they turned off Active Monitoring, it was automatically switched back on when they restarted their computer.
Previous versions of the program had let you turn off the Active Monitoring tool.
Avast initially threatened to reverse this change in the next version of CCleaner, but as anger grew it decided to revert the program to 5.44.
An administrator on Piriform's forums (https://forum.piriform.com/topic/52360-changes-in-v545-and-your-feedback/?page=2&tab=comments#comment-298509) thanked users for their feedback, and said it was working on a new version of CCleaner that remembers your settings when you close the program.
In other words, if you turn off Active Monitoring in the next version, it should stay disabled when you restart your computer. The blog post contains direct download links to the free and paid-for versions of CCleaner 5.44.
The administrator added: "We're also creating a factsheet to share which will outline the data we collect, for which purposes and how it is processed".
In an attempt to calm fears. Piriform released a statement (https://support.piriform.com/hc/en-us/articles/360010631671-I-m-using-CCleaner-v5-45-Why-is-Active-Monitoring-still-on-when-I-have-switched-it-off-) saying it introduced new tools in 5.45 to detect bugs more quickly and find out how often features were being used.
It claimed that while these were not part of Active Monitoring, they should have been implemented better.
TURN OFF ACTIVE MONITORING
Open CCleaner, then click Options. Monitoring. On the page that appears, untick the two boxes: 'Enable system monitoring' and Enable Active Monitoring (see screenshot). Click Yes when prompted to confirm.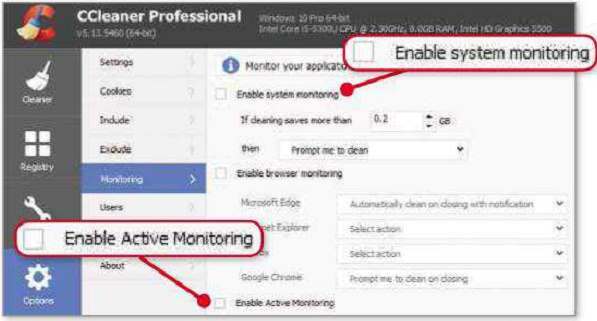 Is ccleaner professional worth it?
No, we can use the latest version. In my opinion, I believe it is the good software.