Michael Fereday fore goes color to check out a mono laser device
The MFC1910W is a multifunction mono laser product from Brother, bringing together print, scan, copy and fax functionality with a built-in ADF (Automatic Document Feeder) module. The "W" part of the product's model number gives the clue that this device possesses wi-fi capabilities as well as USB connectivity.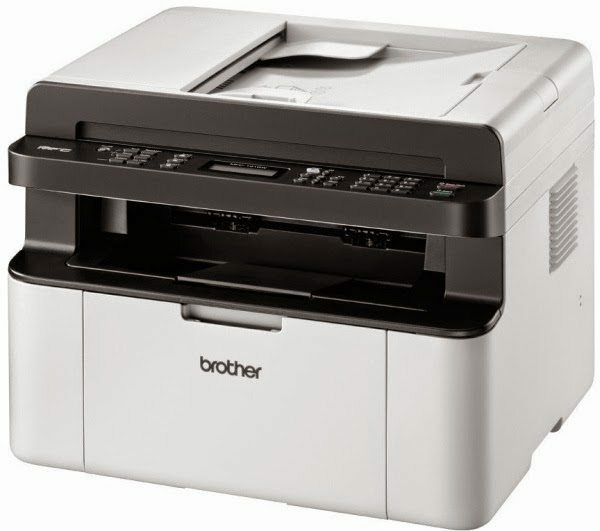 The base contains monochrome laser printer, while an A4 flatbed scanner – with built-in ADF module – sits on the top of this device. Positioned between these two elements is a control panel arranged along a protruding lip.
This panel features two-line LCD providing feedback information regarding status and current activity. However, due to its fixed positioning, it is not the easiest task to read the content. I found this was only possible when looking straight down on the screen. Arranged on either side of the screen are various buttons plus an alphanumeric pad for use with the fax facility.
The main paper input is from an open style tray positioned at the base of the unit. The tray has a capacity of 150 sheets of A4 paper, which is fed through a U-bend path to appear as printed documents in an opening just below the control panel. There is a support flap to help ensure printed documents are kept under control as they emerge, but you will need to raise the top of the device in order to bring this flap into play.An instruction sheet, CD and User Guide help to lead you through the product's set-up procedure. After inserting the toner cartridge into the belly of the printer and selecting your choice of country/language, you can install the various drivers and MFL-Pro Suite software, and decided whether you want to opt for a USB or wi-fi connection. When selecting the latter, you have the choice of making the initial connection via a temporary USB link or using WPS to automatically establish the wireless connection.The Brother print driver gives you a choice of 300dpi, 600dpi or HQ1200dpi print qualities with further options to select text or graphics content. Testing the three print qualities with a single page document, I struggled to identify any differences between the resulting printed outputs. There was a slight different in print speed with 300dpi quality producing 21ppm and the other two only managing 20ppm. Switching to image printing produced similar results.
The A4 flatbed scanner has a resolution of 600 x 1200 optical or 19200 x 19200 interpolated with 24-bit color or 8-bit greyscale. When scanning to a computer there is a choice of TWAIN or WIA interface. Working in conjunction with the printer to produce photocopies, a single A4 page took 17 seconds while an eight-page document delivered from the ADF was produced in 121 seconds.
Up to 99 speed dial numbers can be set up for the fax facility. This feature can send individual messages or broadcasted to speed dial numbers and up to 20 manually entered numbers. Incoming messages can be saved in memory for later transfer to a computer.Although the Details box out at the start of this review quotes the Brother RRP price for the MFC1910W. A replacement toner cartridge, rated at producing 1000 A4 pages.
A reasonable mono multifunction laser device especially at the Amazon price.