Brother mfc j5320dw – An A3 multifunction printer for less
It's no secret why printers are cheap to buy. When you add up what you've spent over the years, the price you paid for the machine itself represents a drop in the ocean. The real money's in the consumables. A litre of petrol, one of the Earth's most precious and fastest dwindling resources, will cost you a bit more than a pound, including tax.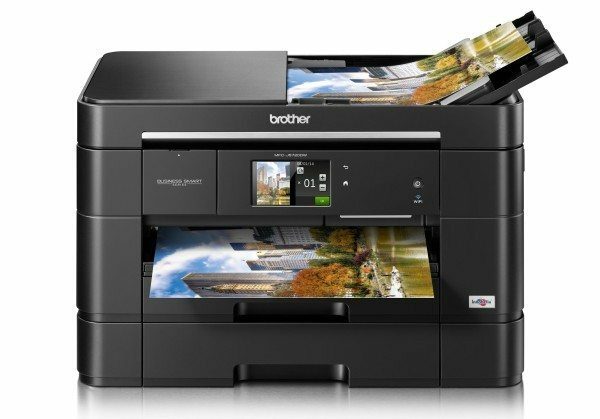 Accordingly, we tend to take a printer's apparent value for money with a pinch of salt so big it would have Jamie Oliver organizing a petition. All the same, using this Brother will only cost you about 3.4 pence for a standard color page, or 0.8p for black only, which is about as low as you can get.
That includes a built-in scanner with an automatic document feeder (ADF), so you can digitize or photocopy up to 35 pages at once. And not only can the printer print on both sides of each page, it can take up to A3-size paper, which is twice as big as A4, and still print right to the edge.Brother hasn't wasted much money on the J5320DW's design. It looks inoffensive, in a cattery black plastic way, but the paper tray feels flimsy and fiddly, and the touchscreen is the kind you have to prod.
There's no SD card slot to print from your camera, and the socket for USB sticks only recognizes images, not Word documents or PDFs. Then again, it does have both USB and Ethernet ports to connect to your PC, Mac or router, plus Wi-Fi that works with Android and iOS too. There's even fax capability if you need that.In our speed tests, text didn't come out particularly fast, but just under 13 pages per minute is acceptable as long as you're not looking to churn out reams of documents. Adding color graphics only slowed that down to 7.1ppm, which is pretty good. Five double-sided graphics pages took two-and-a-half minutes, and we scanned an A4 page at print-quality 300dpi resolution in just 12 seconds.Print quality was more suitable for home office than creative use, with colors tending to look slightly drab – this isn't the kind of photo printer that will make every image pop with brilliant detail. But text looks fine on plain paper, and graphics are legible.As usual, the ink cartridges supplied with the printer are extra-small. Well, the actual cartridges are the normal size, they just contain less ink – enough for 550 standard pages, or more like a few dozen if you're printing big areas of color. Make sure you replace them with the XL versions, rated at 2400 black pages or 1200 color, to get the lowest running costs, as we quoted above.The MFC-J5320DW is fairly bulky for an A4 inkjet, but more compact than other A3 printers we've seen. Loading large paper involves unlatching the 250-sheet tray and extending it out at the front, a process that feels awkward enough to put you off leaving A3 paper loaded all the time, but it's still good to have the option. Thankfully, nothing else protrudes inconveniently, and the document feeder on the top clicks neatly shut to keep dust out.If printing photos is a large part of why you want a color inkjet, there are cheaper machines that give better results. For general documents, however, the MFC-J5320DW is a capable and compact printer, and you won't regret the bargain price tag when you come to refill it.Reasonable price and running costs make this a sensible all-rounder.
6000x1200dpi maximum print resolution • 1200x2400dpi maximum scan resolution • USB • Ethernet • 802.11n Wi-Fi • USB memory drive slot • 240x490x290mm (HxWxD) • 10.8kg • One-year warranty