Power your ears
The Ella headphones partner planar magnetic drivers with an in-built amplifier to outgun the grunt from your handheld device. Ed Selley investigates
The headband 'looks a bit weird'
SPECIFICATIONS
DRIVERS: 2 X 50mm planar magnetic drivers ENCLOSURE: Closed-back AMPLIFICATION (CLAIMED): 250mW headphone amp FREQUENCY RESPONSE (CLAIMED): 20Hz-20kHz IMPEDANCE (CLAIMED): 50 ohms (passive); 10 ohms (active) WEIGHT: 481g
FEATURES:
Soft carry case; rechargeable battery with claimed 12-hour life; 1.2m cable with Apple iPhone/iPad Controls and microphone; 3m cable; 3.5mm to 1/4in adaptor; auto power off when headphones are closed; multi-jointed headband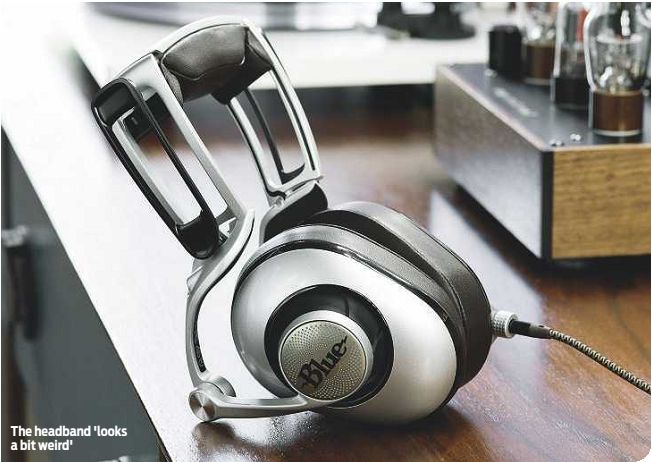 THE VAST MAJORITY of headphones on sale today use dynamic drivers, effectively shrunken versions of those found in normal loudspeakers. A small (but growing) subset of models, however, including designs from Oppo and Audeze, advocate the planar magnetic principle.
This technology prints a voice coil on a thin membrane and moves the whole assembly when current is applied. The resulting driver is large but extremely light, and has excellent frequency and transient response. The drawback is that the sensitivity is generally lower than a dynamic model. This means planar magnetic headphones are typically considered options for the home, but not so hot on the move.
Blue Microphones thinks it has a solution, though.
Its Ella headphones feature planar magnetic drivers and function as a normal set of cans into an AV receiver. But if you want to use them out and about, you can swap over to a short cord and – more significantly – switch on an internal 250mW amplifier that boosts the incoming signal beyond that which most portable devices can generate.
They need to be powered in this instance, of course, hence a rechargeable battery with a quoted life of around 12 hours. It charges from flat in three-to-four hours via microUSB.
The Ella headphones, therefore, promise the best of both words.
The design is rather striking, all jutting silver arms and a big 'Blue' logo on the earcup.
The most notable part is the multi-jointed headband, which looks a bit weird but does allow for pretty much any shape or sized noggin to find a comfortable fit. Everything feels solid and carefully assembled, so much so that they are perhaps a little on the heavy side to be truly portable, particularly as they don't fold up. You do get a smart bag to carry them around in, though.
Delicious detail
Used in their normal passive setting connected to my RX-A3040 receiver, these cans show the benefits of their specialized drivers. They handle the endless gunfire of Suicide Squad (Blu-ray) with real ability, capturing each round as a distinct effect rather than an amorphous, sustained noise. Dialogue delivery is excellent. In the case of Suicide Squad this is neither here nor there but the rather more chatty nature of Sully finds them in fine voice; dialogue sounds crisp and clear with every word easy to discern. The same legibility plays well with broadcast TV.
Additionally, these closed-back cans always generate a believable sense of space, which heightens the naturalness you get from their detailed delivery.
If you connect the Ellas in exactly the same configuration to an iPad, the result is listenable but obviously lacking in headroom and dynamic heft. Selecting the headphones' internal amp (done by twisting a rotary control where the cable meets the housing, remembering to turn the volume down on your connected device first), the change in Sonic performance is very significant. Even with the feeblest of headphone amps, the same spacious, rich and detailed sound signature becomes available.
Compared to using them with a high- quality external headphone amp, I noted a slightly thick presentation to their low-end response, which can make some material sound a little less open and immersive. But it's mainly not a concern. More of a concern will be the price tag of these cans.
Dual purpose
The Ella might be a little on the large side for many people to use out and about every day. However, a pair of headphones that can deliver sparkling performance at home and then just as easily be used at the office (where installing USB drivers for DACs can be frowned upon), or while laid out on your bed watching iPlayer on a tablet, has obvious appeal. They're unusual, and look a little unusual, but you might love them.
HCC

VERDICT

4/5

Blue Microphones Ella
Mixing passive headphones with an in-built amp is a smart idea, and these have the sound quality to make it even smarter.

Advanced planar magnetic technology for uncompromising clarity and detail
Built-in 250mW audiophile amplifier for true high-fidelity sound
Custom double-sided 50mm x 50mm drivers deliver incredible accuracy
& Free shipping
Last update was on: 2022-04-30 1:01 pm
Advanced planar magnetic technology for uncompromising clarity and detail
Built-in 250mW audiophile amplifier for true high-fidelity sound
Custom double-sided 50mm x 50mm drivers deliver incredible accuracy
Revolutionary personalized fit for superior comfort
Closed-back design for immersive isolation
AV INFO
Product:
Closed-back planar magnetic 'phones with in-built amp. Blue's premium consumer model. above Satellite, Sadie and Lola
Oppo PM2; Sennheiser HD700