Disk Management is Windows' built-in tool for manipulating partitions on your hard drive, but the program has hardly changed since the days of Windows XP. Andy Shaw tests five alternatives to see how they compare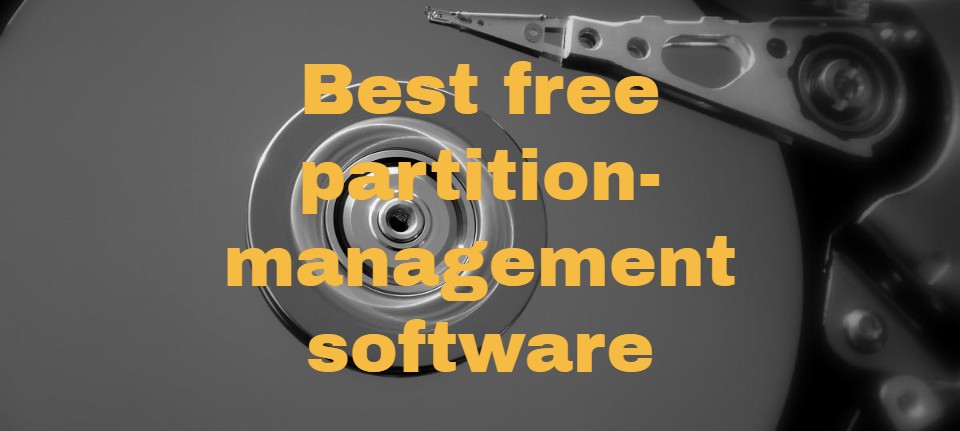 Macrorit Partition Expert Free Review | 5/5
FEATURES 5/5, PERFORMANCE 5/5, EASE OF USE 4/5
What we liked:
Partitioning is a way of splitting a large hard drive into smaller sections, each with its own drive letter. This means you can install Windows on one partition and keep your files in another, so the two will never clash. New PCs often have a small partition containing a backup of the operating system, which you can restore in an emergency.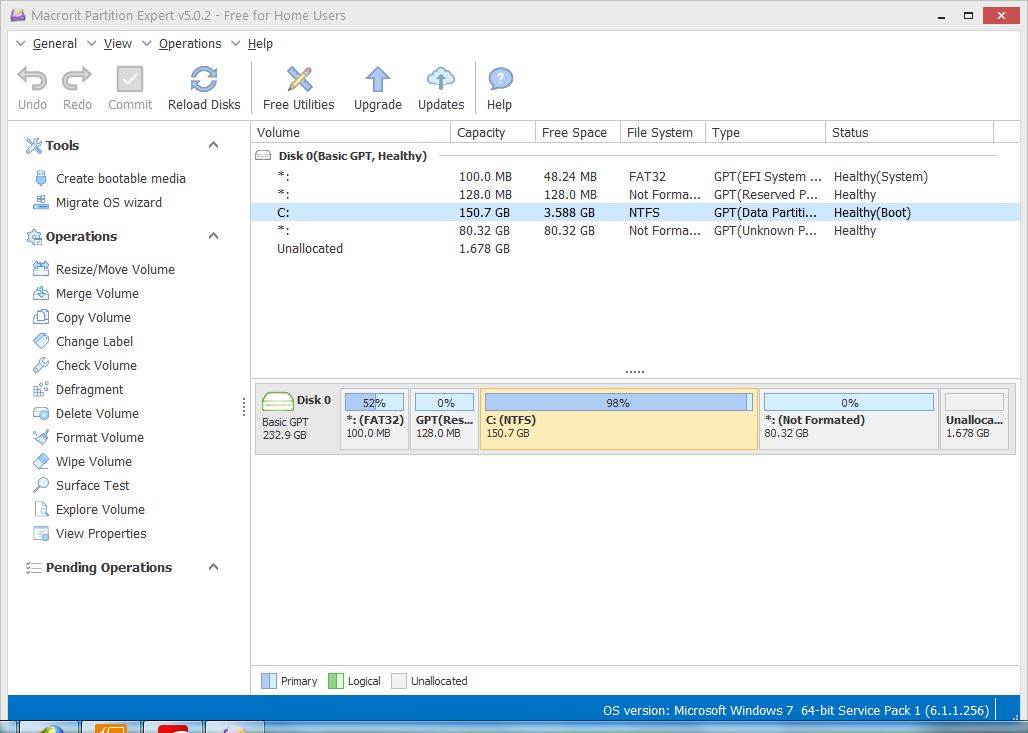 If you want to manipulate partitions on your hard drive, you need partition- management software. Our favourite is Macrorit Partition Expert Free, which is available both as a standard installable version and a portable edition.
From the moment the software starts, you can see that it's crammed with useful tools. Options at the top of the side menu let you create bootable USB drives, migrate your operating system to a new drive (ideal if you want to upgrade to an SSD. for example) and create a clone of an existing drive. A simple wizard helps you configure these tools, many of which are paid-for extras in the other programs we've reviewed here.
Further down the menu are the core partition tools. Here, you'll find everything you need to resize, split and merge partitions to your heart's content.
Tools open in their own windows, and there are some nice touches, such as the option to click and drag a partition to adjust its size, so you can perform actions quickly by eye. rather than having to work out the numbers.
How it can be improved:
One of VirusTotal's 60 scans flagged up warnings for both the portable and installable versions of the software, but the others deemed them safe, as did the Norton security software running on our PC. This makes us suspect a false positive, but if you'd rather not take the risk, try our Silver
Award-winner instead, which received a 100% clean bill of health.
OUR VERDICT
Partition Expert is a full-featured free program that doesn't hold too much back for the paid-for version. Its interface is clean and easy to use. and while it's not as dynamic as some of the others we've reviewed here, it's easy to configure and use. It provides many more tools and options than the basic Windows Disk Management software.
Aomei Partition Assistant Standard Review | 4/5
FEATURES 4/5, PERFORMANCE 4/5, EASE OF USE 4/5
What we liked:
If the single red flag in VirusTotal has put you off Macrorit's software, you may prefer to try Aomei Partition Assistant Standard instead, because it passed every security test.
The interface is busy but reasonably clear for a free program, although many of the options listed are available only in the paid-for version. These are clearly indicated with a Pro icon.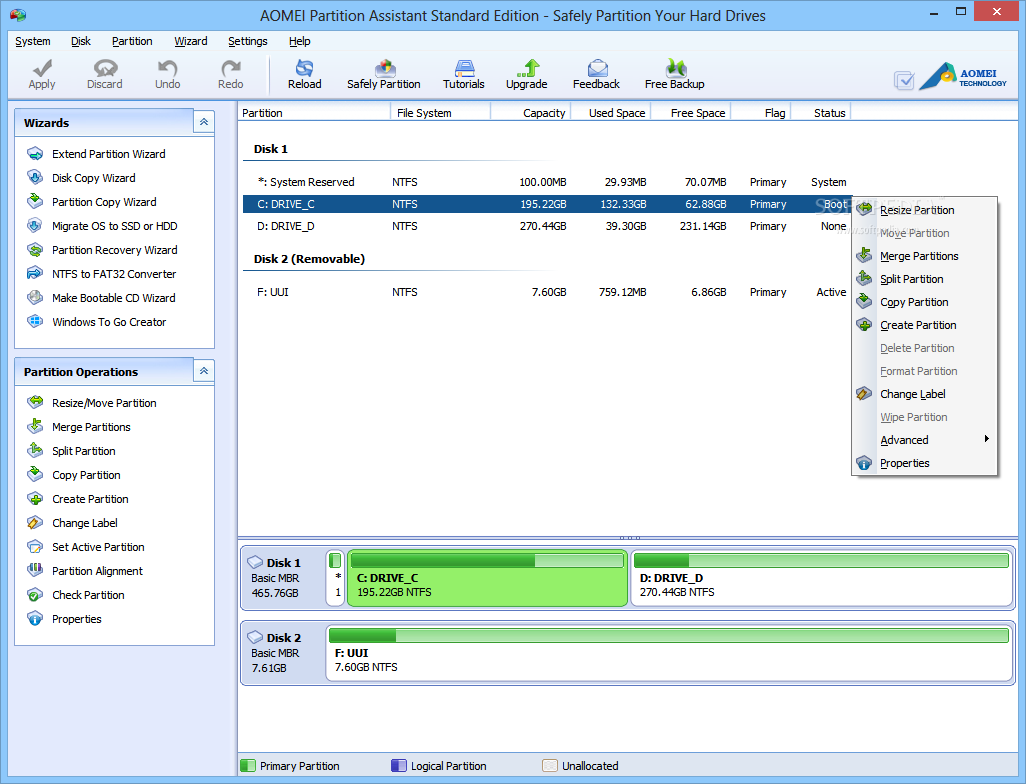 Partitions are presented clearly on the screen but you can't manipulate them from the main program window. If you choose an option such as resizing, another window opens with a visual representation of the drive, which you can manipulate by dragging the far end of a partition to the left, for example, to create room for another one.
Other available tools have more basic controls, such as simple text boxes for entering how much space to allocate from one partition to another, which is less dynamic but more accurate than a slider.
How it can be improved:
The screen is littered with tools that aren't available in the free version. Although the labelling is clear, it would be simpler if they were kept out of the way. rather than scattered among the other non-paid-for options.
OUR VERDICT
If you don't mind the constant reminders that you're using a cut-down version of Aomei's paid-for software, this tool is a significant step up from Windows Disk Management. It's much easier to use and has a few extra tools, too.
Paragon Hard Disk Manager for Windows Review | 3/5
FEATURES 3/5, PERFORMANCE 3/5, EASE OF USE 3/5
What we liked:
Hard Disk Manager groups a handful of Paragon's older programs, including Partition Manager and Backup & Recovery tools, into a single interface. The download was certified clean by all the scanning tools at VirusTotal.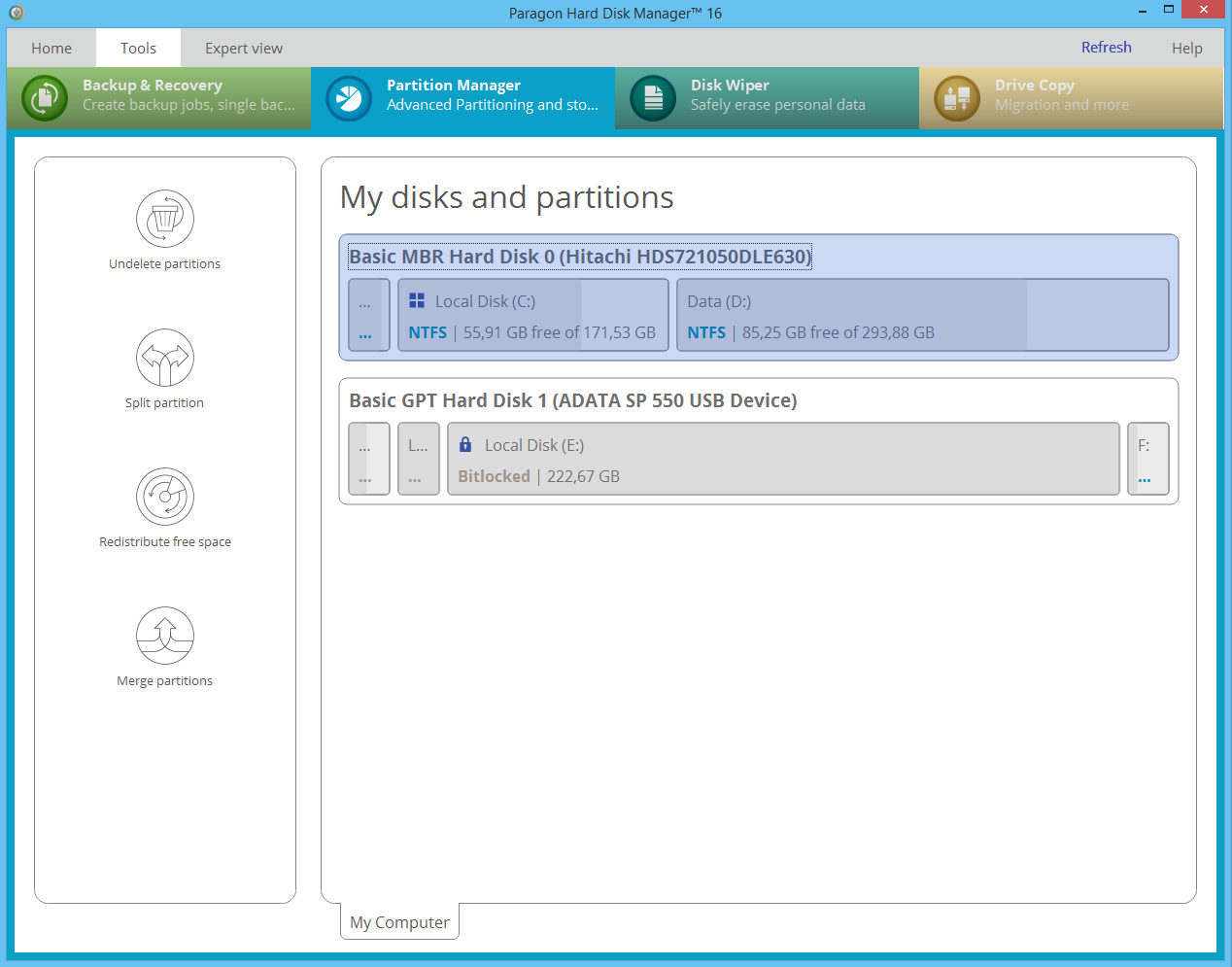 You have to hand over your email address to activate the free version of the software, and not everything works. In fact, when we First tried it. we thought it had been so stripped back that it was unusable, because the only active icon on Partition Manager's interface was the 'Undelete partitions' tool. However, once we worked out that we needed to click the graphical representation of a partition to access its features, the options opened up significantly, with tools to resize, delete, format, rename and perform all the basics.
How it can be improved
We're bemused by Hard Disk Manager's interface, but perhaps it makes more sense if you've upgraded to the paid-for version or you want to tie both backup and partition options into a single tool. However, too many of the key features are locked, and many of those that aren't are difficult to find.
OUR VERDICT
Paragon's interface looks as if it should be easier to use than the basic Windows tool, but it's strangely obtuse, with most of the tools hidden in submenus. If you're willing to spend time working it out, you'll find that it covers the basics with greater aplomb than Windows' tool, but it takes some exploring.
BEST OF THE REST
EaseUS Partition Master Free Review
EaseUS Partition Master Free has lots of buttons and menu options but keeps them neatly arranged around the edge of the screen. Unfortunately, some of them (such as the 'Migrate OS to SSD/HDD' button) are just glorified adverts for the paid-for version's extra tools, so they're not particularly useful.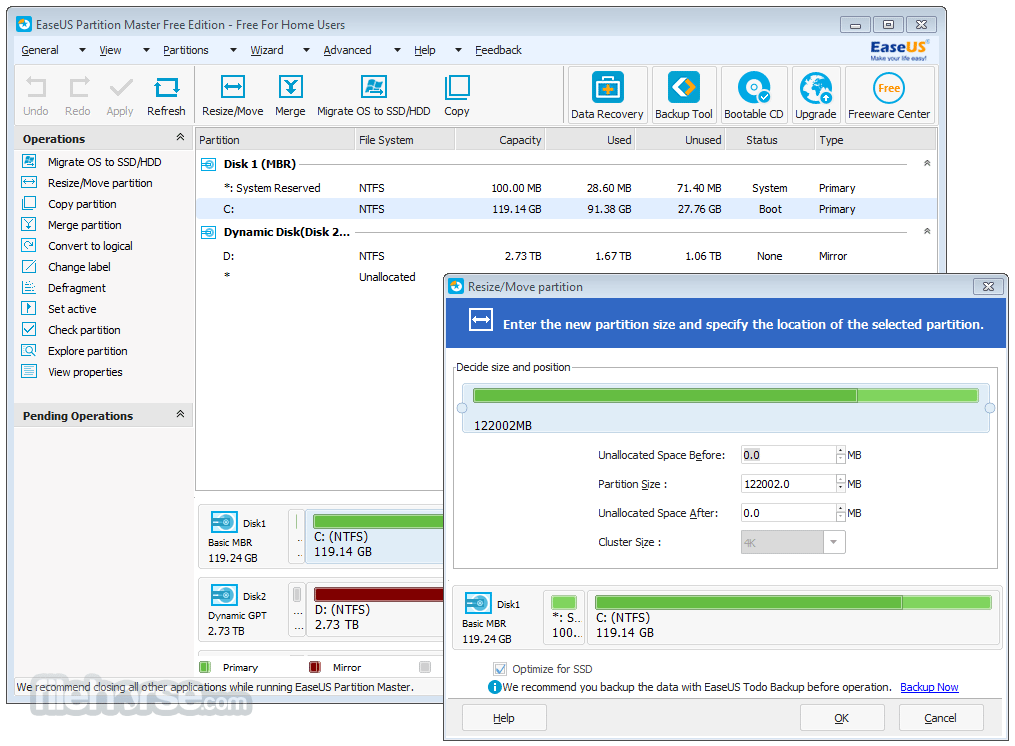 It also tries to install other EaseUS software when you run it.
Windows Disk Management Review
bit.ly/wdm461
The basic Windows tool is exactly that: basic. However, if all you want to do is create and remove partitions, it may be sufficient, and saves you having to download extra software. If you're not planning to do a lot of work on your partitions, this is probably all you need, but enthusiastic PC tweakers who require more versatile tools should look to our award winners instead.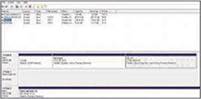 MiniTool Partition Wizard Free Review
bit.ly/mini461
Although Norton declared this software to be safe as we were downloading it. on installation it flagged up a potential security problem. Four services on VirusTotal. including respected ESET and Microsoft, flagged up problems with potentially unwanted programs. They could be false positives but we don't think the software is worth the risk.