Auslogics BootSpeed 11 Free
SYSTEM OPTIMISER
Auslogics BoostSpeed 11 Free
Min requirements: Windows 7/8.1/10 File size: 24.4MB
Australian software developer Auslogics is responsible for a number of free and paid-for system tools, including Disk Defrag, Registry Cleaner, Windows Slimmer and Duplicate File Finder. Its flagship program, BoostSpeed. can clean, tweak and turbocharge your PC. BoostSpeed 11 Free lacks some of the features found in the Pro edition – such as advanced cleanup and optimisation, anti-tracking protection, intelligent defrag and scheduled scans – but it still offers more than enough for most casual users.
Version 11 of the program has a brand new interface that looks much more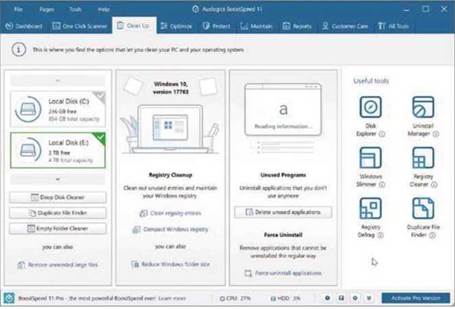 modern, with tabs along the top for the Dashboard, the One Click Scanner and the Clean Up, Optimise, Protect and Maintain modules. The Clean Up tool can remove junk, find and remove duplicate files and empty folders, clean the Registry and uninstall programs you don't use. A new addition lets you force stubborn software to uninstall, which can come in very handy.
You can defrag your drives from the Optimise tab, and remove traces of your activity – both online and off – under Protect. The All Tools tab in the top-right corner gives you access to a wide range of Auslogics system tools.
Another new feature in this version of BoostSpeed is the intriguing Cat Mode, which can detect when a cat (or other small animal, presumably) is walking across your keyboard, and prevents anything bad happening on your PC. You can choose how long your system should be idle before this mode kicks in.
If you require additional features, you can upgrade to the Pro edition for £38.21 a year, although discounts can often be found online.
MINI WORKSHOP | Speed up your PC using BoostSpeed 11 Free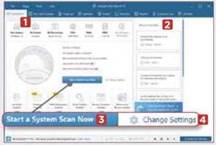 1 The Dashboard provides basic Information about your PC, such as the operating system, CPU and RAM.
1 There are some recommended actions in a sidebar on the right, 2 or you can start a system scan by clicking the blue button in the centre. 3 Clicking the 'Change settings' link 4 lets you configure the software.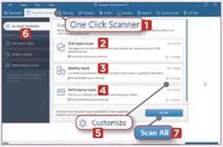 The One Click Scanner 1 lets you search for disk space issues, 2 stability problems 3 and performance bottlenecks. 4 You can deselect any of these or customise each one. 5 Clicking a category on the left 6 also opens the settings for it. Click Scan All 7 to begin the process.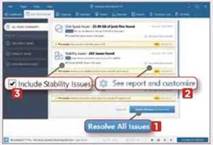 You can pause or stop the scan at any time. Once it's finished, you can either allow the software to resolve any issues it has found (which probably isn't wise) 1 or view the report for each category and customise the cleanup actions. 2 You can also deselect any category you don't want to include in the cleanup. 3