There's even a dimple on the left earcup so that you can orient them in the dark.
Fine sounds with full freedom there are functional headphones, and then there are experience headphones. Let's not skirt around the subject for any longer than necessary: With the ATH- M50xBT, Audio-Technica delivers exactly the kind of sound stage you'd expect a company like that to deliver, and it does it hard. This is a set of brash closed- back cans that well and truly thumps through music, seemingly throwing impact straight down through your spine when you push the decibels up, literally throbbing along with the bass end. But where some bass-heavy cans allow that ketchupy low end to smother the high- end fries, A-T knows there's a balance to be found, and the company has dipped the M50 drivers in just the right amount of sauce. Highs fizz, and mids stand out if you go looking for them, even when the driving frequencies start to go low.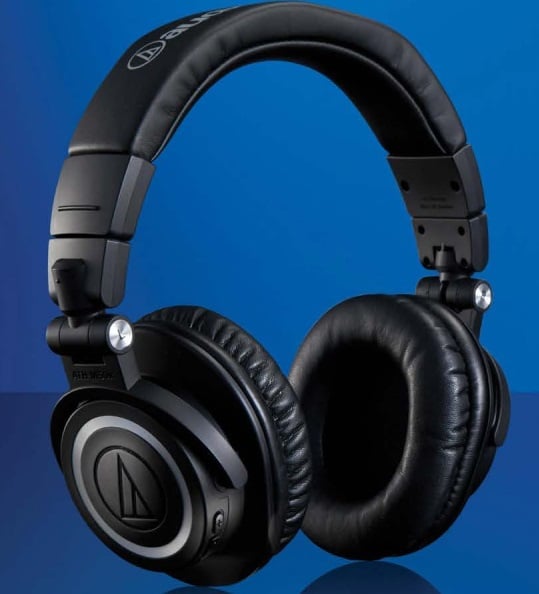 This balance isn't going to suit all ears. If you prefer not be battered by your bass, you're not going to be happy with the mix, no matter how high the levels of clarity may be. But if you're looking for headphones that would really rather you stopped whatever else you were doing and listened to them instead, because they are well and truly in charge, then your weird fetish is fully catered for. Clamp these on your skull and the isolation takes over—that's partially a result of the closed-back design, partially a result of those drivers, and partially (we suspect primarily) down to the serious amount of torque the stiff headband applies to each earcup.
Normally, we would spit and curse about tightness, but not here. In other headphones, we'd whine about the inadequate padding. Again, no. While it's true that Audio-Technica's attention to cushioning has not been quite as laser-focused as its work on the M50's drivers, these headphones can sustain long wear times without crushing. Again, it's a case of balance—soft materials, padding that's just shallow enough to introduce your ears to the speakers, but not quite tight enough to crush at least this reviewer's cartilage, and the right kind of hinge to sit everything nice and snug, without arguing with your skull about what shape it should be. All of this in a package that, should you wish to take full advantage of its Bluetooth portability, folds up beautifully, with a notched hinge that stops the arms flopping about until you're ready to release them.
About that Bluetooth. It adds a good bundle of bucks on to the price of the wires-only M50, and it's sometimes a little finicky about pairing with certain devices, but it does transform these cans from desktop dailies to proper street warriors. Design-wise, they're clean and thin, less ostentatious (and more listenable) than the likes of Beats, and the battery goes on and on. Controls are located on the left earcup. the included cable also includes inline controls for phones, and there's a mic built in if you're forced to take a call on the move. The only real qualm we have with the Bluetooth end of things, beyond those pairing niggles, is codec support— they run Bluetooth 5.0, and can work with AAC and aptX, but not aptX-HD, a bit of a shame for a set of cans that brings otherwise pro performance and design down to the consumer level.
Even though we've been forced to say at least one bad thing, the superlatives absolutely have the most weight when it comes to the Audio-Technica ATH-M50xBT headphones. This is a harmonious combination of design and engineering that sounds just great. Yes, if you're a purist who'll never listen through Bluetooth, you'll probably be looking for something flatter than the rather overexcited sound of these cans, and that's fine. They're not for you. But they are for us, even at the price.
alex cox
Audio-Technica ATH-M50xBT
Audio-Technica ATH-M50xBT Review
PROS
All-around sound;
great battery;
solid engineering, brilliantly portable.
CONS
Some Bluetooth awkwardness;
no aptX-HD.
Add your review
Best Audio-Technica ATH-M50xBT prices ?

£

187.55
3 new from £187.55
in stock


£

297.96
1 used from £114.22
1 new from £297.96
in stock

MORE DEALS