Editor choice
Audio-Technica AT-VM95E Review
Audio-Technica AT-VM95E moving-magnet cartridge
HAVING UPDATED ITS mid-price and high-end MM cartridges in recent years, Audio-Technica has turned its attention to the entry- level line. The AT-VM95E replaces the moving-magnet AT-95E cartridge (HFC 387), which has been in production for almost 40 years.
The AT-VM95E is also part of an ambitious and clever attempt by the Japanese cartridge marker to keep you in the family. You can purchase it (or indeed the VM-95C), fit it to your tonearm, set the tracking weight and alignment, and away you go. Further down the line you can then upgrade to a nude elliptical, micro linear or Shibata profile stylus without having to adjust any of those settings – simply slide the old stylus off and fit the new one. We have seen cartridge bodies that accept more than one stylus profile before, but the potential in how far you can take a AT-VM95E is impressive – there is even an option for playing 78s.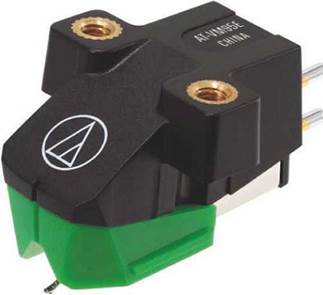 The perfect body
The VM-95 body is an example of Audio-Technica's dual-magnet design and in the 95E is partnered with a bonded elliptical stylus that is mounted on an aluminium pipe-style cantilever. This borrows from the special EX version of the AT-95 that comes fitted as standard to the company's LP5 turntable (HFC 405). The body has been designed to reduce resonance and feels a whole lot more substantial than the original AT-95E.
As well as feeling more solid, it has threaded inserts so you can simply screw two bolts into the AT-VM95E to attach it to the headshell, making it easier to fit than any Audio- Technica cartridge I've used before. You can also buy all the VM-95 models pre-mounted in the new AT-HS6 headshell if you want to make the process easier still. Changing the stylus is also extremely simple to do and removing the guard is far more logical than on the older version.
With the AT-VM95E mounted on an SME M2-9 tonearm on a Michell GyroDec, the changes between the new model and the old are revealed to be more than cosmetic. The AT-95E was never the last word in subtlety and refinement and while the AT-VM95E is still on the brighter side of neutral, it brings a level of refinement to its presentation that the older model couldn't achieve and is extremely impressive judged by the standards of its sub-price point.
The well mastered but 'hot' pressing of Wild Beasts' Last Night All My Dreams Came True is handled without coming across as congested or losing the sense of the live performance. Even the boisterous He The Colossus is presented without tipping over into being hard and confused – something that frequently trips up more expensive cartridges than this one. Vocals are the main focus and the level of tonal realism is entirely convincing.
The low-end trades a little weight for speed and compared with the sort of heft that an (admittedly more expensive) Ortofon 2M Red (HFC 345) can muster, the struck drum in the live performance of Fink's Sort Of Revolution doesn't have the impact it has shown elsewhere, but feels wonderfully agile. The 3-D mix of Krafwerk's Electro Cardiogram positively pounds along and there is nothing you are likely to give it that will end up sounding sluggish or confused. Like many cartridges at this sort of price, it can be slightly sibilant towards the inside groove of some pressings, but rarely does it become overly distracting.
Civil service
Judged purely as a replacement for one of the best-selling cartridges of all time, the AT-VM95E is a significant step forward. It brings an extra helping of refinement and civility that doesn't affect its ability to get stuck in and enjoy itself. When you then consider that it forms the basis for an extensive selection of upgrade possibilities, this is a very impressive proposition indeed.
DETAILS
TELEPHONE 01132771441
WEBSITE eu-audio-technica.com
OUR VERDICT 5/5
Where to buy?
This VM95 Series cartridge with 0. 3 x 0. 7 mil elliptical nude stylus fits half-inch mount turntables. The cartridge offers excellent channel separation and low distortion for outstanding tonal quality. The durable, low-resonance Housing includes threaded inserts that enable the cartridge to be mounted to the head shell with just two screws - no nuts required. And since all VM95 Series share the same body, the stylus can be replaced with any of the six interchangeable at-vmn95 Replacement styli.
Last update was on: 2021-09-12 5:00 am
VM95 Series dual Magnet cartridge with 0.3 x 0.7 mil Elliptical Nude stylus
Aluminum cantilever
Durable low-resonance polymer Housing
Threaded inserts in cartridge body enable cartridge to be mounted to head shell with just two screws - no nuts required
Compatible with any at-vmn95 Replacement stylus
Was this article helpful?