The Asus ZenBook UX303 range has been around for over a year now and has moved up through the various processor releases while still retaining its sleek looks and lightweight charm.
The newest version to grace the shelves is the UX303UA, with a choice of Intel processors ranging from the i3 6100U through to the i5 6200U or the more powerful i7 6500U – the model we're looking at in this instance.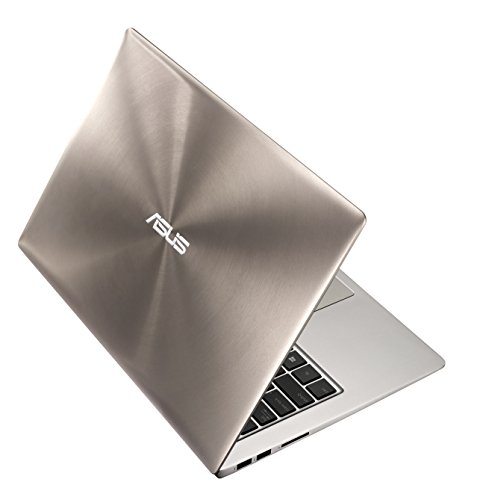 The Intel i7-6500U has a base clock of 2.5GHz with a boost frequency up to 3.1GHz, and it does an excellent job of helping to drive this 13.3" laptop.
The model we had available was fitted with 8GB of DDR3L 1600MHz memory, which is more than enough for Windows 10 64-bit installation to fly along nicely, but you can opt for one with 12GB installed.
You also have a choice of storage: a 128GB SSD, a 256GB SSD (which was in our model), a 500GB HDD, a 1TB HDD, or a combo of 500GB and 8GB SSD.
Obviously, the price will alter depending on what you opt for, but even with the lowest 128GB SSD specification, there's enough storage capacity for the majority of users.
Other connectivity consists of a two-in-one card reader, 802.11 a/g/n/ac wi-fi, Bluetooth 4.0, a combo headphone and microphone jack, three USB 3.0 ports, a mini DisplayPort and a standard-sized HDMI port.
All these are spread along the sides of an exceptionally thin laptop that's just 19.2mm at its thickest point, narrowing to an incredibly slim 4.5mm.
However, it's not the thinness of the UX303UA that is its most endearing feature, because this is one of the best looking laptops to ever land on our desks.
The beautiful all-aluminium chassis, with a spun metal finish and indented Asus logo are really quite appealing.
The color effect on our model was called 'smoky brown, but there are other colors available, including one that's a metallic pink – or Rose Gold, as it's more popularly known.
Opening the lid reveals a nicely laid out keyboard section, with decent-sized and well spaced keys and a large trackpad that's pitched at just the right sensitivity level.
One particular element we didn't particularly like was the power button, located in the top right of the keyboard.
For some reason whenever we went to hit the Backspace key, we ended up missing it and entering the laptop into a power saving mode.
It's a silly mistake to make, but we'd have preferred the power button to be located to the rear or side of the laptop as opposed to being an actual key on the keyboard.
And the style of the chassis is superb too
The 13.3" IPS display looks exceptionally good, and thanks to the Intel HD 520 graphics, it does a good job of displaying media and even some lightweight gaming to great effect.
There's also an anti-glare finish to the screen, which is a definite plus for those whose desks are located under the usual office strip lights or who have their back to a window.
It works well, and the screen is bright and colorful enough to prevent sore eyes at the end of the day.
The Asus ZenBook UX303UA performed very well indeed. Windows 10 ran perfectly fine, as did a selection of video viewing and editing programs.
It's a decent powered laptop, it looks great, and it performs well.
Best Asus ZenBook UX303UA prices ?

$

170.00
1 new from $170.00
in stock


$

699.99
1 used from $777.00
1 new from $699.99
in stock

MORE DEALS

See also THE COMPLETE GUIDE TO…OLED laptops