A BUDGET GAMING LAPTOP THAT MAKES CUTS IN ALL THE RIGHT PLACES
NOWADAYS, GAMING LAPTOPS can generally be placed into one of three broad categories: the Mad Max power systems; the well-specced gaming ultrabook or those that belong in the bargain bin — which is never really all that 'budget' when it comes to gaming laptops.
The new Sabre range from Gigabyte is squarely aimed at picking up price-conscious customers shopping for the latter type, and since you can get this Sabre 15 with a Nvidia GTX 1050, we think it'll have no trouble doing just that.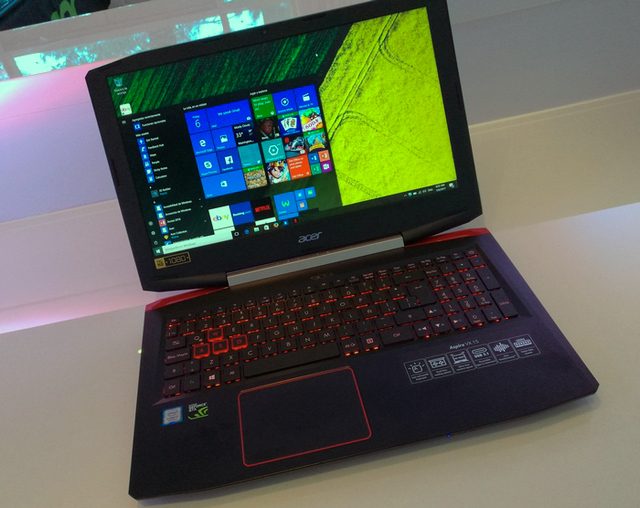 There are inevitably some sacrifices that have to be made to get the price this low, but fortunately, on the Sabre 15, those cuts are largely cosmetic. Kicking it off is a smooth black plastic that wraps the entire laptop.
This type of shell often leads to flimsy chassis on lowerend rigs but it's nice and sturdy here (something aided by the machine's robust 2.7cm thickness) and while the Sabre's 15.5-inch 1080p screen is a little more flexible than we'd like, we've seen significantly worse.
Gigabyte has also refrained from going overboard with colorful gaming highlights and decals — though there is a blue keyboard backlight and an interesting blackon-black plastic mold that makes this bulky 2.3kg unit look like a Batmobile.
Built around one of Intel's top seventh-gen mobile CPUs (the Intel Core i7-7700HQ), the Sabre 15 doesn't cut corners when it comes to hardware, despite its penny-pinching agenda.
This CPU managed to power through general work and home tasks, matching last year's desktop chips of the same tier as seen in HP's EliteOne 800 G2.
This CPU is backed up by one of Nvidia's latest GTX 1050 Ti GPUs with 4GB of dedicated VRAM, which helped it score solid results Cinebench's OpenGL benchmark and 3DMark Fire Strike Extreme (106.05fps and 3592, respectively).
Those impressive scores are bolstered with the system's generous 16GB of RAM, and translate to real world 1080p 'Ultra' average frame rates of 70, 34.6 and 113.23fps on Batman: Arkham Knight, The Division and GRID 2. These scores were fractionally better than what we saw on MSI's similarly specced GS72 7RE, which got 62, 34.9 and 97.28fps, respectively.
Gigabyte has even chosen to add a bigger 256GB SSD (the norm here is 128GB) as the primary hard drive, with a 1TB Hitachi HDD for bulk storage—although to compensate the SSD isn't a PCIe model, instead it's one of the slower SATA 6Gbps units. On balance, double the space for a cut in speed seems reasonable tradeoff on a budget device, and that SSD still manages to hit 554.2MB/s and 395.7MB/s sequential read and write speeds — much quicker than any mechanical drive.
With an RRP of $1,899, the Sabre 15 manages to undercut its competition by about $200 for a near identical setup, which is an exciting prospect for a price-conscious market. A battery life of 2 hours and 53 minutes in PCMark 8's Home battery benchmark, reasonable 86°C max CPU temperatures, acceptable-quality stereo speakers and ample connectivity options means that, at this price, we are at a loss to fault this unit.
[ JOEL BURGESS ]
Best Gigabyte Sabre 15 prices ?

$

180.00
1 new from $180.00
in stock

MORE DEALS

See also THE COMPLETE GUIDE TO…OLED laptops
CRITICAL SPECS
Windows 10 Home 64-bit; 15.5-inch 1920 x 1080p matte IPS LCD display; Intel Core i7-7700HQ 2.8–3.8GHz CPU; Nvidia GTX 1050 Ti 4GB VRAM GPU; 16GB Kingston DDR4 RAM; 256GB Transcend SATA 3 SSD; 1TB Hitachi HDD, 6-cell Li-ion 47Wh battery; 3x USB 3.0, Realtek PCIe Gb Ethernet port, 2x Displayport, HDMI, USB 3.1 (Type-C), SD card reader; 37.8 x 26.7 x 2.7cm; 2.5kg